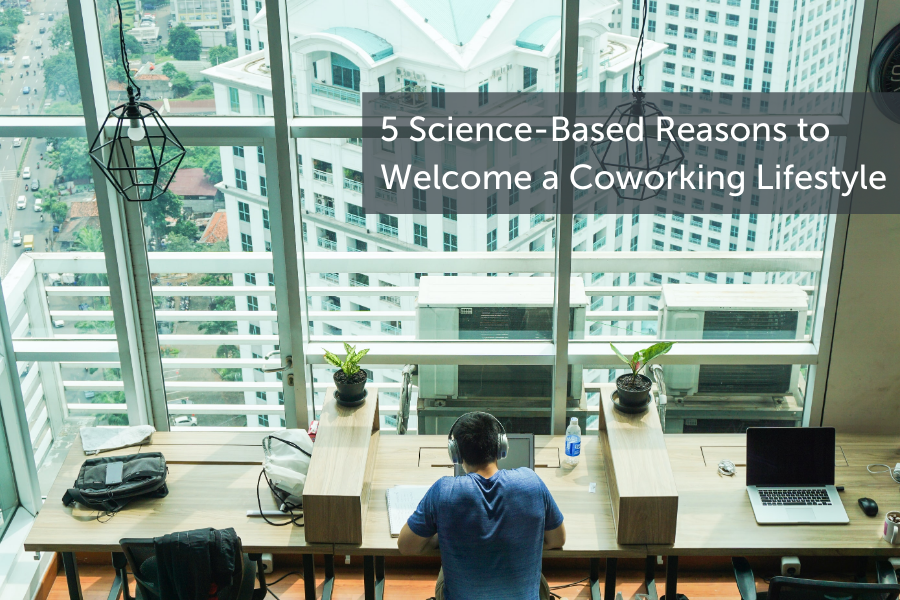 As we approach the end of 2020, we're faced with a world that is very different from what we considered to be normal just 12 months ago. Disrupted and changed, we've gone from globalization to isolation as new circumstances keep pushing us towards a growingly digital reality.
At this moment, there are more than 4.66 billion active internet users in the world. This makes up 59% of the global population. But the fascinating thing isn't that we're spending more time on our smartphones, tablets, and computers. Instead, it's that we're doing so to complete our everyday tasks.
In less than a year, the entire world seems to have embraced the growingly popular trends of remote work and online shopping. In fact, the two turned out to be some of the most effective responses to an already devastating economic crisis. But what does this indicate for the future of work? Is it viable to believe that we'll go back to the office in the upcoming period? Or has our way of doing business changed for good?
While there's no definite answer to where we will be in a year, now may be the perfect time to reconsider our working models. And, according to science, coworking may just be the perfect solution for a large number of individuals.
In case you're still on the fence, the following are the top science-backed reasons to adopt a coworking lifestyle.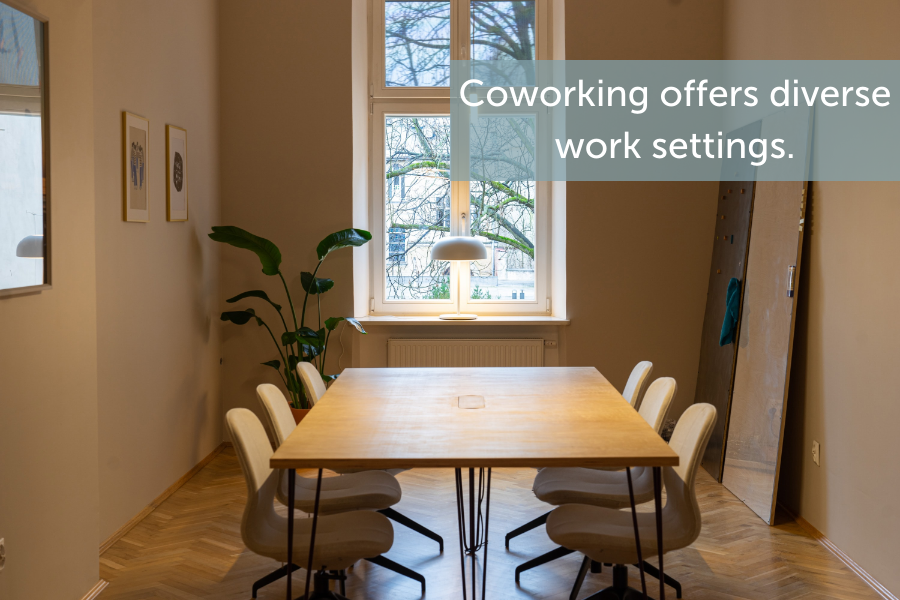 1. The Link Between Work Environment & Performance
Where we work can have a significant impact on how well we're able to do our jobs. Research shows that factors like room temperature, lighting, greenery, decoration, and noise levels all contribute to (or detract from) productivity.
Still, the thing is, these elements can be difficult to get right.
For example, an office environment may be well-decorated. But if there are too many people around, it's bound to get noisy and distracting. The work-from-home method, on the other hand, may lack the required auditory stimulation that can help people get into the state of flow. Then, of course, there's the question of freelancers and the workspaces available to them.
One of the ways coworking spaces solve these issues is that they provide a variety of solutions through different office types. People can rent single desks, private offices, office suites, and even meeting rooms. Many coworking spaces offer by-the-hour renting models, which is the perfect solution for those who thrive on variety.
2. Collaboration & Networking Opportunities
According to a recent Gallup report, 1 in 5 remote workers feels lonely or isolated due to the lack of social contact at work. And while that's "only" 20% of the workforce, it's not a number that should be lightly dismissed – even when you're only interested in the effect of mental health on productivity.
What's interesting about coworking spaces is that they give freelancers and remote workers opportunities to connect with fellow members of the digital workforce.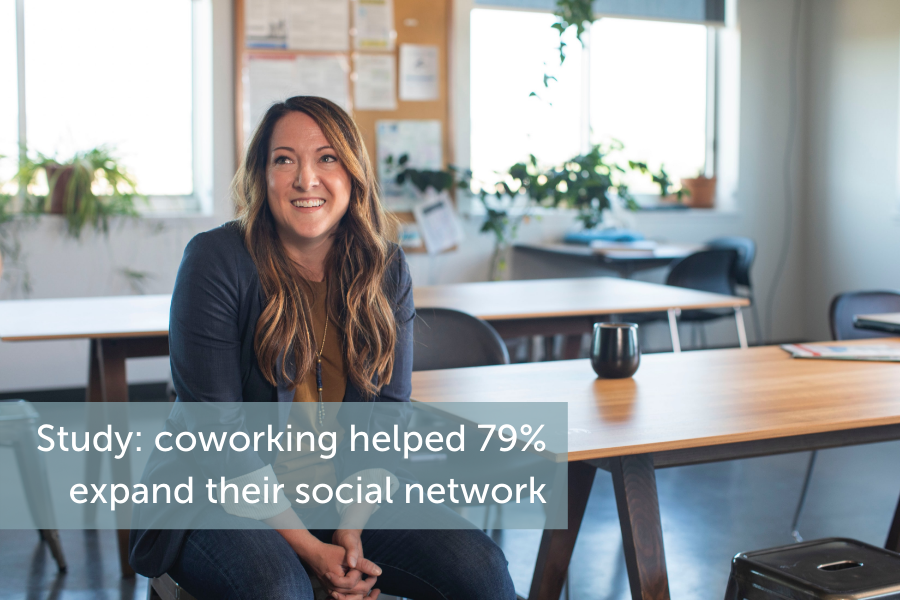 In fact, a 2015 study conducted by Small Business Labs found that joining a coworking space made 83% of participants feel less lonely. It also helped 79% expand their personal social network.
Moreover, this model of work can be an excellent opportunity to meet professionals. As many as 80% of the respondents stated that they regularly collaborated with fellow coworking members.
3. Boosting Job Satisfaction
According to the same Small Business Labs study, coworking has a positive impact on job satisfaction, motivation, and overall happiness. But what's the reason behind these changes?
Well, to understand how coworking can make us feel happier, we need to consider the factors that impact job satisfaction.
A universal thing young people want in a job is professional and career growth. A Gallup report has shown that 87% of millennials found this factor important in a job. So, it comes as no surprise that a space that supports collaborative learning may allow professionals to feel better about their performance.
Another perk that a coworking lifestyle can offer is control. A 2014 study by Bentley University found that as many as 77% of millennials want flexibility from their jobs. So, getting to choose when and where they work can be a great way to provide that authority.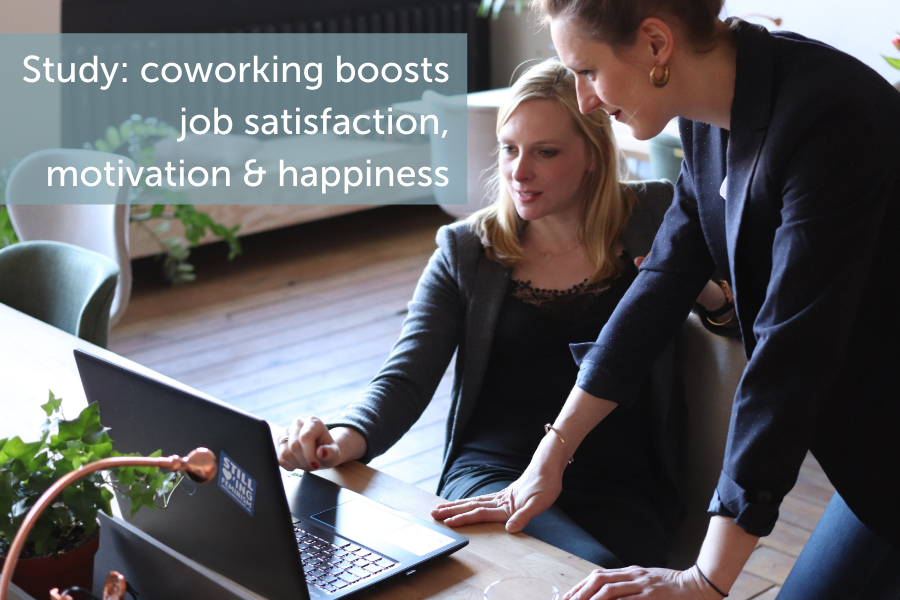 4. Avoiding Burnout
One of the main perks of remote work often comes in the form of improved productivity. A 2013 study revealed that a WFH model can result in a 13% boost in productivity. Furthermore, self-quantitative surveys show that as many as 65% of people feel more efficient when working from home.
None of this is a surprise. For a long time, there has been a strong association between work-life conflict and poor self-reported health. After all, productivity, creativity, cognitive ability, and mental wellbeing all thrive under good health.
But are there cases in which the WFH model may hinder these aspects of work? Well, it turns out that freelancers tend to report the lowest satisfaction rates when it comes to work-life balance.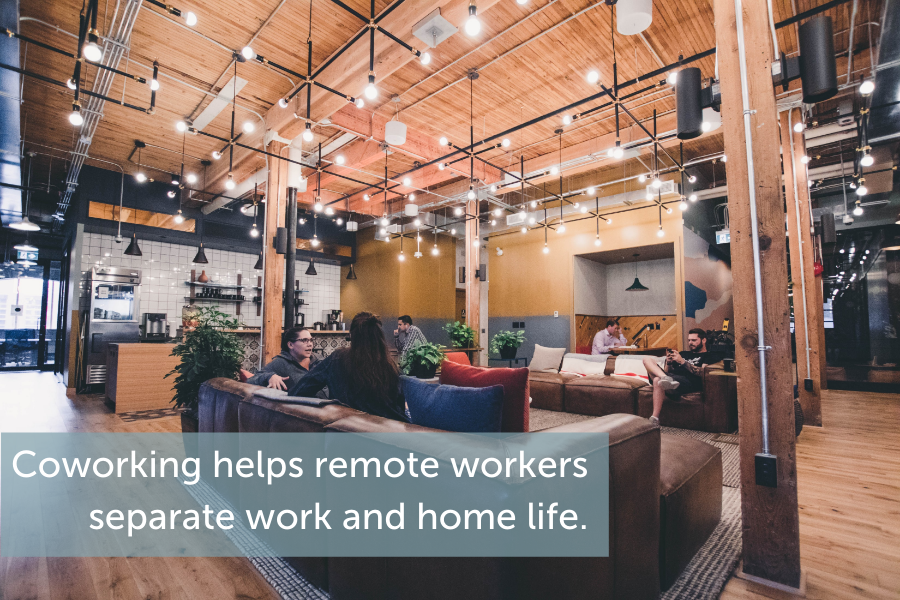 According to a survey conducted by Eachnight, one in four freelancers had no boundaries between their work and personal life. Furthermore, 58% were likely to work during vacations. Only 13% avoided talking about their jobs outside the workplace.
The reason behind this may be simple. Without a physical barrier between a place for work and one for rest, it becomes easy to erase all boundaries. Having a desk or office at a coworking space, however, instills some form of structure. This allows remote workers to plan their schedules effectively and create a better work-life balance.
5. Workplace Experience
Last but not least, let's look at the 2019 Gensler US Workplace Survey. In it, we'll find a high correlation between a coworking lifestyle and a great workplace experience.
Seeing that coworking spaces are built with a variety of amenities, they are particularly effective at non-desk related activities. They encourage collaboration, creativity, and networking. Plus, they can offer perks and bonuses people don't have access to at home. The most impactful of these include innovation hubs, maker spaces, meeting rooms, and refreshment areas.
But the main benefit they offer is variety and the power of choice. In the survey, 79% of people who got to choose their workspace reported having a great work experience.
Final Thoughts
As we face the reality of major workplace changes in 2020, it's time to start thinking about the advantages and drawbacks of different workspaces. Yes, home offices have been a saving grace for many people during the pandemic. But, unfortunately, they don't always foster performance or satisfaction.
So, it might be time for a larger number of professionals to embrace a coworking lifestyle – even if only for one day per week. Looking at all these science-backed reasons, it's safe to say there's plenty of pros to support that decision.
About the author
Natasha Lane is a designer – turned digital marketer and blogger. She has been working for and collaborating with individual clients and companies of all sizes for more than a decade. Natasha specializes in writing about branding and business growth, but lately, she is especially interested in the art and science of boosting productivity. She is happily addicted to writing, caffeine, and grilled tofu.