Whether you're a brand new startup or seasoned company, workplace strategies are important to retention, employee satisfaction, and even success! In their quest to support a happier, more productive, and healthier workforce, companies across the globe are increasingly adopting various flex work programs and workplace strategies. The ultimate goal is to attract and retain talented workers. For growth companies, one key benefit of offering flexible work arrangements is the ability to recruit top talent from anywhere. This strategy affects the talent pool available to established companies and forces them to evaluate their workplace strategies. Whether the aim is to increase organizational performance, reduce sick days and absenteeism (or even worse, presenteeism), or lower turnover of high value employees –companies recognize the importance of enhancing the employee experience and offering flexible working policies to remain competitive in talent acquisition.
So, how has all of this influenced the way we use office space?
A recently published study, Optimaze Workplace Review – Insights from 2016 [May/2017] by Rapal Oy and Optimaze, Inc., demonstrates that commercial workspaces are in the midst of undergoing a revolutionary change toward a sharing economy with more resource efficient, flexible workplace strategies and models. Top trends impacting workplaces include: increased mobility; remote work and working from home; changes in meeting cultures; coworking; activity-based working; flexible work schedules; compressed workweeks; job sharing and part-time work. Additionally, many companies have developed company-specific workplace strategies to enhance productivity, well-being, and innovation, while lowering fixed costs through space optimization.
The findings, presented in the Optimaze Workplace Review, are based on global space utilization data that outlines the cultural shift away from the traditional office environment where there could be the potential for billions of dollars of underutilized space. But workplace strategies are not one size fits all—activity based working, remote work options and shared work spaces (among other flexible workplace models) may not align with all company profiles and their corresponding workplace strategies. The details, and actionable considerations, are in the data.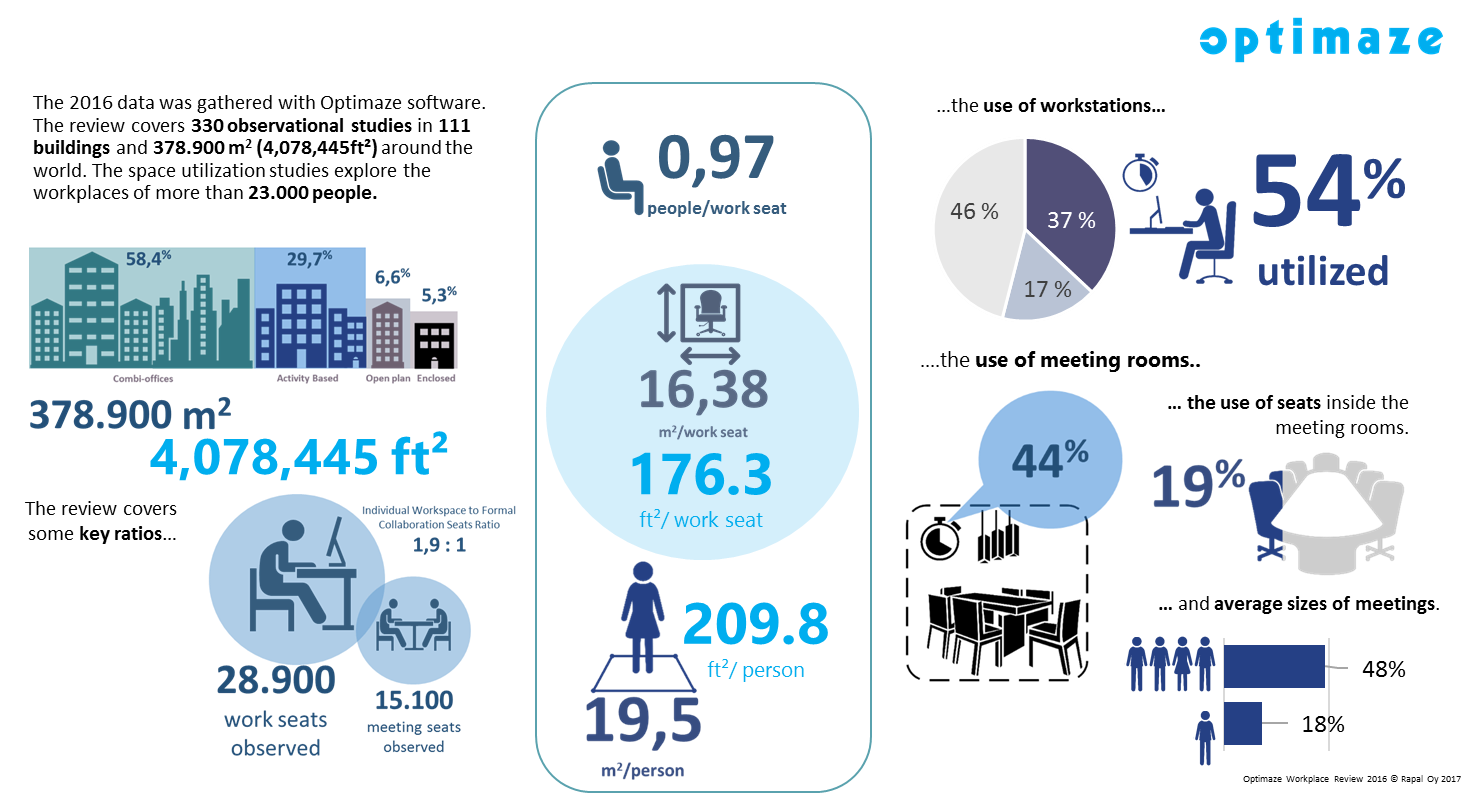 Workplace diagnostics data details the usage trends
The international Optimaze Workplace Review – Insights from 2016 workplace analysis covers space utilization measurement data collected from 15 countries and is likely the largest observational workplace study conducted in 2016. The 330 observational space utilization studies, with more than 6,600 walkthroughs through the workplaces of more than 23,000 people in 111 buildings and 53,600 seats around the world. Each observational study consisted of two observational walkthrough rounds minimum per day during a typical 2-week period resulting in a dataset of approximately 354 million work seat observations in total.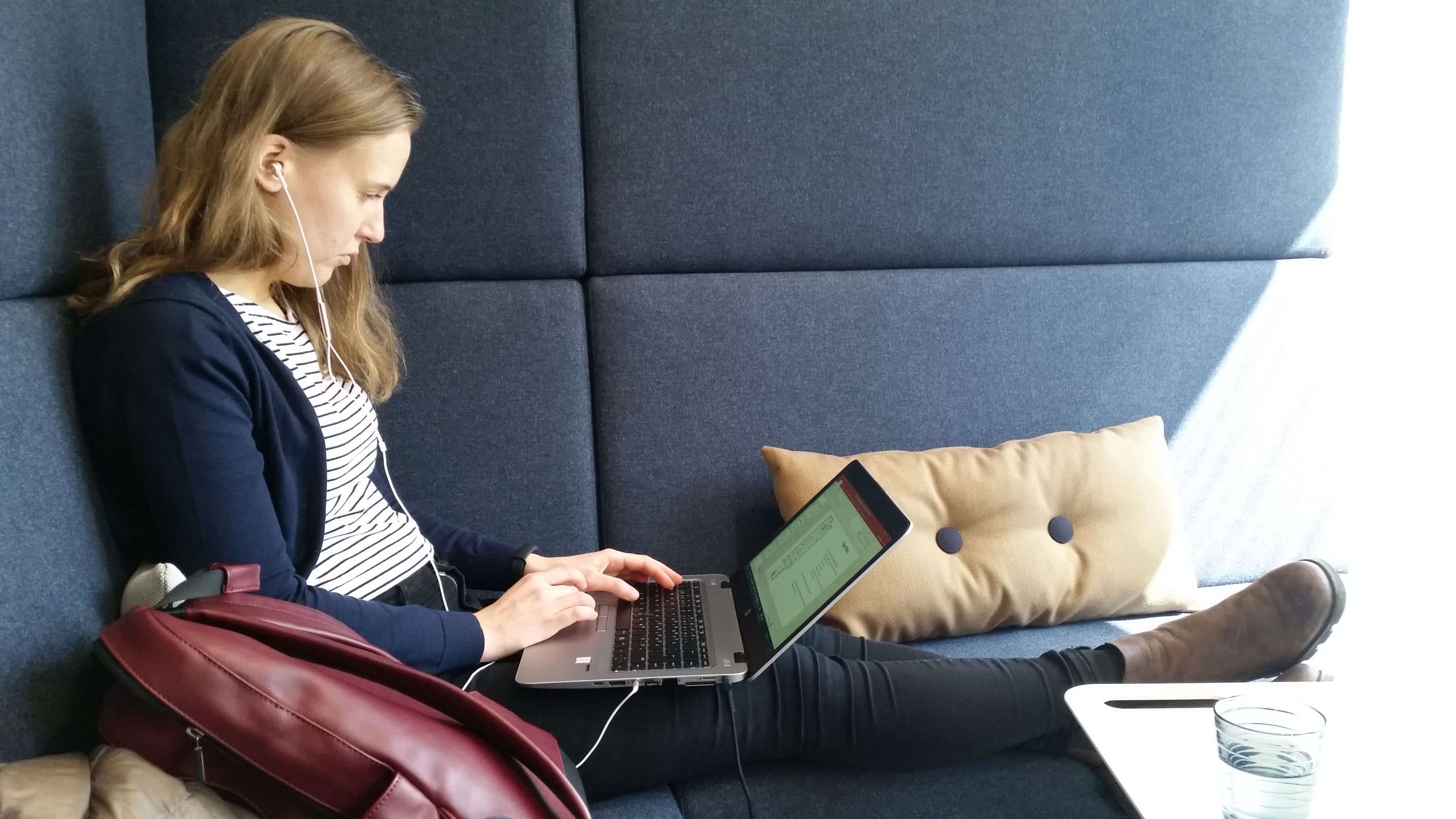 Reviewing the data across all offices participating in the study, at any given time, even at peak use, on average at least 30% of work desks were empty and unreserved. The percentage of consistently unused seats is even higher when it comes to temporary 'soft' seating and meeting seats. Meeting rooms were used on average only 44% of the time, as more and more meetings today are short, unscheduled, technology-enabled and less formal.
Additionally, a large percentage of desks and meeting rooms are under-utilized. At the same time seating capacity is on average over dimensioned, resulting in a lot of wasted space. The data shows that offices and conference rooms are not supporting the knowledge work evolution that facilitates agile, activity-based working. With technology-enabled mobility and a near-paper-free office environment that requires less storage space, the density of offices will increase thus making offices smaller. Activity-based offices that embrace flexible work policies are approximately 40% more efficient in their use of space than traditional enclosed offices that provide single room offices. Workplace satisfaction and well-being were also clearly higher for those in offices with flex-work policies.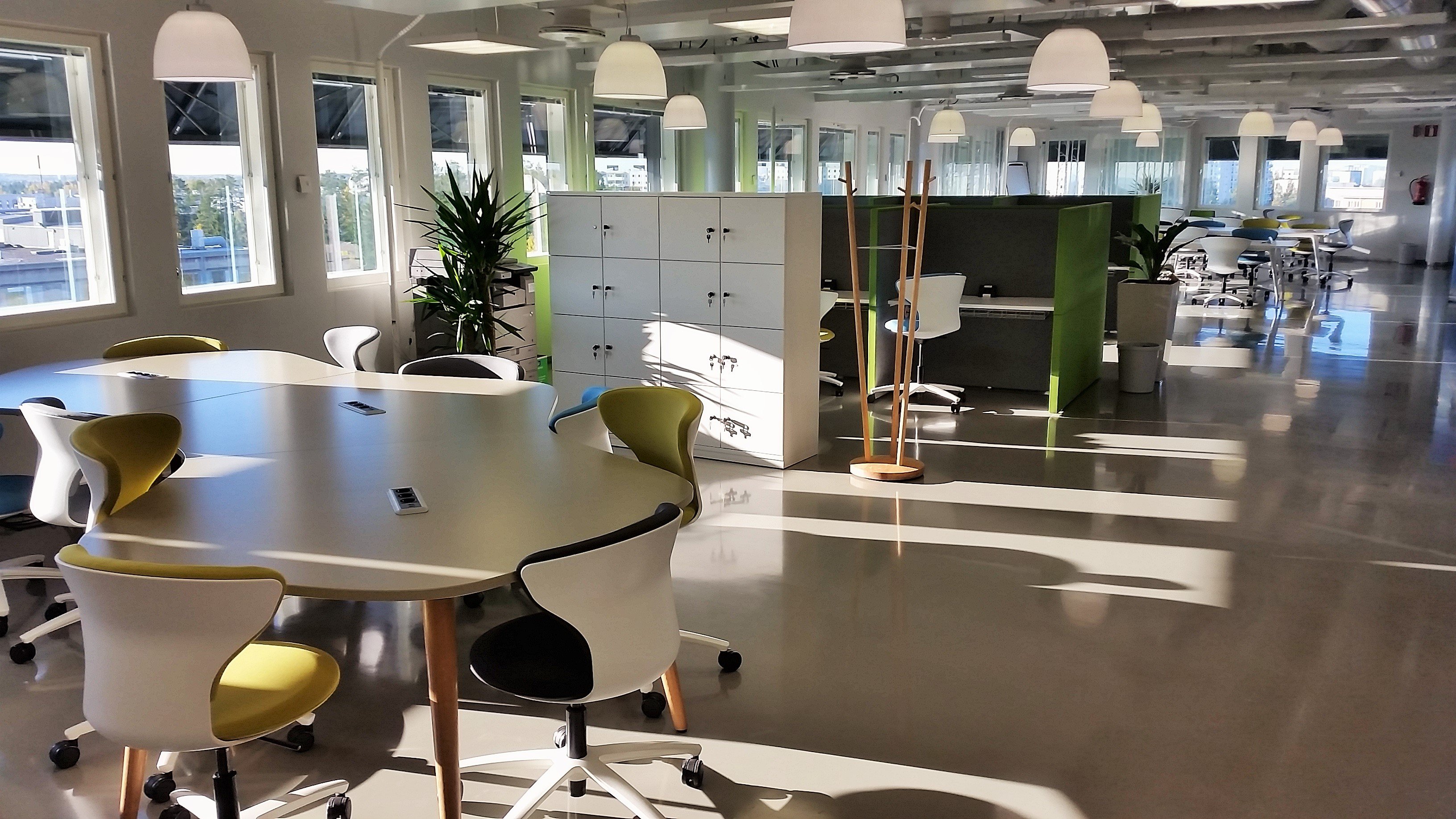 Three flexible workplace strategies
We have identified three clear and distinct flexibility-based workplace strategies. Whether companies use these to become more agile, cost-efficient, or attractive as employers – they're important to know.
1. Flexibility inside the office.
What we call the activity-based office is increasing in popularity all over Europe, America and Australia. This type of office space has a variety of spaces and places to work. These spaces vary based on the work task at hand. And, it's something clearly different from open plan offices. It is a non-hierarchical, open and democratic environment. It enables workers to make personal choices based on preference of where they feel most productive. By freeing the workforce from their desks and promoting internal mobility, companies nudge their people to be less stationary and meet colleagues more often and spontaneously, thus creating both a sense of community and the possibility for better information flow and sharing of ideas. As a bonus, desk sharing and overbooking can increase utilization rates while decreasing the need for office space.
2. Flexibility of anytime, anywhere working.
Technology enables knowledge workers to make decisions about when and where they work. Having to commute and come into the office everyday no longer makes a lot of sense. Flex work policies, technology, and a trust-based culture are extremely helpful. It helps your workforce feel respected and in control of their lives. They'll thank you for it and reward you many times over. By enabling a better work-life balance, job satisfaction and productivity is higher, and employee turnover lower. Based on survey results, people optimally prefer to spend 20% of weekly work time outside the home office.
3. Flexibility in locations, space and leasing models.
The third strategy for more flexibility is about space and locations, as well as leasing models. Both employers and workers increasingly prefer to have a network of professional work environments available, closer to home or customers. There are a range of ways to find office spaces and communities to work with more locally. Business centers and coworking spaces offer space – or workplace-as-a-service concepts – based on hourly, weekly or monthly charges. You can also find various levels of membership (shared desk, dedicated desk or private office). However, increasingly private businesses and landlords offer their spaces up to "office nomads" on short lease terms. Coworking is no longer a privilege only for startups, employees at big companies use it too.
Trends show more shared workspaces popping up outside of metropolitan areas, closer to customers and people's homes. This means there are also fewer fixed overhead costs as headquarter offices become denser. This is a consequence of greater flexible work options. Because of this, companies respond with agility and speed to needs for more or less workspace. Many companies are opting to rent meeting rooms offsite or in coworking centers as needed. This is opposed to carrying the expense of underused, oversized meetings rooms onsite.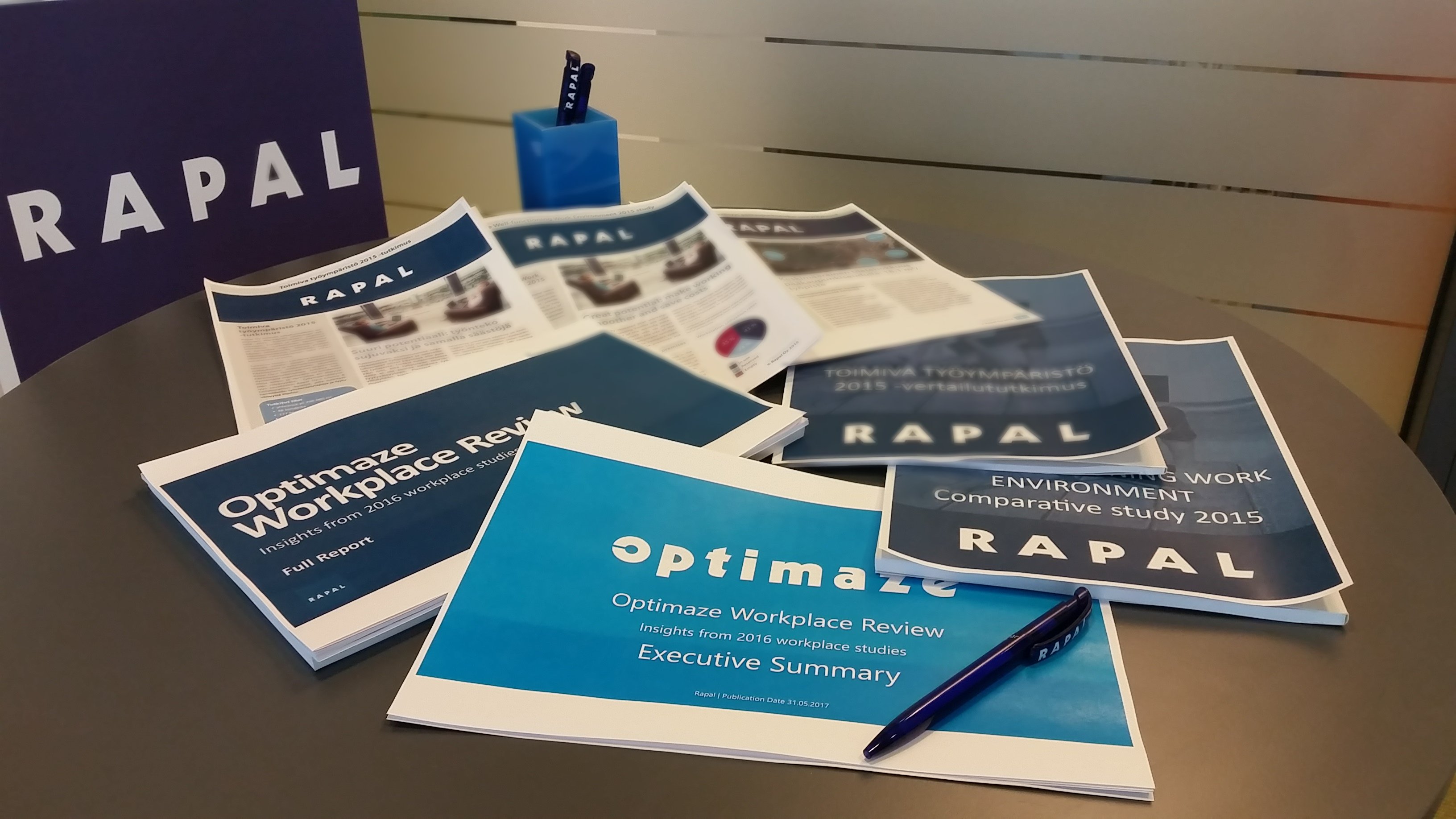 Workplace strategies are growing more important
Leaders increasingly place workplace strategies higher on their agendas, and they want a greater understanding of Workplace KPIs. While change can be good, it is important to understand that one size does not fit all regarding workplace strategies. Any model should support your company's culture and business goals. That's why your own workplace strategy must fit your company's needs. With a proper space utilization and work activity diagnosis, you'll have key, company-specific facts to work with. To obtain the full report, please contact Optimaze, Inc. (United States and Canada) or Rapal Oy for further information.
About the Authors
Pontus Kihlman is a forward-thinking engineer with a great interest in organizational development and is passionate about developing people, well-being at work, organizational culture and operational excellence – as well as the physical and virtual working environment. With a background in the built environment as a business development manager and change management expert for construction company Skanska, he has moved on to help develop organizational excellence through his employer Rapal Oy.
In her role as Marketing director at Optimaze, Inc., Deirdre Celotto focuses on the development and implementation of marketing initiatives to support the Optimaze, Inc space utilization and workplace solutions in the marketplace and with her customers leveraging skills attained as a consumer and B2B marketer for companies ranging from Genentech, Levi's and Time Warner, to name a few. Optimaze, Inc. is a subsidiary of Rapal Oy, headquartered in San Francisco, California, and offers mobile solutions and best practices for corporate real estate management.