This guest post, about collaboration in workplace design comes from Jon Davis of Cushing. To submit your own guest blog, first read the guidelines here.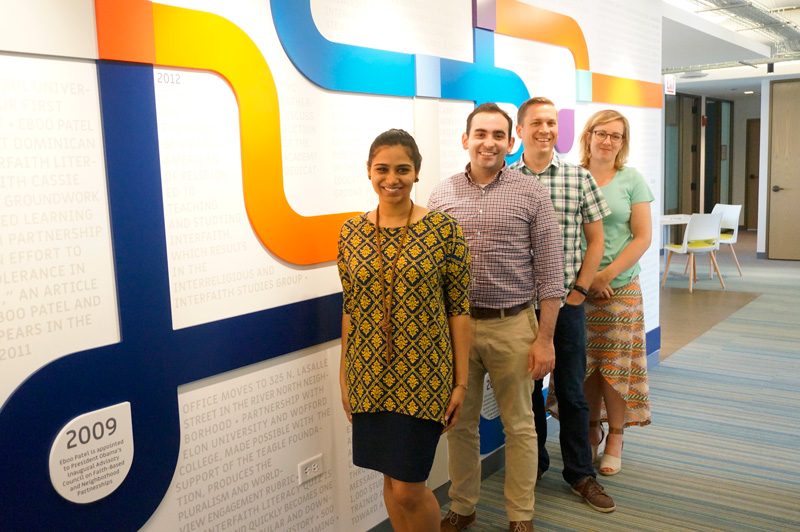 Stop. COLLABORATE. And listen. With apologies to Vanilla Ice: corporate branding projects like conference room privacy film or dimensional lettering, are increasingly a collaborative effort. Workplace design is an important factor for companies branding an office space, or in some cases, recruiting talent.
How do you find a compromise in workplace design between striking visuals, brand message, and keeping team members engaged? From workplace design firms to savvy non-profits, here are some tips for success, from encouraging collaboration to making final decisions.
Value Workplace Design Input
Don't gather ideas in a silo. The best ones might only be a few desks away.
"For an organization like ours, that deeply values teamwork, we achieve as a team – it's not just lip service – it's because it's true." – Amber Hacker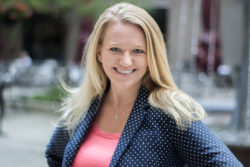 Amber Hacker is the Vice President of Operations and Communications at Interfaith Youth Core.
The non-profit, with headquarters in Chicago, is working to make interfaith cooperation the norm in America.
"A huge part of this process was internal idea gathering from co-workers, as some staff can spend more time here than their own home!" she says. "We kept asking: What's most important for YOU in this space?"
Other points they asked the team to ponder:
What do you want people to experience when they visit?
What should donors feel when they are in the new space?
How will the visiting guest "get" what we do, when they walk in the door?
Staff members felt the office entrance had to communicate core values, for example: excellence, without being too serious. Conversations started around larger visuals. Goals started to come into focus. Step inside and the Interfaith Youth Core vision statement pops in 3D dimensional lettering.
"This is our organization and who we are – it was intentional. This office space really illustrates that and it came from our staff."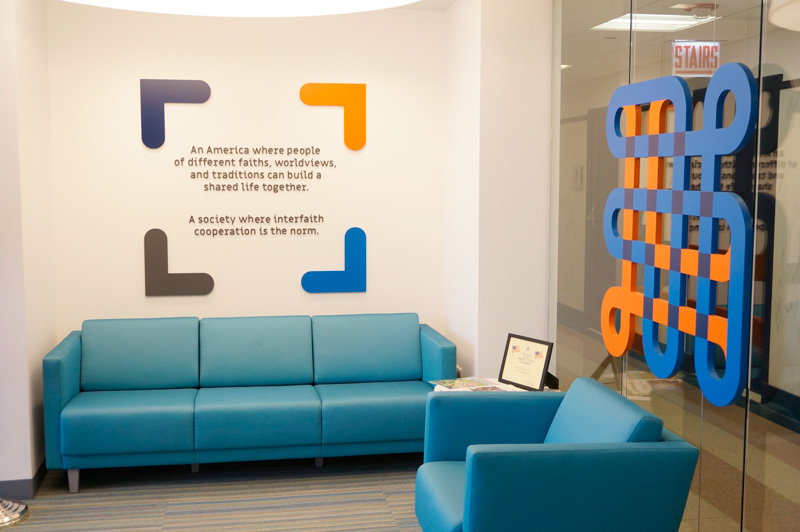 Collaboration Can Make or Break Workplace Design
Joe Lawton is a principal at Media Objectives and says collaboration and idea sharing is critical to workplace design.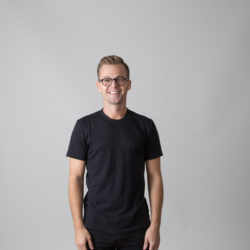 The interdisciplinary design studio is housed within Valerio Dewalt Train Associates, an award-winning architectural firm based in Chicago, San Francisco, and Palo Alto.
Collaborating (or lack of) can be the reason a project succeeds or misses the mark.
"The most successful projects are those where we engage our clients on day one," he says. "And continue to keep that communication channel open. By doing so, we can fully understand who will be inhabiting the environment and what they are looking for in the design of their space."
When it comes to the office environment, it's especially true. Lawton echoes a similar point behind Interfaith Youth Core's recent install.
"Many people spend more time in the workplace then their own homes." he says. "Don't create space in a vacuum." Understand what your team envisions and don't make it just a marketing or human resources consideration, or "it won't relate to the end user."
Let's Get Visual
OK, so collecting team ideas for workplace design is critical. But, how do you get started gathering them? From immersions in a company workplace, to small group listening, there is no one set strategy. "
"We have a variety of methodologies we use to discover our client needs and aspirations," says Lawton. "This includes listening sessions with small groups, one-on-one interviews with key stakeholders, or online surveys, and then visioning workshops."
Workshops include hands-on exercises and "mad-lib" style handouts (no doubt these stir up ideas and childhood memories for some!) to what Lawton calls visual "hot-dotting" – think an analog Pinterest board, where participants pin their preference. Once complete, his team synthesizes what they learn to find similarities and differences, among the input.
Interfaith Youth Core participated in a similar visual listening exercise with their design firm, Perkins+ Will. It included a cross-section of staff, with the longest tenured to new hires.
"We wanted folks with a new set of eyes and those that brought institutional history." says Hacker.
One of the ideas from their visual exercise became the 'Gratitude' wall: dimensional lettering that thanks organization supporters and contributions.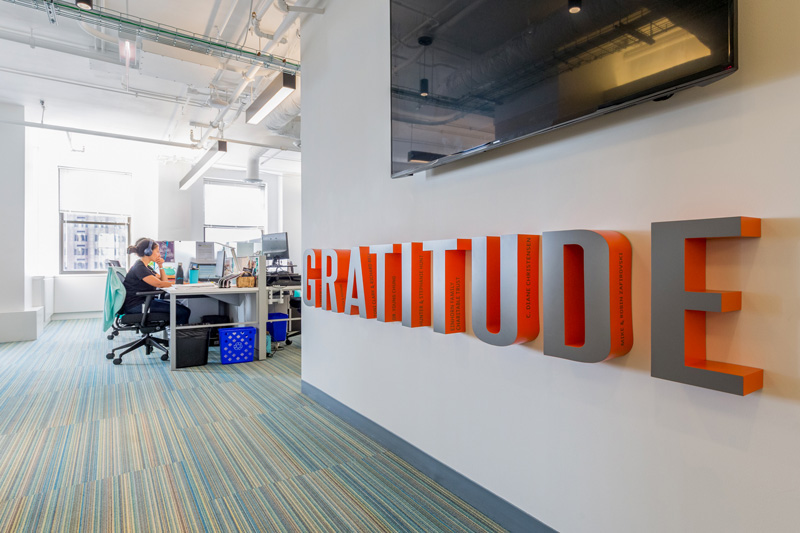 "Visual listening brought our team together," she says, "and gave us a taste of what our environment could be."
More Cooks in the Kitchen?
The more people involved, the more opinions you get. Consider it a "positive pitfall". Did we just create an oxymoron for office design & graphics?
"While you can't please everyone," says Hacker. "We felt feedback had to start with a big group." For a "big change management project to create spaces where people can collaborate and be heard," everyone should have a voice, according to Hacker.
Ideas went into a "reverse pyramid" or "funnel" and reviewed. When people really didn't like an item, they were removed. Ideas that made the cut, were distributed to smaller committees. For instance, an idea to incorporate Core Values into the space, went to the marketing team, as they spearheaded that rebrand.
"Depending on the visual element, there were different employees involved," says Hacker. "Staff feedback is important – but we had to have decision points and be mindful of time."
Casting a wide net for ideas, a central theme for the workplace design project eventually emerged.
Or Too Many Cooks?
Sure, that's a risk but the reward is clear.
"Of course, there's always a risk of gathering too much input," shares Lawton. "but if you don't gather information from more than one department or user group, you may not be designing for the whole."
Solutions don't get determined during that first meeting. Instead? Lawton says let "common threads" determine the crux of your creative project. If it sounds simplistic, don't worry.
"When we meet with clients early on, I find it best to emphasize you are there to listen, not to define a solution and that you are looking for common threads," Lawton says. "Those commonalities are what will guide your main design decisions." Flexible solutions will follow, "that allow for different user groups to make spaces their own."
Time to Decide!
As the best ideas rise to the top, you can't keep them all off the cutting room floor. How do you decide, with new apologies, this time to the Clash, what stays or goes?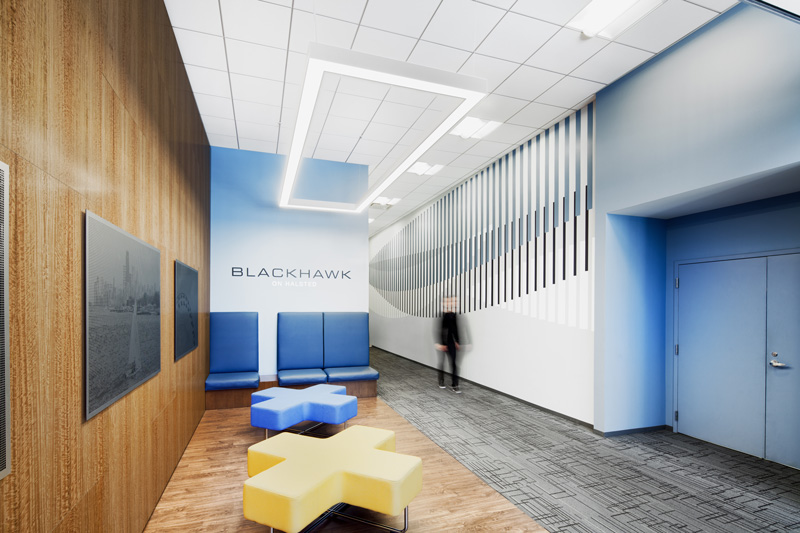 Responsibility with resources is important, in just about any project, and the Interfaith Youth Core focused budget toward elements with the most impact. "How do we facilitate collaborative work?" Interactive visuals for staff and visitors.
This led to items such as the Impact 2020 Goals Board and Campus map. The "scoreboard," as it is affectionately called, tracks organization progress against goals. How? The team can literally update numbers on the board with a marker. The impact is two-fold: it serves as an internal motivator and when guests come in, they experience progress, firsthand.
Is the campus map a cartographer's dream? It displays the relationships Interfaith Youth Core has with college campuses on small pins. "Staff look at it, update it – visually, it's a point of pride since it tracks the work we are doing." Hacker says. First thing office visitors do? Look for their alma matter.
Think About the Who (Not the Band).
As in WHO are you trying to impact with your workplace design? Is it the employee, a client, a visitor? All of the above?
"We start by thinking about the spaces people will be in and utilize the most," Lawton says. "These spaces have the most impact on your day to day."
When it comes to the workplace, it's often a personal workspace. Again, think about your end user.
"No matter where someone is sitting, give them sight of something visually interesting," Lawton says. Consider graphic murals or wall graphics, a specialty installation or hanging art. "It doesn't mean the element has to be "visually loud." On the contrary: "keep it simple and to allow people the ability to focus."
Thinking about conference rooms, or spaces to foster collaboration? He says they should be "special, excite and inspire." Are community spaces looming large? Start with the lobby and work your way through training rooms, the café, breakrooms and so on. Much time is spent here as most "employees and guests" stroll through and experience them.
No matter the direction you go, be mindful of keeping a balance, with "show-stoppers" or visuals that can't be ignored.
"All-in-all, it's always about finding a few high-impact moments in the space," Lawton concludes. "and making sure the rest of the space feels balanced."
Hacker agrees.
"We evaluated the different parts of the office. What takes up a lot of real estate in the office? And who is your audience?" After a pause, she says, "This helped us land at a fantastic installation."
There is no shortage of companies, large or small, using visuals to enhance the office space. When taking the first steps or deciding to move forward, collaboration is key. Consider each department and the ideas they can bring to the table.
---
About the author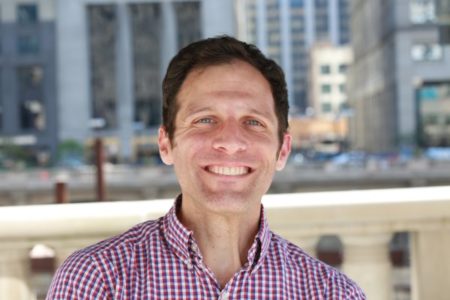 Jon Davis is in the marketing department at Cushing, a digital printing and display graphics company in Chicago. He writes about digital marketing, display graphics and workplace design & trends.