Working remotely can be a challenge. Sasha Marchenko gives her top 10 tips for success as a remote UI/UX designer in this edition of LiquidSpace Voices.
In 2012, LiquidSpace was just a baby cradled by a team of 8-10 people distributed across the US and Belarus. Now – 5 years later – the team is still lean but we've all seen LiquidSpace grow to become the largest network for corporate real estate. We got to this point with a lot of talent and diversity on the team and, surprisingly, without a tie to a single office HQ. We relied on working remotely from unlimited workspaces around the world and used tech tools to connect virtually.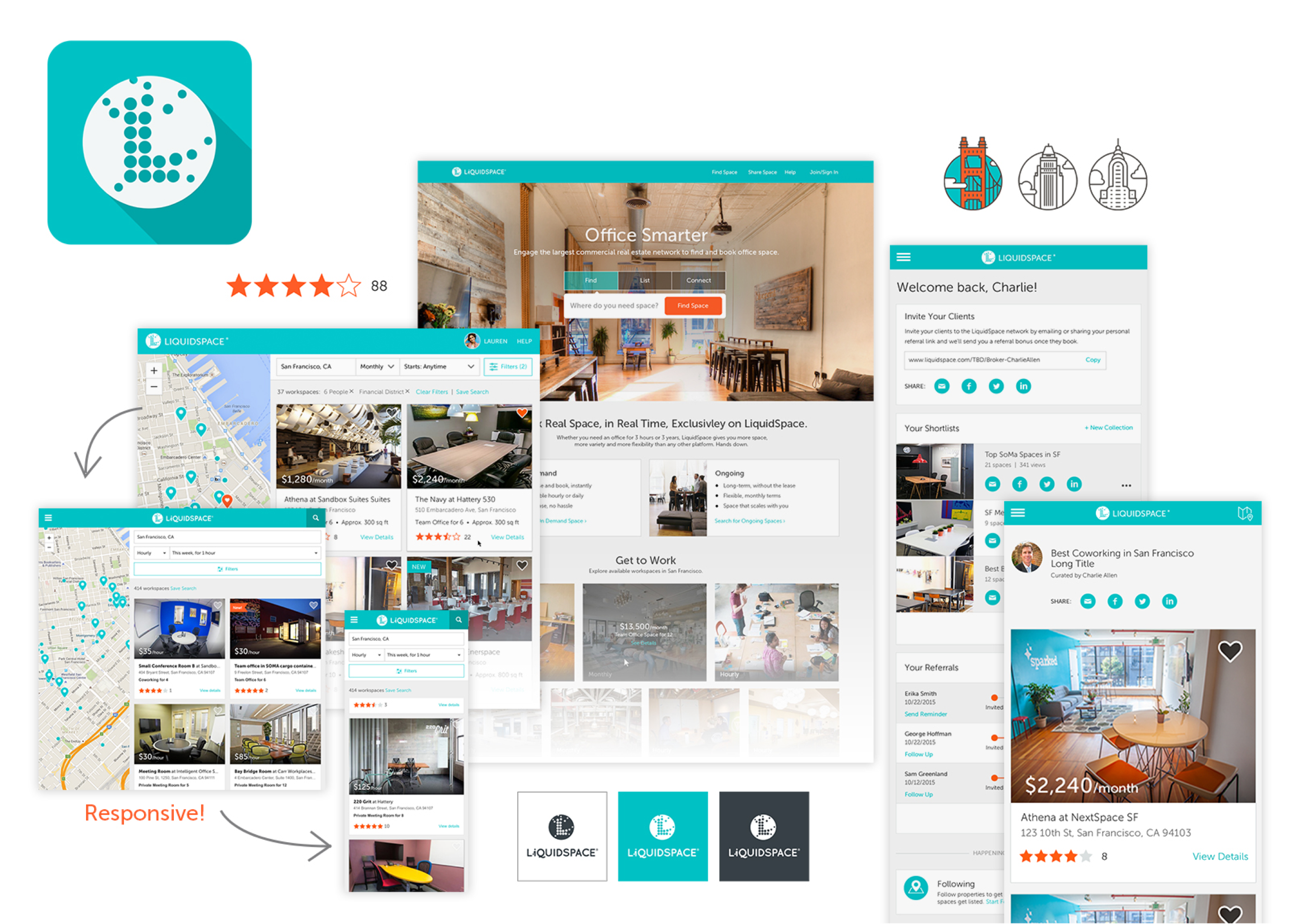 As a Lead UI/UX Designer, I've been working closely with Product Managers and our Development Team building out architecture, flows and features of the website, mobile app, and our marketing channel. I've also been able to travel and live internationally, while working remotely for the past 5 years. Just a few weeks ago, in fact, I visited my 30th country.
These days, there are thousands of people traveling and working remotely, yet there are also a lot of people who want to know how it is possible.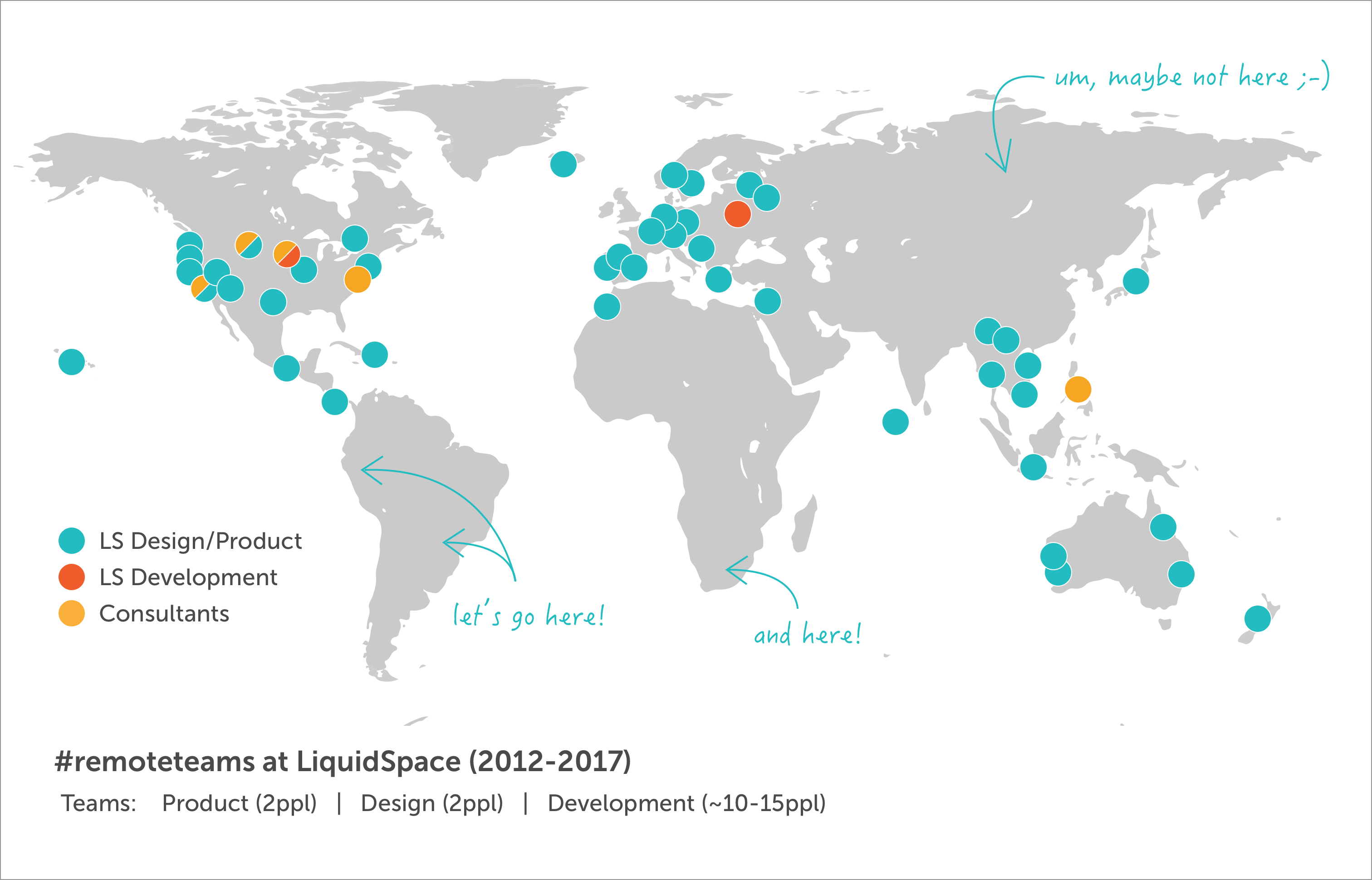 Here is a list of my top 10 tips for productivity and leading design while traveling:
1. Stay connected and be accountable
My most important rule for working remotely is to stay connected with my team on a daily basis and be clear about each other's responsibilities. In addition, forecasting what projects are coming up next is always helpful as I can plan my work/travel schedule based on that.
If you have a choice to play or run errands during the day – great! But – be prepared to work the night or make it up during the next day. In any case, make it a habit to deliver what you promised. That's just fair.

2. Get your team to use the same technology
After taking a look at what I use daily, there's only 5 apps that I find incredibly mighty and irreplaceable. Some are essential for communication when working remotely; others are design-related.
Slack: https://slack.com
A few years ago Slack has replaced email and messenger for our entire company. Their interface is colorful, friendly, and intuitive – it feels good to use a product that looks good, especially when you spend so much time with it!
Zoom: https://zoom.us
We use Zoom for video conferencing and calls. Everything from quick 1:1 chats to All-Hands Meetings happen on Zoom. It's quite fun. Zoom's screenshare feature is magic as it allows me to share and present my designs in real-time without the hassle of setting up a projector.
Google Drive: https://www.google.com/drive
While I'm still a fan of Dropbox for file sharing, I have to admit that Google Drive has become much better in the recent years. I've probably uploaded and shared a bazillion of files on Drive by now, so really I can only be thankful for it.
And since we talk Google, GoogleDocs is also a good option for collaborating on PRDs (product requirement docs) and content. I love the feature of commenting and resolving questions. It encourages teamwork especially between folks who are working remotely from around the world.
Sketch: https://www.sketchapp.com
Sketch is my go-to design app. It's great for user interface design, for both – responsive web and mobile. I still occasionally use Photoshop and Illustrator for photo retouching and illustrations.
InVision: https://www.invisionapp.com
I fell in love with InVision the first time I used it, about 3 years ago. So far, it's the most simple and intuitive tool I found for building web and mobile prototypes, which we use for product demos and user testing.
Cheers to all the tech geniuses who made these apps happen!

3. Own only the hardware and tools that are necessary
My design peers have asked me what I do about the glorious Mac monitor and a mouse while travelling… the thing is, I haven't used either since 2008'ish. My 15" MacBook serves the purpose. I use the trackpad and keyboard shortcuts.
Here's a quick rundown of what I do find more useful:
– iPhone: obviously. You can get a small portable power bank just in case if you run short on battery.
– Headphones: little ones will do, they take less space.
– Chargers for all your devices: very important! I have a universal adapter (like this one) that works anywhere I go. I also have a European and American plug for my MacBook charger (it's just a little piece that you can buy separately).
– Moleskine notebook, pen, and pencil: low key, but always essential.

4. Make sure you have WiFi
Before you wander off to new random destinations to satisfy your desire for working remotely, do some research about WiFi in the area. A lot of places say they have WiFi, but what they, unfortunately, mean is that they have "occasional WiFi". So far, my top troubled-WiFi spots were in some of the remote places in Thailand, Morocco, and during a campervan trip across EU.
As a rule, before I book an airbnb for a week or longer I always ask the host to check their WiFi speed and ask what their Skype calls are like. This simple ask helps me find places with reasonable connections. And of course, I always consider coworking spaces and coffee-shops in the area.
For the phone, I use T-Mobile ONE plan that serves limited WiFi when outside of US. If I stay in a new place for at least a month or plan to hop around the country, then I definitely get a local SIM card and a data package. It costs anywhere from $20-40 depending on the country.
Portable WiFi router is becoming a popular option. However, for me it doesn't quite work well yet – I do need a lot of bandwidth for screen-share and streaming audio-/video- calls. For email and photo sharing on social – portable routers work well enough.

5. To ensure consistency and speed – create style guides and a pattern library
One of the most important steps when building a product from scratch is to establish some guidelines. A visual style guide is a must – it describes the look and feel of the brand and explains the key visual elements such as the logo, color palette, typography, illustration style, and more. Your style guide, however, is not set in stone. Expect it to evolve through the years to align to company goals.
Taking it to the next level – every design team should establish and maintain a shared UI Pattern Library that has clearly defined on-brand UI patterns and their usage. This especially important for design teams working remotely. Having this ensures consistency throughout the pages designed by different people from different parts of the world, with minimal supervision. It also helps bring new design hires up to speed – all they need to do is dig into the library.

6. Make the most of different time zones when working remotely
Being on different sides of the world, it seems like LiquidSpace Product – Design – Development progress is happening around the clock. Set your Gmail calendar settings to show the main time zones – it helps tremendously when you schedule meetings. I also have the main time zones set on my MacBook and on my phone.
Since my schedule is one of the odd ones (due to traveling and living in EU), I'm absolutely fine working evenings to overlap with San Francisco. Anything after 5PM until midnight gives me plenty of time to catch up with the team.
One sanity hack though, I try to keep all the meetings to 2-3 evenings per week. It opens up a few nights to spend time with friends or to cook dinner with my husband. Having most of the meetings back to back also keeps me more focused with less "wasted" time in-between, and gives me larger blocks of time the following day to crank through design projects.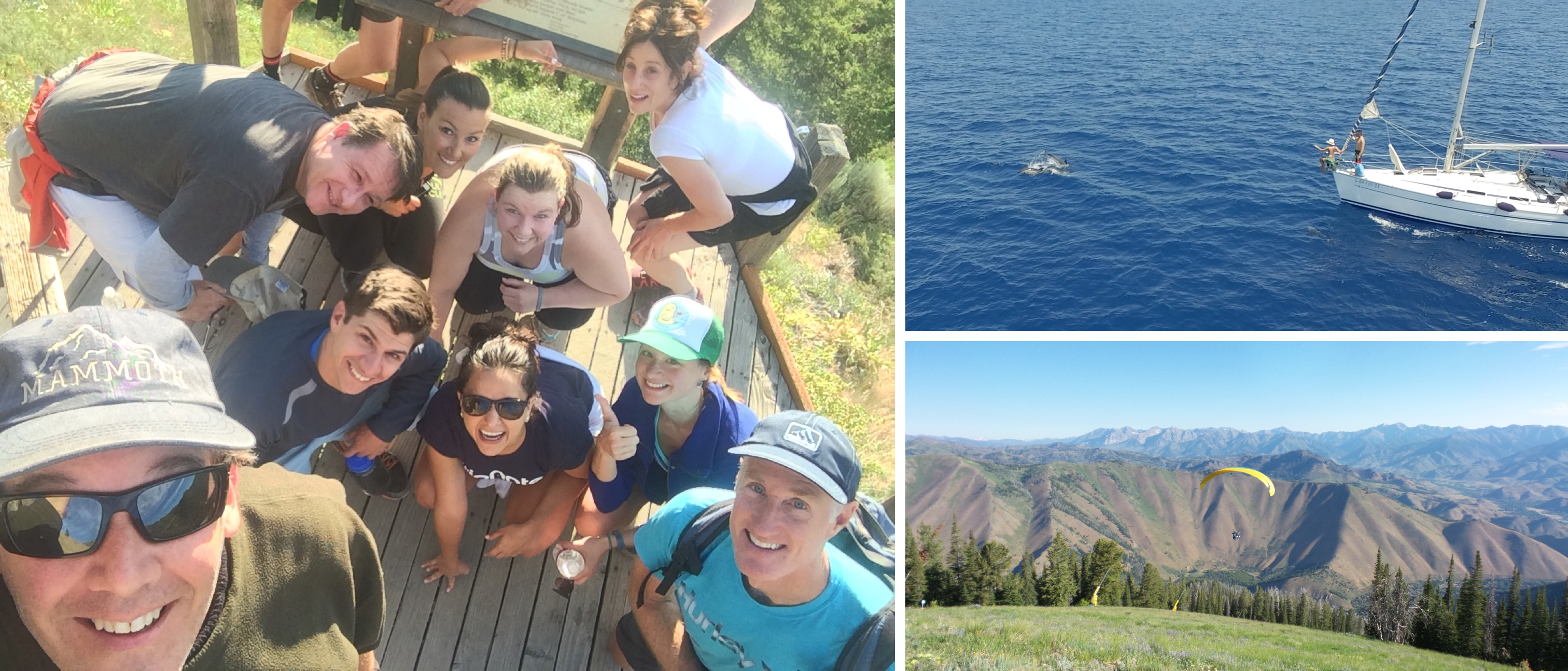 7. When you meet your team in-person – have a blast!
Team building goes a long way. People who play together work well together. I'm really fortunate to have amazing colleagues whom I can call friends.
Get to know your peers. When you meet in-person do something fun together. At LiquidSpace, for example, we have wined and dined together, hiked at sunrise, paraglided from the top of the mountain, and even stayed out for an overnight boat watch while sailing to a super remote Mediterranean island. All of these experiences really deserve a story of their own.
­

8. Keep a healthy work-life balance
It's good to push yourself at work, but not to a point where it becomes the only thing you do – coming from SF Bay Area, I see it as a common pitfall. Working remotely gives you a great opportunity to pursue some other passions. Whatever it is – just fit it in your schedule. Everything else will fall into the right places around it. Doing something you love will make you happy and in turn boost your productivity.
What do I do besides design? Anything low key but active, mostly outdoors – on top of a mountain or middle of the sea. This is a complete opposite to spending long hours in front of my computer. Yoga, hiking, and via ferratas are the best sources for me to draw zen, devour epic sceneries, and get in shape with a boost of adrenaline.
9. Travel light
I often get asked what I do with my wardrobe and how much stuff I bring. Consider the weather/season of places you're going to and pack accordingly. You really don't need much – just get your favorite pieces that you wear most often and can mix and match.
I always travel light – a backpack (for my gadgets, papers, and a little make-up/toiletry pouch) and a carry-on (for clothes and shoes). I love the simplicity of less choice when it comes to clothing… and I'm glad I've never owned more than 3 lipsticks in my lifetime.
10. Find the right accommodations
For short stays under a month go with airbnb. Here's a $38 coupon if you have never used it before. For monthly and up, consider subletting or getting a place on monthly basis – that will save you a bunch.
If you're hopping around a country or countries – say, staying at each place for 3-4 days, I suggest not booking your whole itinerary ahead, but improvise instead. There's always lodging availability and having extra wiggle room to stay or go will make it easier for you in case if you need more time to explore.
For me, staying at the same place for a few months is ideal. You can live like a local, maintain a consistent work schedule, and explore at a leisurely pace. If you have the time, don't rush it.
Hope you found these tips helpful!
To get more insight on why I love working remotely, take a peek at my other post about 5 Life-Changing Reasons to Work Remotely.
Feel free to connect with me if you have questions or need follow up on any specific points. Happy to share what I know.
---
Cheers and Namaste,
Sasha Marchenko
UI/UX Lead / Digital Nomad