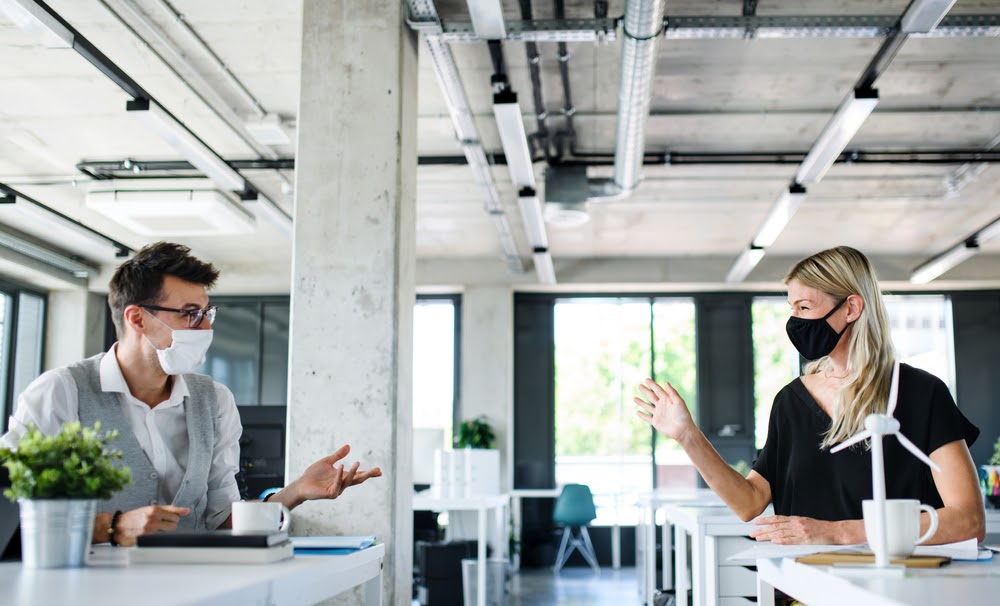 "When will it all go back to normal?" but the better question might be, "what does the new normal even look like?"
Reimagining life at home, work, and school after the pandemic is really anybody's best guess. If 2020 has taught us anything thus far, it's that this year has plenty of tricks up its sleeve—so we can assume there'll be at least a few more curveball surprises that could affect society's reopening.
However, there are a few trends that healthcare experts agree the general population can expect to play out, especially in regards to office work. The restaurant industry, by contrast, is much more volatile to the fluctuating infection rate, as are educational organizations.
If you're wondering what your office will look like once lockdowns are lifted, here's a glance at the painted predictions for workplace re-entry.
Expansion of Contingent Workers
The COVID-19 pandemic has led to widespread economic uncertainty, with recording-breaking unemployment rates spiking as high as 14.7% and as few as 51.3% of the adult population holding down a job, according to data from April, 2020.
Many employees who survived the cuts and were not laid off, were nonetheless introduced to new employment models intended to reduce the pandemic's economic impact, such as 80% pay for 80% of work. Other research finds that 32% of businesses are replacing full-time employees with contingent workers as a means to save costs, because it relieves them of their need to pay wages, payroll taxes, and Unemployment Insurance.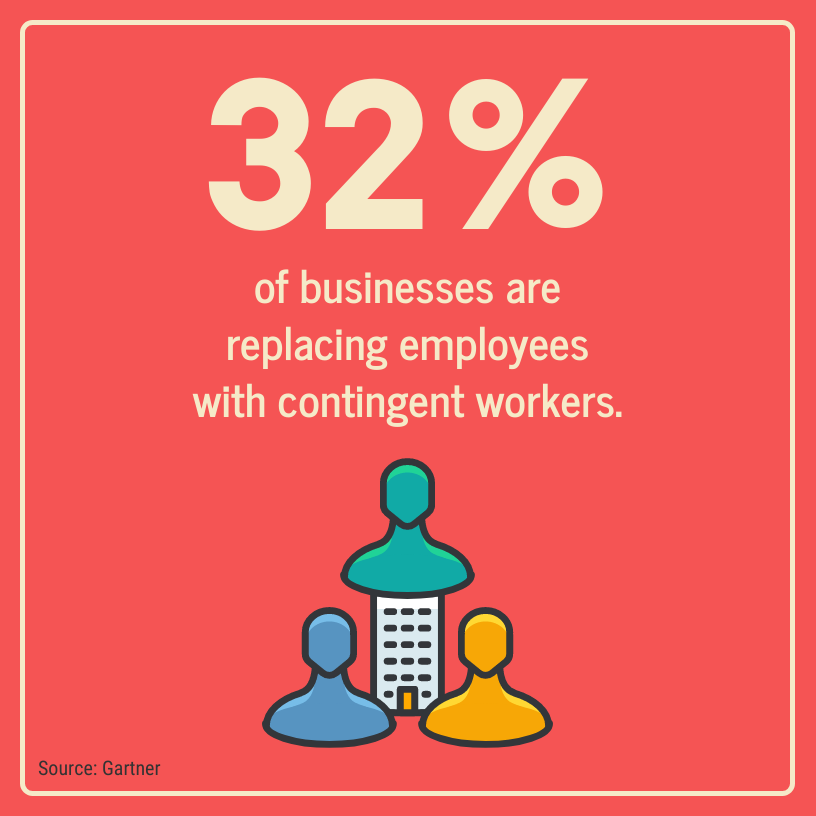 So, what does this all mean for your future role in the office? Essentially, if you were salaried before the coronavirus hit, then there's roughly a one-in-three chance that you're brought back on a per-project basis. Plan ahead and save wisely, because the lack of job security in this uncertain economy means that no paycheck is guaranteed.
Government Aid Impacts Business Decisions
In a recent survey of 5,800 small businesses, over 70% of respondents anticipate needing financial aid through federal, state, and local stimulus packages created in response to COVID—but that doesn't mean all 4,060+ applicants will receive relief.
The eligibility requirements for small business grants and loans determine who qualifies for aid, in what amount, and to cover which expenses. The SBA Economic Injury Disaster Loan, for example, provides $10,000 emergency grants to approved applicants that can be used to maintain payroll, provide employee sick leave, or meet needs such as paying rent.
Unfortunately, the funding available for these types of programs is limited, and eligibility varies by business size and location. If approved, it can take quite a while to actually receive the money (after waiting through a pretty lengthy application process), so the future of your office may be contingent upon cutting through bureaucratic red tape.
If your employer receives government aid, the chances of you returning to a physical office with a full-time salary would be significantly higher—but keep in mind, there are restrictions on how the money can be spent and the size of the loan may impact their hiring decisions.
Which team members can they afford to bring back? The top performers? Longest tenured? We'll have to see how HR evolves in the coming months but be prepared for a more competitive work environment once your office reopens.
Distributed Offices on the Rise
Another way that businesses are cutting costs in the post-COVID economy is by distributing offices away from one central location to smaller regional hubs, or by giving employees access to coworking spaces.
Coworking, or sharing a common office for independent work activities, gained a lot of popularity in recent months before the coronavirus hit—but now, they're projected to grow tremendously post-pandemic.
There are a few reasons that support the expected surge in demand:
Productivity improves in a professional environment
Employees can access essential tools, such as WiFi, that they may not have at home
Colleagues can safely collaborate in proximity
Employers are relieved of workplace COVID compliance
Coworking spaces are often cheaper than rent and utilities
Every environment is structured differently, so you may need to reserve a desk for the days that you want to go in—but doing so could help you accomplish more tasks in a setting outside of your home, while also maintaining connections with long-lost coworkers at a safe social distance.
Overhauled Office Layouts
If and when your office reopens, expect the interior design to look completely different. Here's what you might see changed to promote hygienic safety:

Staggered desks spread out six feet apart
Automatic doors with touchless entry
Revamped HVAC systems
Closed common areas
Removed amenities
Sanitation stations
Sneeze guards
Cubicles
There could even be arrows taped to the floor directing you where to walk, with a separate entrance and exit on either side of highly trafficked areas.
These futuristic alterations could have a negative impact on company culture if they were to create a dystopian effect in the office. Even if the environment feels the same as it did before, employers will need to limit the number of people who can work under one roof at the same time—and that delegation isn't as easy pulling sticks, per se.
Remote Work is the New Norm
When offices closed their doors at the start of the crisis, both employers and employees probably thought it was a temporary solution to flatten the curve and slow the spread of the disease—but now, remote work is looking like the new way of life.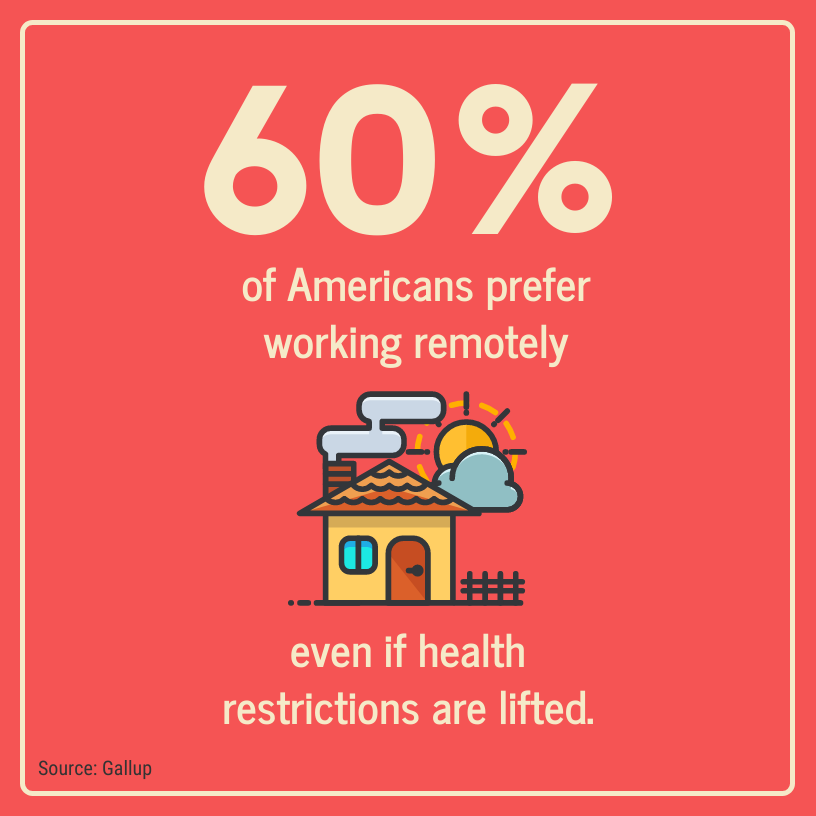 A survey found that 60% of American workers prefer to do their jobs in a remote setting as much as possible, even when public health restrictions are lifted. Employers will likely listen to the voices of concerned employees in the months to come, especially considering the money they can save on rent.
Office Workflow Changes to Come
Whether you work from a home, office, or in an on-demand space, expect your employer to offset their decreased supervision with technology that monitors work activity. They might implement project management software and time-tracking tools to stay on top of employee activity from afar.
Takeaways
The most important thing is to respond to change proactively. So, brush up on your time management skills, get the home or remote office dialed-in to fit your current needs, and stay motivated while working remotely until the dust finally settles.
About the Author:
Kaelee Nelson received her Master degree with an emphasis in Digital Humanities and pursues her career as a writer in San Diego, currently writing for 365businesstips.com. She enjoys informing readers about topics spanning industries such as technology, business, finance, culture, wellness, hospitality, and tourism.