Even before the pandemic that shook the whole world, society was approaching the format of remote work, putting it on a par with the office option. However, due to certain unpredictable events, this development has accelerated, and now developers more than ever have the opportunity to choose: a full-fledged office schedule or work from home with the ability to visit the office occasionally. In this article, we'll talk about why developers prefer flexible hours and remote work to the office and show you how to hire software engineers and establish all the remote processes effectively.
Working Both in the Office and Remote
Along with the global health care crisis came a modification of long-standing concepts. If earlier when looking for a job it was necessary to clarify whether it was possible to work from home a couple of times a week, now this question sounds like "Will there be offline meetings with the team?" In particular, this applies to those specialists whose work does not require physical presence at all.
Founders of companies shouldn't care where their employees do their work – as long as they can concentrate and do it day by day. Therefore, developers have the opportunity to choose: work from home or in an office coworking space. For many reasons, a remote engineer prefers the middle option – most of the time he can work from home, and sometimes visit the office.
Let's look at three main reasons why remote software engineer is more efficient than office workers.
When there are no office distractions and autonomy, teleworkers can get more work done. This is what most people strive for. The productivity of engineers does not depend on being in the office, but on motivation – salary and social package.
Despite the distance, remote developers work better as a team. This is because distance requires more intense communication. Since teleworking involves a large distance between employees, they have to communicate more often and more purposefully with each other. As a result, cooperation is strengthened.
Office workers absent a lot – employees take sick leave or leave work early to come to an evening event on time. However, remote engineers don't need to make up any excuses. Since they are not tied to the office, they can plan their working day in accordance with life's needs. If they catch a cold, they can work from home without infecting other employees.
Worth mentioning remote software engineer cost. When working from home an engineer takes less sick days and a company shouldn't pay for his working place – in such a way there is an opportunity to increase a dedicated engineer salary without additional cost.
Also, due to the quarantine, such tech-giants as Google and Alphabet told employees in the spring of 2020 that work from home will continue until the end of 2020. This was also stated by Facebook, which was among the first technology companies to ask their employees to start working remotely.
IT companies have been using the Desk Sharing approach for a long time. Employees do not have a fixed workplace, but come to the office if needed, having previously booked a place. The purpose of the office is effective interaction with colleagues, not presence from 9 am to 6 pm. The pandemic only highlighted this aspect and reminded of the expediency.
The Statistics of Non-Regular Office Visits a Few Years Ago and Now
According to an AND CO survey in 2018, 55% of respondents work remotely all the time, with 28% working from both home and office.
If we talk about developers, in 2017, according to a Stackoverflow survey among developers, 53.3% noted that when looking for a job, the possibility of remote work is a priority criterion, and those who can fully or partially work remotely are most satisfied. Developers choose flexible hours, which is why having this opportunity in a company is a factor of huge importance.
Need more fresh statistics? Note that in 2020, telecommuting plays an even bigger role. In a recent survey by Stackoverflow, telecommuting ranks 4th in importance, right after flexible scheduling, office environment, and company policy.
Why Is the Ability to Work Remotely So Important for Developers?
A visible development in the trend of switching to remote work occurred between 2005 and 2017 – in this period, the number of remote work opportunities increased by 159%. This is stated in a study by Flexjobs. Also over the past 5 years, this figure has grown by 44%.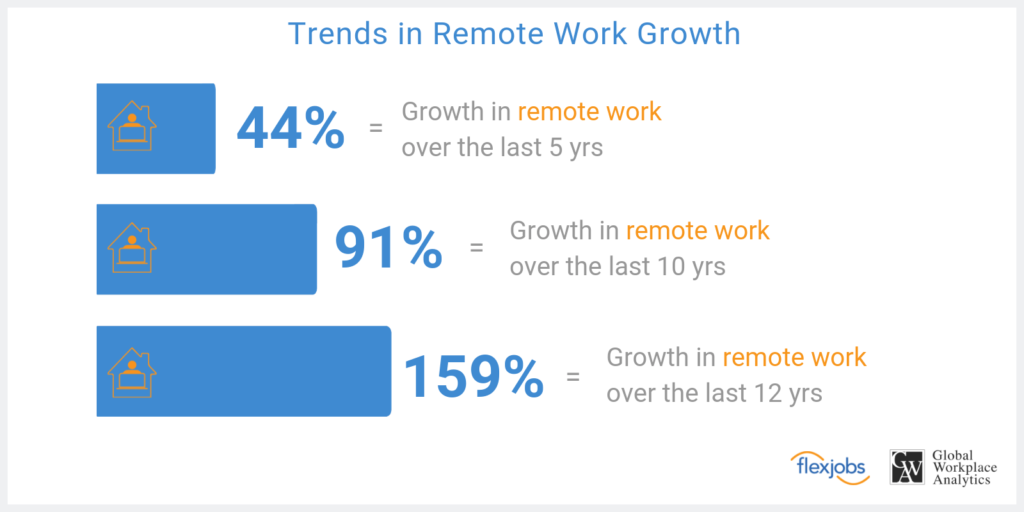 Source: Flexjobs
We have collected several reasons why specialists want to work remotely:
9% choose this option to be able to travel constantly
65% want flexible hours so they can choose when to work
10% choose to work remotely to do something else in their free time
Among other reasons why developers are switching to remote work, they have the ability not only to effectively manage their time but also to regulate their income.
In remote work, the benefits outweigh everything else. A lot of time is freed up and does not need to be spent on the way back and forth: instead, you can arrange a run for yourself, spend time with your family, independently adjust the operating mode and adjust it for yourself.
How to Work Effectively With Remote Developers
The advantage of saving office costs is not the main thing. The main thing is the ability to choose among a large number of applicants for the position of developers.
There are two differences in hiring a remote developer versus an office developer. First, you need to immediately find out how responsible the applicant is since no one will stand behind him while working.
Secondly, it is important to immediately determine the applicant's readiness for social isolation. Introverted people are more effective at working remotely, and some extroverts are unable to lead an isolated lifestyle and leave.
Effective work with developers is, first of all, an effective communication system.
What should be done:
set up communication channels and clearly separate their functions;
clearly define the circle of people who need information, without missing anyone, but also without adding extra employees;
rank interruptions and make sure that they fall into the right communication channels;
do not forget about the social and motivational role of communications.
There are three types of communication:
1. Documentation
The documentation is characterized by large volumes of information and an almost complete lack of interactivity. As a rule, one person fills the channel with data, the rest of the participants read (and receive timely notifications of changes). Ideally, communications should migrate to documentation as much as possible.
2. Correspondence and chats
These are working channels for communicating with remote employees, such as email and instant messenger. This channel is characterized by high interactivity and little information.
3. Voice and video communication
Phone and Skype. The channel with the highest degree of interactivity, which is also characterized by low efficiency and high cost (excessive time expenditures). Therefore, it is used when something is needed very urgently, as well as for regular motivational communications. Skype is most often used for motivational meetings and to discuss large and complex technical issues.
Conclusion
The main thing for developers when choosing remote work is freedom in allocating their time, managing earnings, and choosing a location. For companies, it makes little difference whether there is an employee in the office or not, if the quality of work remains at the same level or even higher. It's good when there is an opportunity to occasionally appear in the office, which can be used as a coworking space or a place to meet with colleagues. One way or another, remote work is already taking over society and it is important not to discard this option for the development of your company.
About the Author
Anastasia Stefanuk is a passionate writer and Information Technology enthusiast. She works as a Content Manager at Mobilunity, a provider of dedicated development teams around the globe. Anastasia keeps abreast of the latest news in all areas of technology, Agile project management, and software product growth hacking, at the same time sharing her experience online to help tech startups and companies to be up-to-date.