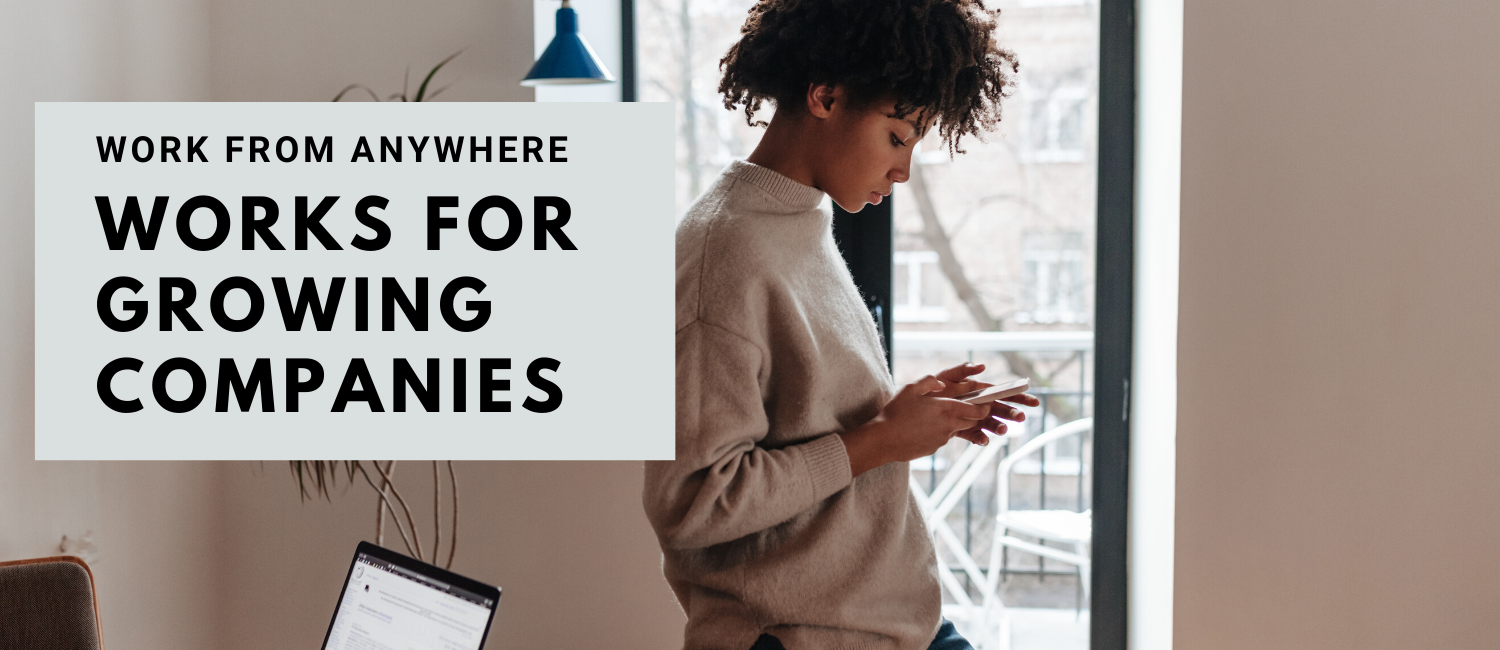 If there's one thing COVID has taught us it's that remote work actually works. Even some major corporations have embraced the idea that "butts in seats" are no longer a prerequisite for individual or team productivity. For instance, Twitter, Square, Shopify, and Upwork have said that they will move to a "remote option" model for most if not all workers. And, we are not just hearing from modern tech companies. Even companies laden with tradition, such as Nationwide, Barclays, and JP Morgan, have admitted that WFH, or some hybrid of WFH and office-based work, will probably become the new normal.
Obviously, this is great news for talent. Because if you can work from home, what does it matter where that home is located? In essence, WFH is permission to WFA (work from anywhere) that connectivity permits.
The larger societal acceptance of work from anywhere is good news for companies of all sizes and stages for three key reasons:
First, work from anywhere may actually be the key to competing in the talent wars.
Why should we limit ourselves to the talent pool that just so happens to exist in a single metro area? Companies of all sizes can now cast a much wider net and recruit from a much larger talent pool, prioritizing talent over geography.
VCs take note, because this has tremendous implications for your portfolio companies. Freed of the need to hire locally and then concentrate that staff in a traditional office, companies can expand more quickly and recruit top talent, irrespective of location.
By recruiting and building teams in markets with a lower cost of living, a company can essentially staff at a discount. For instance, the rate for a senior software engineer in Minneapolis is 33% less than in San Francisco and 20% less than in New York City. It's no surprise then that companies like Google have set up teams there, despite having no traditional offices in the region.
Second, work from anywhere means companies can grow (or downsize, if necessary) where and when they need to with greater agility. How confident are you about what the next 10 years hold for your business? If 2020 has taught us anything, it's the difficulty of predicting even the next 10 months. And not to be a downer, but according to PWC's 2020 Annual Global CEO Survey, 53% of CEOs predict economic decline – a record high in the survey's 23 years.
In this climate, the logic of holding multi-year office leases now seems questionable. Whether you anticipate decline or growth, flexibility is the key to riding out the foreseeable future.
Lastly, WFA can be a fiscally responsible policy. Companies that limit their hiring radius to top-tier cities remain committed to high overhead for the long term. What if the company was free of those limitations and capital expenses could be shifted toward business growth? Consider the potential savings. Beyond rent, the cost of FFE (furniture, fixtures, and equipment) for a moderately dense office can range from $18,000 to $33,000 per employee. By contrast, a company would spend only a fraction of that amount to properly set up a home office. And it would spend relatively little were an employee to work out of a fully furnished flexible office space.
Embracing work from anywhere doesn't mean individuals and teams located outside the HQ region are left with no place to work or that they're expected to always work from home. Flexible offices have made it easier than ever for companies to expand into and recruit from other markets, including smaller metros, suburbs, and even rural areas. Fast-growing organizations with less clarity on their growth curve are afforded the agility they need to grow. Office commitments can be quickly adjusted as activity and performance dictate. The scenarios could include dedicated office space for entire teams, such as sales or customer success, or on-demand offices and meeting rooms that become touchdown spaces for individual and team productivity.
In this climate of uncertainty, companies owe it to themselves to consider the benefits of flexible offices, which provide many of the benefits of a traditional office – meeting space, high-speed Internet, culture building – but without the high capital expense and long-term commitment associated with traditional leased space.