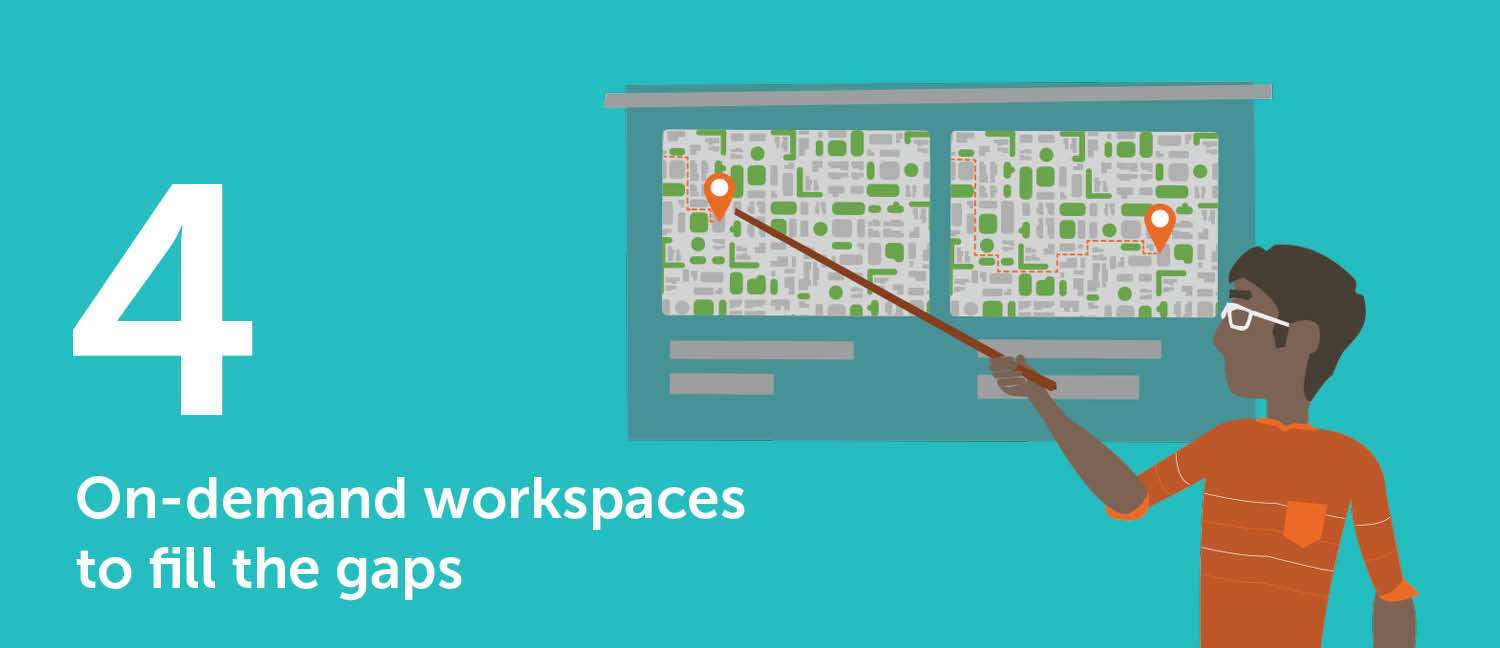 Depending on what density target you pursue, there will be a good percentage of employees who are unable to return to the office. They'll continue to work from home. But what if home doesn't work?
When WFH just doesn't work
We've all experienced it. Distractions abound. Motivation can be an issue. Homebound kids compete for already limited bandwidth. Sure, most of us technically can work from home. But sometimes face-to-face collaboration is absolutely necessary. Home-based employees will not only need but may demand local options so they can get out of the house and focus, hold meetings, or collaborate with others.
Meeting the challenge with on-demand office space
Until now, most corporate managers have thought of flexible workspaces as something for startups and freelancers. But in reality, having professional, safe and flexible workspaces that are located near employees' homes will soon be seen as a critical resource.
Companies can easily incorporate flexible, on-demand workspaces into your re-entry plan. Thousands of providers offer enterprise-grade space available for teams as well as individuals. And they're easy to find and procure in the LiquidSpace marketplace.
Individual touch-down space
Available on-demand at hourly and daily rates.
Meeting rooms

Available on-demand at hourly and daily rates.
Team suites
Available on flexible monthly terms.
"Yeah, but are on-demand offices safe?"
Even before "shelter in place," many flexible office providers had to adopt rigorous cleaning and social distancing standards. And we have found venues are taking extra precautions above and beyond the standard recommendations.
You can find on-demand offices with published Health and Safety policies by looking for this badge on LiquidSpace.com.

"Are on-demand offices private?"
Yes, many on-demand office providers offer private workspaces for teams and individuals on flexible terms.
Map out the demand for on-demand
If a significant portion of your employee base will continue to work from home, you can actively support them with on-demand offices that are conveniently located near employees' homes. Based on where your employees are clustered, you'll want to look for overlaps with flexible office providers that meet both enterprise and health and safety standards.
Anticipating and quantifying this need will help you develop a right-sized flexible office program in locations employees can easily access.
Let LiquidSpace help you map and quantify your flexible office need
This is a complimentary service that will help you identify high-quality workspaces close to employee populations. Schedule your workspace review.
Professionalize your flexible office portfolio
Many companies are anticipating that on-demand office spaces are going to be a significant part of their re-entry plan and possibly part of a longer term real estate strategy. The challenge will be managing these vendor relationships at scale, as many of the venues are small or independent businesses.
Mobility Manager, powered by LiquidSpace is a solution that helps you manage your "portfolio" of on-demand office spaces. Mobility Manager lets you give employees a choice of where to work, while giving you control, from space discovery to contracting to ongoing management.