We are excited today to share that our marketplace is now integrated, in real time, with a number of venue management and calendaring systems. Thanks to the new LiquidSpace API, we're able to seamlessly connect workplace service platforms with our marketplace.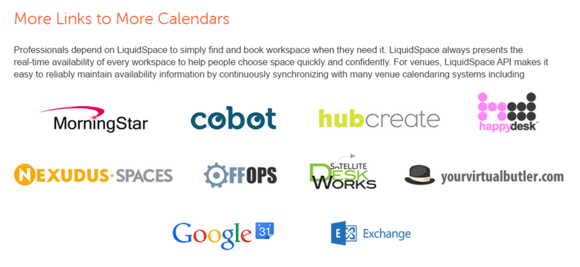 Current integration partners include HappyDesk, Hubcreate, MorningStar, Cobot, Microsoft Exchange, and Google and on-site display hardware such as Steelcase RoomWizard, Eventboard, and Robin. Integrations with Your Virtual Butler, Satellite DeskWorks, OffOps, and Nexudus will soon be live.
When your systems are integrated using the LiquidSpace API, updates such as booking and reservations made in our marketplace will automatically sync with your calendar, wall tablets and more, and vice versa.


As demand for real-time access to flexible workspace grows rapidly, we're focused on making it simple for venue partners to join our marketplace and enjoy all of the benefits we offer. Check out more details about the LiquidSpace API at https://liquidspace.com/liquidspace-api or learn more about sharing your space through our marketplace at https://liquidspace.com/share-office-meeting-space.