It's estimated that by 2020, Generation Z will comprise more than 20 percent of the workforce. These "digital natives" expect more choice and even greater flexibility, putting pressure on companies to provide dynamic workspace solutions that will attract and retain top talent as well as supplement existing corporate headquarters with collaborative, community-driven workspaces.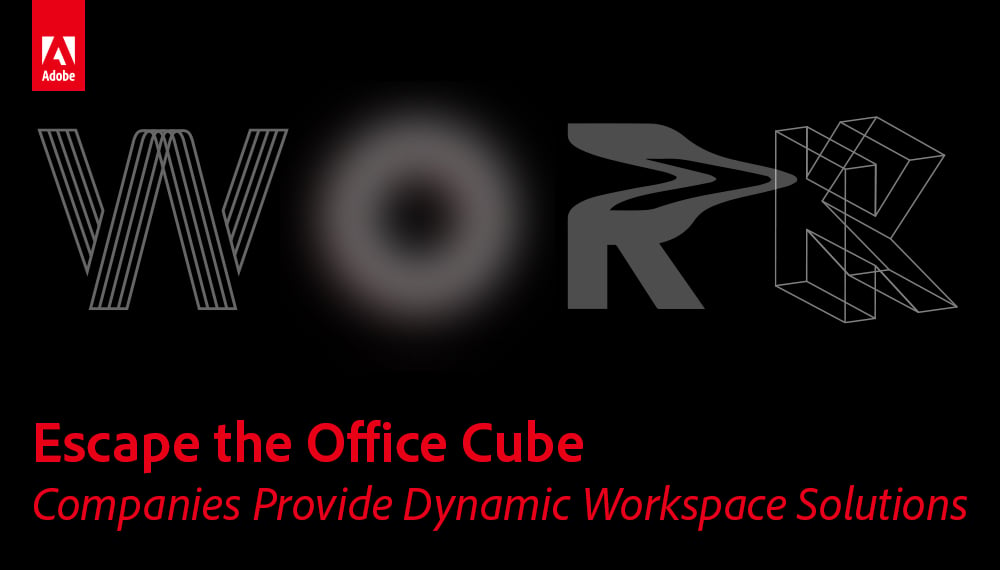 Traditionally, a professional workspace community is designed to function as an extension of your employer's brand, seamlessly integrating key attributes and defining characteristics of the company. From the location of your office to where you sit each day to what type of equipment is required, your effectiveness was directly tied to the physical components of your company's office space. Before the digital revolution entirely changed the way we live and work, providing customized solutions for today's mobile workforce, this centralized workspace also provided a productive hub for employees to collaborate and meet with partners and clients.
Demand for flexible office solutions continues to accelerate rapidly, shifting towards the fastest growing professional community – Generation Z. The first generation to grow up with the sharing economy and collaborative consumption, Generation Z employees are digital natives, demanding real-time experiences and on-demand solutions. From transportation to food to real estate, these young, mobile-first professionals expect employers to provide alternative workspace environments and flexible schedules. They're anxious to escape the bland, uninspired walls of traditional office cubes and experience dynamic workspace in one of a vast range of Third Place solutions.
Third Place, Explained
In the late 1980s, Ray Oldenburg coined the term Third Place to describe neutral, public spaces where individuals spent their free time working on personal projects, participating in community events, socializing and more. According to Oldenburg, the First Place is home, where people maintain the personal aspects of their lives, cultivate friendships, nurture romantic relationships, enjoy hobbies and more. By contrast, the Second Place is workspace, where people conduct the majority of their work, collaborate with team members, develop their professional skills, earn an income and more.
The Third Place, Oldenburg insists, is neutral. It's neither living quarters nor office space, but rather, public places where people gather to interact socially and otherwise. As the boundaries between work lives and social lives overlap, companies are beginning to rely on Third Places for increased productivity and professional collaboration, providing opportunities for employees to tap into new cultures, experiences, and perspectives.
How Companies Are Responding — And Why It Matters
Professionals everywhere are doing more and more work outside of their designated workplace. Businesses at every stage now propel teams to network, sell and deliver services at client sites. Employees need to be 'in the field' at conferences and trade-shows, developing leads, pitching and building partnerships. As more and more companies embrace mobility and choice, they need effective tools to help support their distributed and remote teams.
To facilitate work in this Third Place, companies are actively encouraging this flexible space model, enabling employees to work from home, coffee shops and coworking spaces. Some companies are even building unique spaces that mimic the comforts and neutrality of Third Place environments, encouraging natural dialogue and providing additional opportunities for employees to get out from behind the cube walls.
Other companies are redesigning their existing workspace to offer convenient coworking options at their existing properties, as well as sharing extra space with like-minded companies – and introducing an additional monthly revenue stream! Companies and their employees can leverage platforms like LiquidSpace for unrivaled workspace choice, without the hassle of a traditional lease. Browse and book meeting rooms, coworking space, shared workspace, dedicated desks and more, at the click of a button.
Building an effective culture that encourages employee productivity over hours spent behind a desk, requires more than passive support for work, life balance. Capitalize on growing interest and excitement surrounding the Third Place model. Build out your existing framework and provide teams with the freedom to work when and where it suits. By providing employees with this additional level of flexibility, you're offering an incredibly unique opportunity to discover and engage local communities. Here at LiquidSpace, we fully embrace this philosophy, effectively operating our business as a fully distributed, global workforce. Our team thrives on the unique experiences and networking that we get from working in diverse workspaces around the world.
The Future of Work and the Role of Technology
In the future, will workspaces remain onsite (at the office), or will they be on-demand at a collaborative space? From another perspective, will work be a mindset independent of place and time completely? In all likelihood, future workspaces will include a vast range of space types across a diverse marketplace of global office solutions. And while there's still great value in having a hub or home base that allows employees to collaborate in person, the mindset of working 8–5 in an outdated cube environment will change as employees demand even greater flexibility and as companies begin to realize the benefits of optimizing employee workspace.
Over the next 5 to 10 years, demand for flexible office solutions will continue to accelerate and companies will need to leverage powerful technology-driven platforms to simplify the discovery and transaction of flexible workspace and successfully meet the dynamic workspace needs of an increasingly mobile workforce. Get ready. We're going to see a radical shift in the traditional leasing model as Generation Z floods the workforce and companies begin to support improved mobility, increased flexibility and most importantly, leverage networks like LiquidSpace to provide employees with direct access to real-time space options at a vast range of workspace types.
[Originally published on Adobe Document Cloud]