What's the best way to grow as a team and combine work and travel? Take a workation to discover the best coworking space in Seattle, Washington. That's what we did this August. We went to Seattle to discover the best coworking spaces, see the sites, eat delicious bites and share them with you. In this week's edition of LiquidSpace Voices.
Seattle Coworking Trends
We discovered a bustling but very green and livable city with a majestic waterfront view and happening music scene. Fantastic work opportunities abound with heavy hitters such as Amazon, Microsoft, Tableau, to name a few in the technology space. Plenty of art and culture throughout the city. Seattle is a top city for coworking, according to the Seattle Times, with over 83 coworking spaces. Opportunity and the city's focus on outdoor space, sports, the arts and music and the still affordable neighborhoods attract millennials. Based on the LiquidSpace flexible office space statistics for the Seattle market the per person cost for a desk will run you $273 / month on average and day passes range between $25-$40. Here are our top coworking space picks and why you will love them.
Top Coworking Space in Seattle
MAKERS Space Seattle
Elegant accents make MAKERS, a coworking space in Seattle, standout. The space focuses on sustainability and uses refurbished elements such as polished bleacher board floors, salvaged windowpanes and desks made of recycled gym floorboards. Combining chic design with space conducive to productive work MAKERS has an open floor plan and nooks for quiet work. With part-time coworking plans starting at $85/month to several private office suites MAKERS found a way to combine personality with getting work done. Did we mention there is a coffee bar on premises for when you're feeling a little less motivated in the afternoon? Yes – we found it satisfying for the afternoon pick me up. Our team loved the on-tap flavored sparkling water and unlimited conference rooms, one of which we booked for a private brainstorming session.
MAKERS is centrally located near Pike Place Market where we indulged in lunch and where you can find the first Starbucks, the Piroshky Piroshky bakery for unbeatable Russian street food and see the fish mongers barter over their latest catch.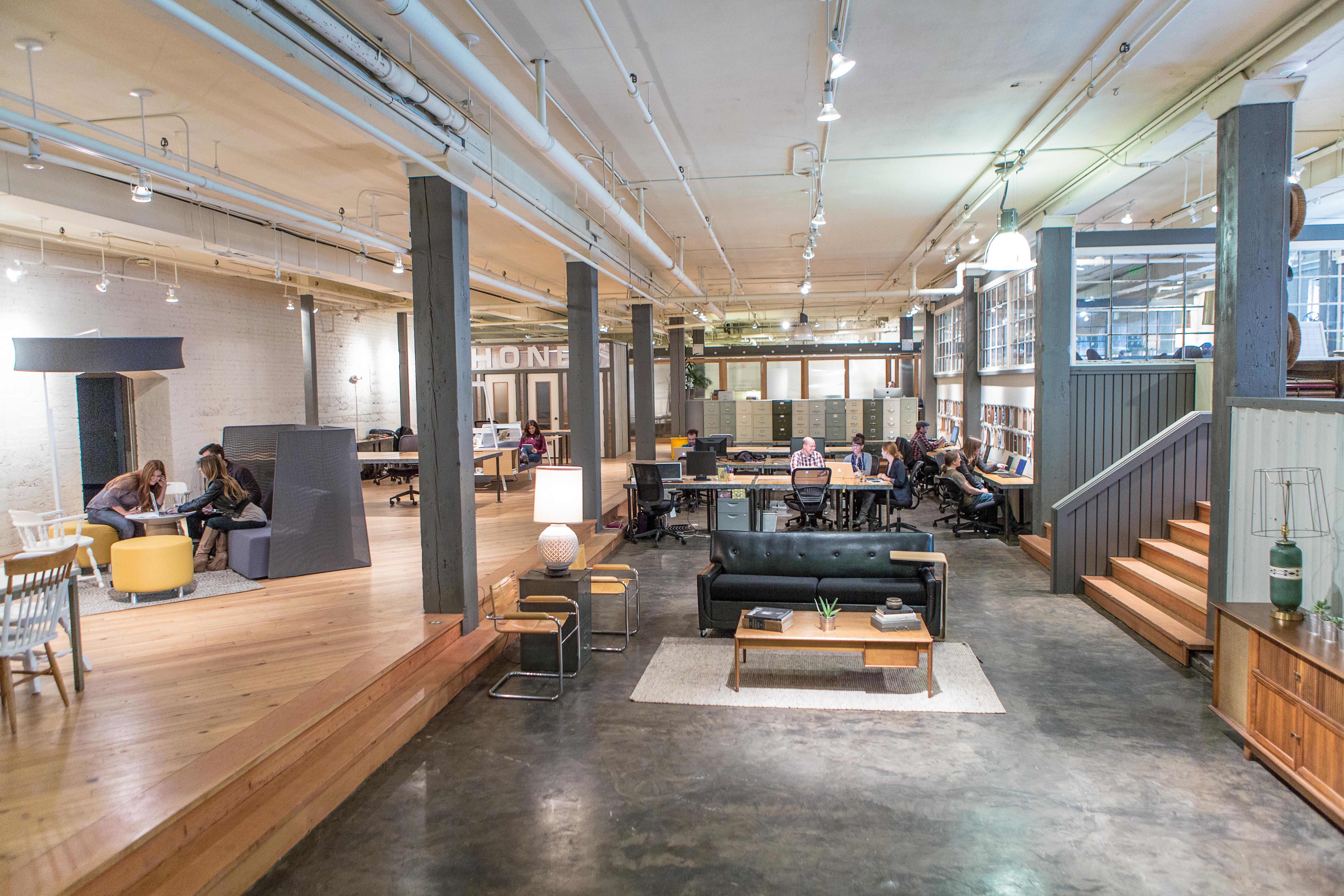 Novel Coworking – Pioneer Building
Located in an architectural marvel, the Pioneer Building, Novel Coworking is on the Seattle Underground Tour. If you get a chance, ask for a tour of the atrium and check out the skylight and views from the large central staircase. Options abound from coworking for 1 to Team Offices for 20+. Novel helps teams thrive. Grow or adjust your team's needs with more or less furniture at no additional costs. We enjoyed the natural light and high ceilings in the common area plus the welcoming receptionist that got us setup and showed us around.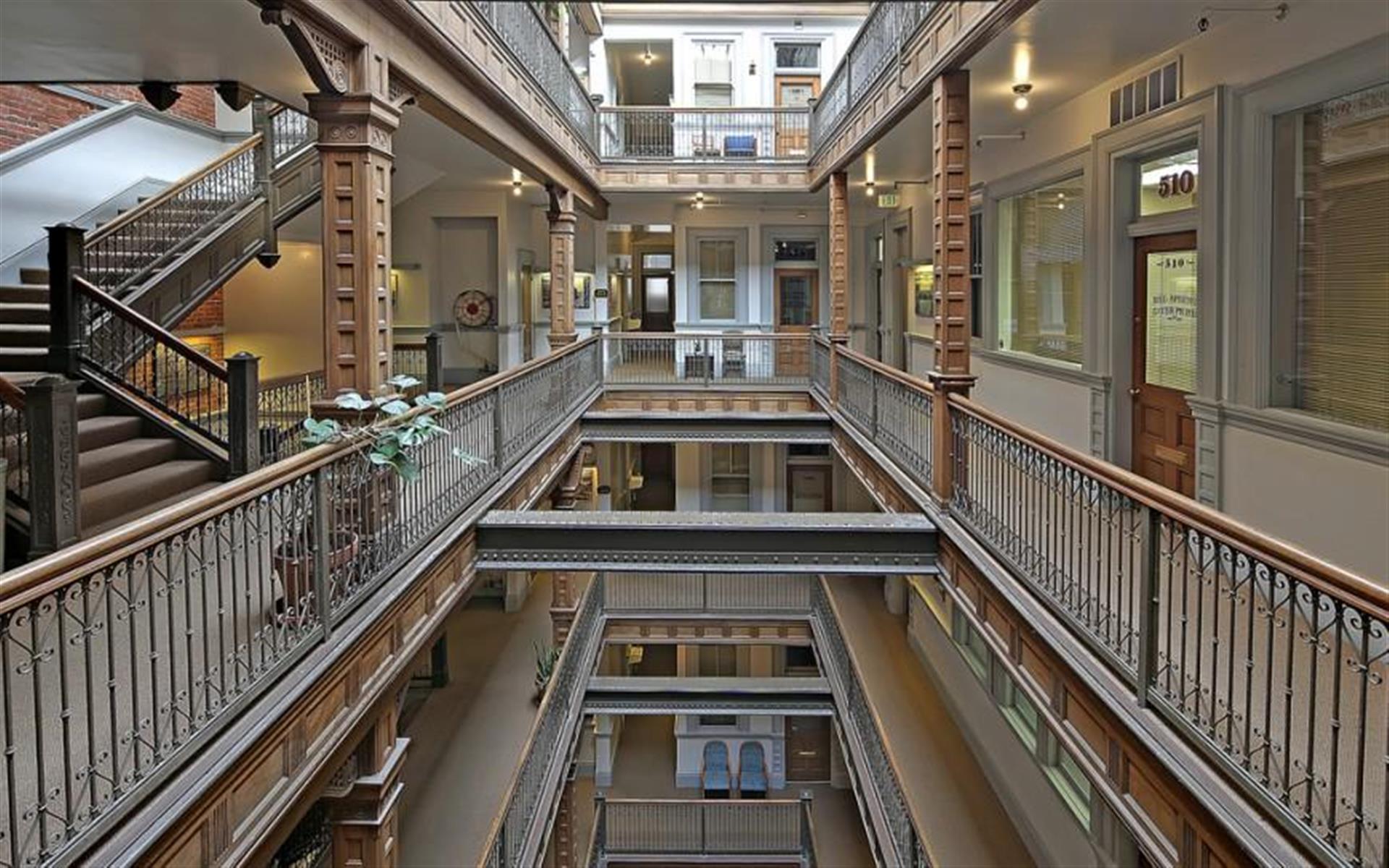 For lunch checkout Marcela's Cookery's flavorful po-boys and cajun food. If you want an afternoon pick me up we enjoyed the Cherry Street Coffee House for iced lattes. In a sightseeing mood? You are steps away from the Smith Tower. From our perspective it is it is worth a visit for the fantastic observation deck.
The Pioneer Collective
Stepping into the Pioneer Collective we instantly felt a welcoming vibe. Twinkly lights and wood accents abound to create a charming atmosphere. The people we spoke to came from a variety of industries, backgrounds and cultures making for inspiring conversation. We loved the eclectic collection of teas, plus what seemed to be always available iced and hot coffee. Coworking day passes start at $30/day. Monthly memberships range from $110 for limited access days to $465 for a dedicated desk.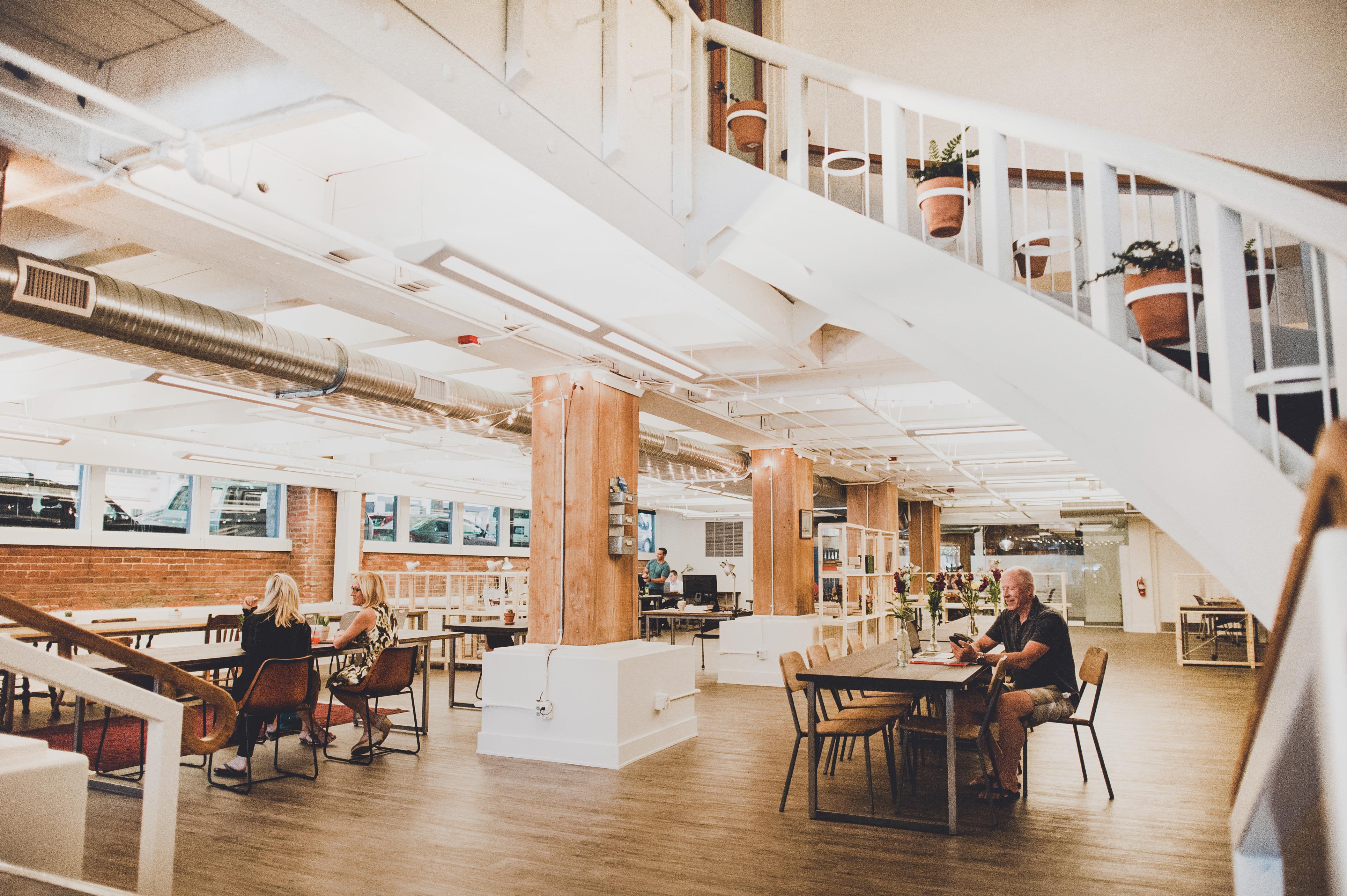 Centrally located, The Pioneer Collective is close to good eats from Korean to Mexican. Plus local watering holes and coffee spots for afternoon pick me ups make tPC a Seattle favorite coworking space for our team.
Go. Right Now.
So what are you waiting for? Go. Right now. The summer and fall are perfect seasons to visit Seattle. Get your work done at your favorite coworking space in Seattle, or one of the many shared office locations and then go and get inspired by the pie bars, craft brews and friendly people.