Last year we called for 100 million additional square feet of inventory and announced that we'd reached 2 million transactions. Although it took nearly 5 years to get to 2 million, now we're growing faster than ever – 5 times faster than our previous rate, in fact. We went from 2 million to 3 million transactions in just under eleven months, and we have our supportive partners, customers, and venues to thank for that.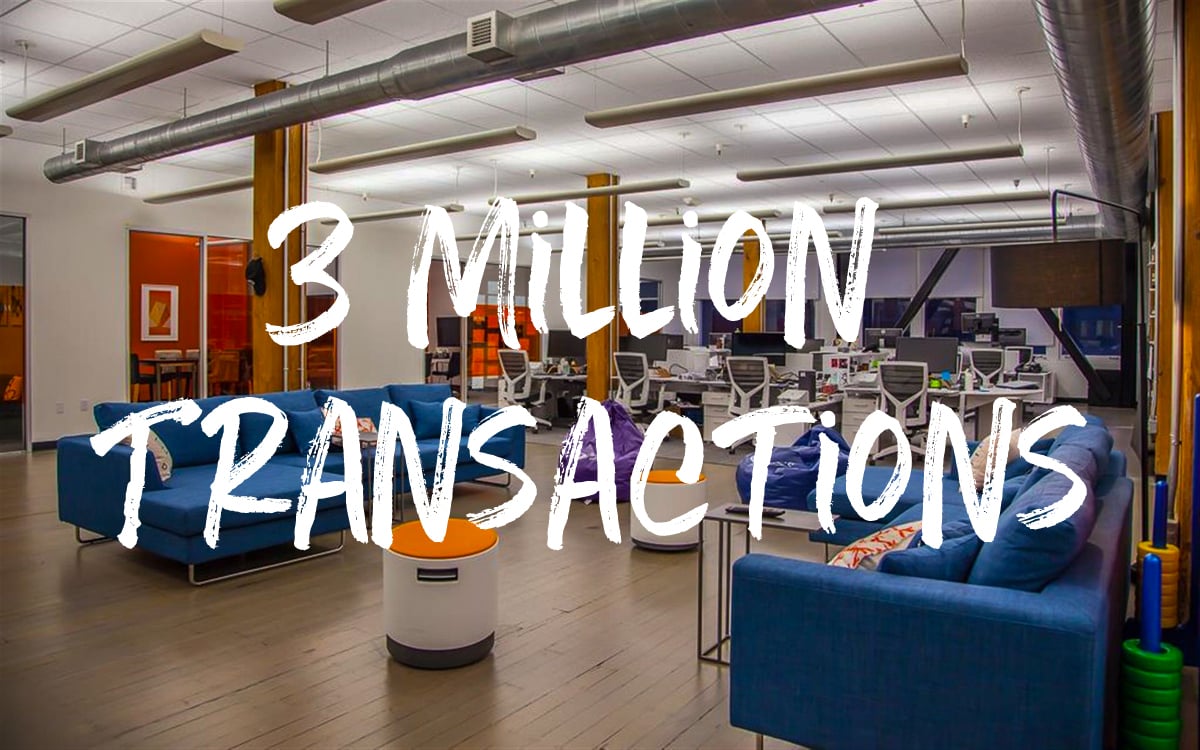 The LiquidSpace product has constantly improved the office space booking process, making our marketplace faster, more accurate and accessible than any other workspace discovery tool in the world. That efficiency enabled us to get 1 million more transactions in less than a year, but it's really our network of hardworking people and companies that drove us to this huge milestone. Our product went through some major shifts in these last 11 months. Below are some of the product features from 2016 (and 2017 so far) that led to our rise to the top of flexible workspace.
In Q4 2016 we revamped our search features to make the process of finding an office or workspace that much easier. We introduced more transparency into pricing and availability, and we've enabled customers looking for space to book numerous offices at once so that our marketplace truly fits any size team.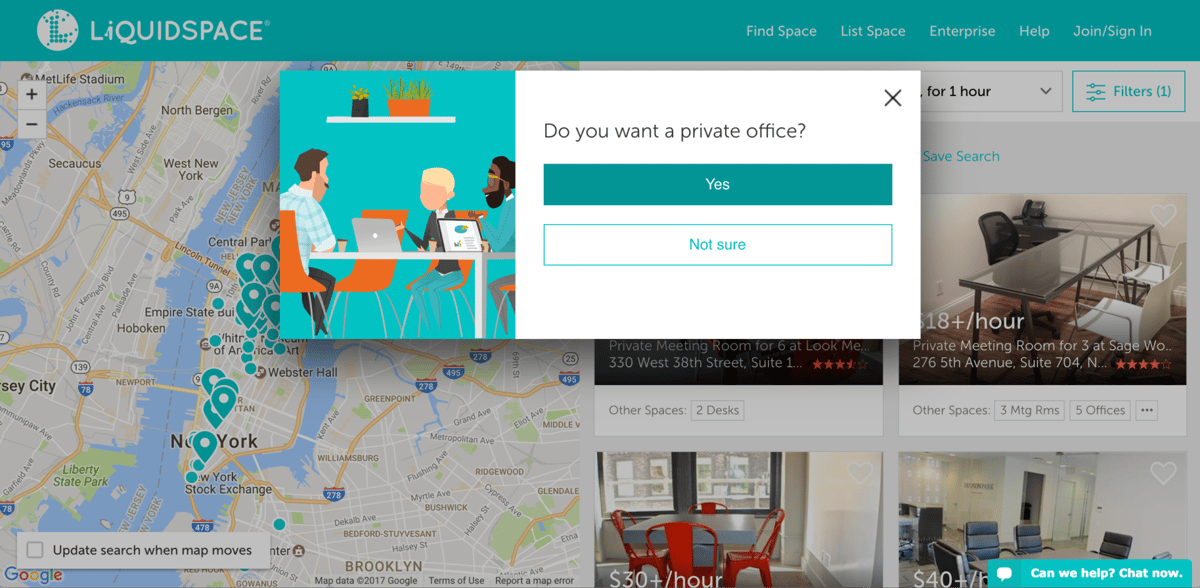 With guided narrowing, we use a simple, automated questions-and-answer format to determine a better space match. Instead of having to apply search filters yourself, this new process translates search into plain terms so that those seeking workspace can find the right fit faster and more accurately.
The search makeover we undertook in 2016 was a success, but there were still some invisible elements in the office discovery process. By adding dozens more amenities (and confirming the availability of these new amenities in all of our venues) we've been able to make cool and compelling features accessible through search.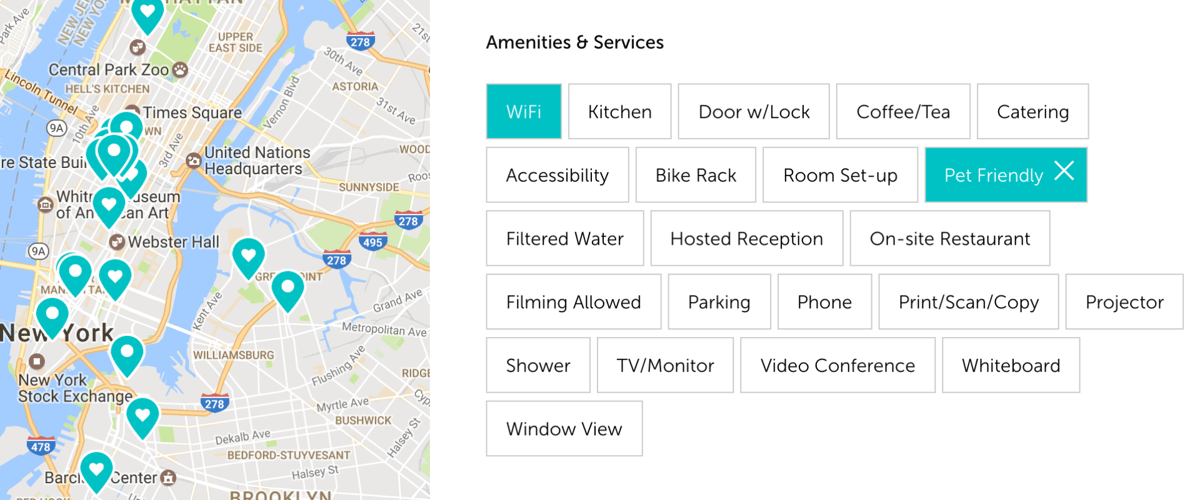 Want to know whether a workspace is pet friendly? What about if an office has on-site bike racks and showers? These new amenity options give customers the chance to see everything our amazing venues have to offer.
The search process in commercial real estate, especially in the flexible office industry, has often been one-sided, i.e. a company or professional seeking space uses some sort of marketplace or broker to find space. When we introduced LiquidSpace Proposals in early 2017, we gave our venues unprecedented insights into real-time workspace demand nearby. Now, venues have the ability to send a Proposal to space-seeking companies if those venues have available office space that matches the customer's needs. It's just another way to showcase the diverse set of venue partners in the LiquidSpace network.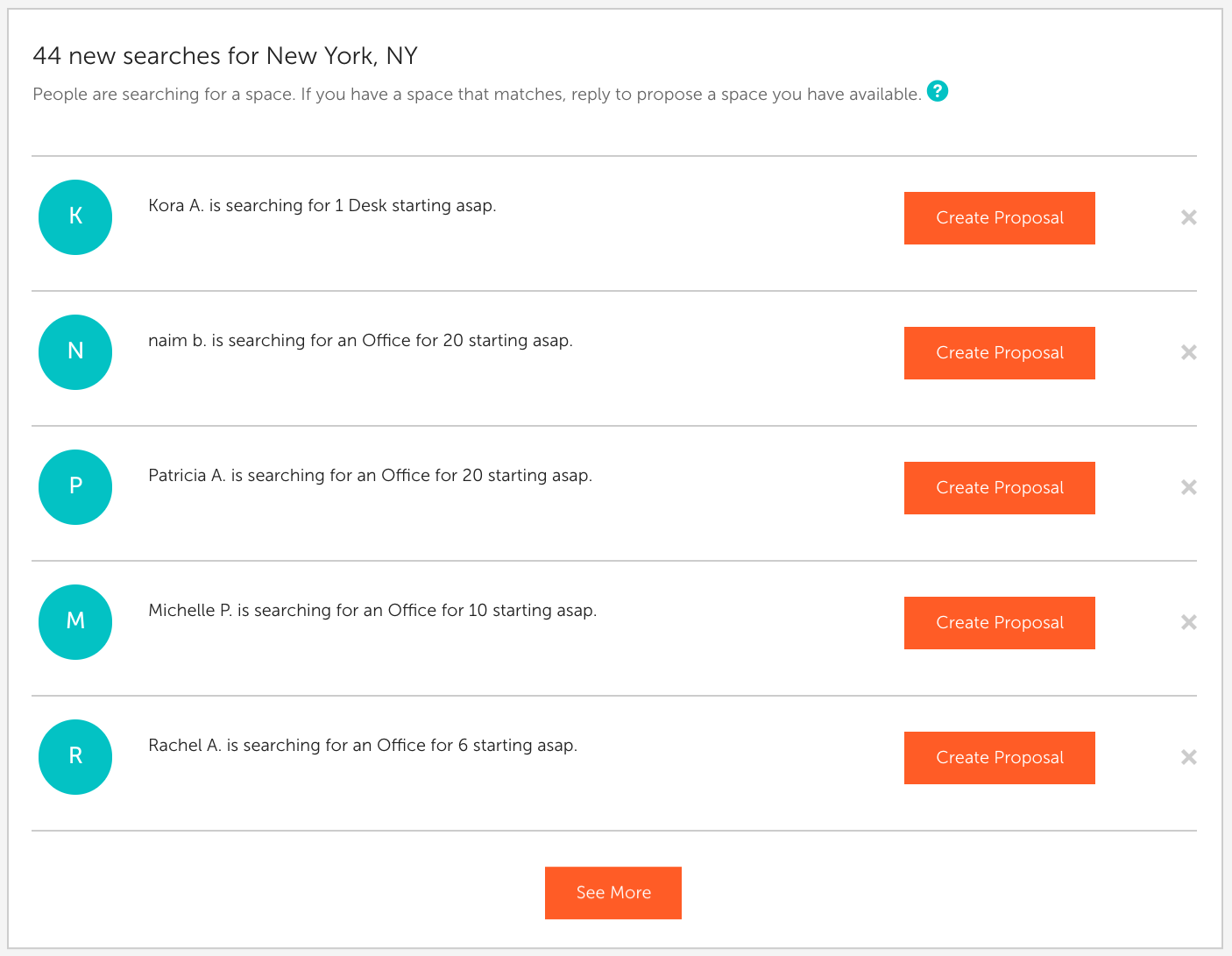 To see real time demand, venue admins can just go to their LiquidSpace dashboard. LiquidSpace Proposals create a more rapid, accurate workspace discovery and transaction tool in the world. Even if a venue has unlisted available space, they can send a Proposal for that space based on any suitable search in the network. That's another invisible element in office discovery that we've brought to light!
If you've been following the blog then you know we've been regularly rolling out neighborhood guides for our major market cities. We've also introduced neighborhood descriptions in our product, on venue and workspace pages. We know our customers are knowledgeable – they do their research – so we came up with another way to provide more context and information, thus enabling their best office space decisions.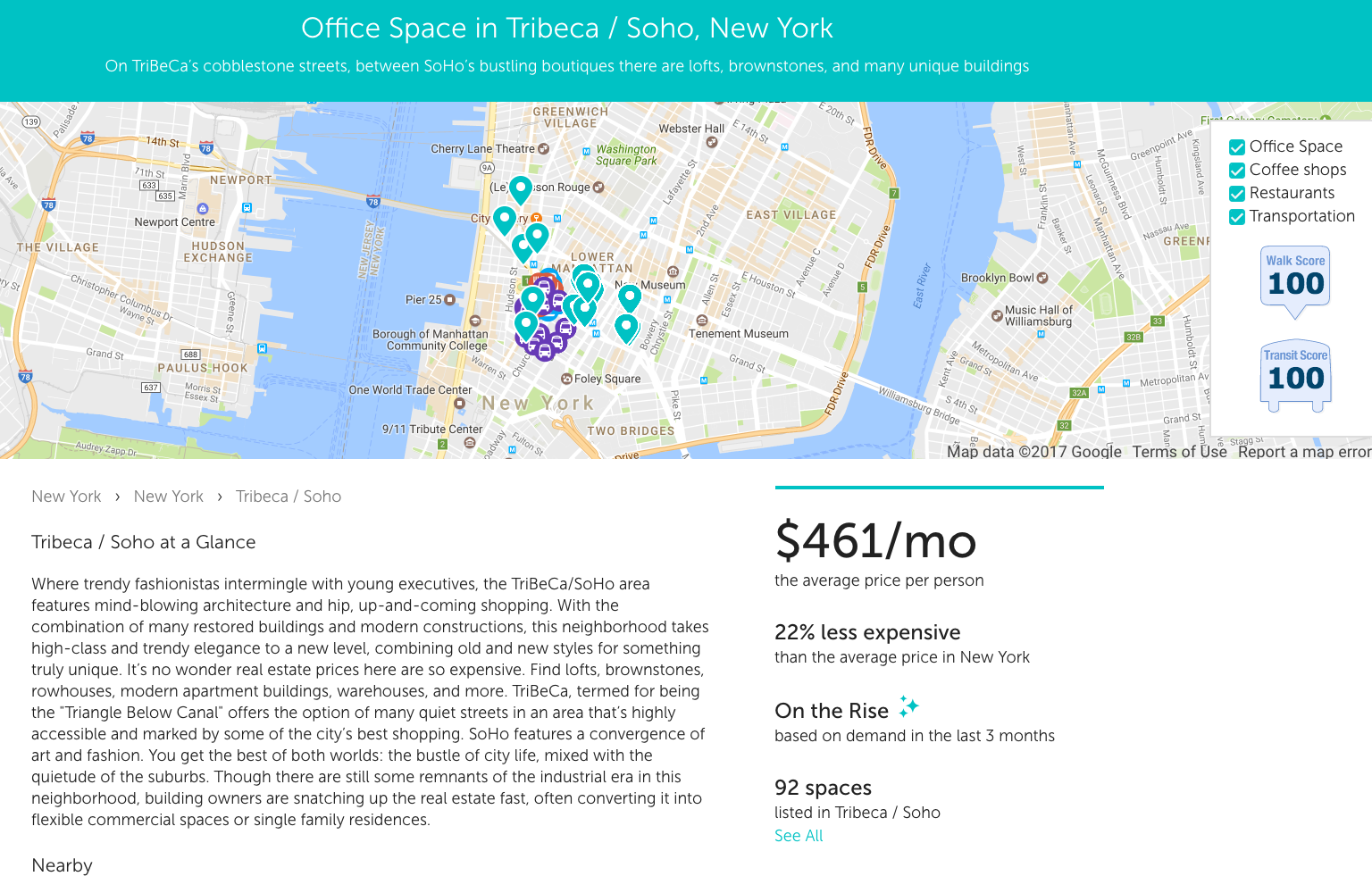 With neighborhood descriptions, finding and choosing the right location for your next office space just got a whole lot easier. You can even see average prices and neighborhood popularity so you can discover the best workspace deals.
Our biggest product launch in the last year is altSpace. Although we had a couple altSpace locations before the altSpace launch in February 2017, the launch brought a whole new set of offerings to the table. With altSpace, there's now a flexible office office solution that combines the build-out customization of a traditional lease with the term flexibility of a coworking membership.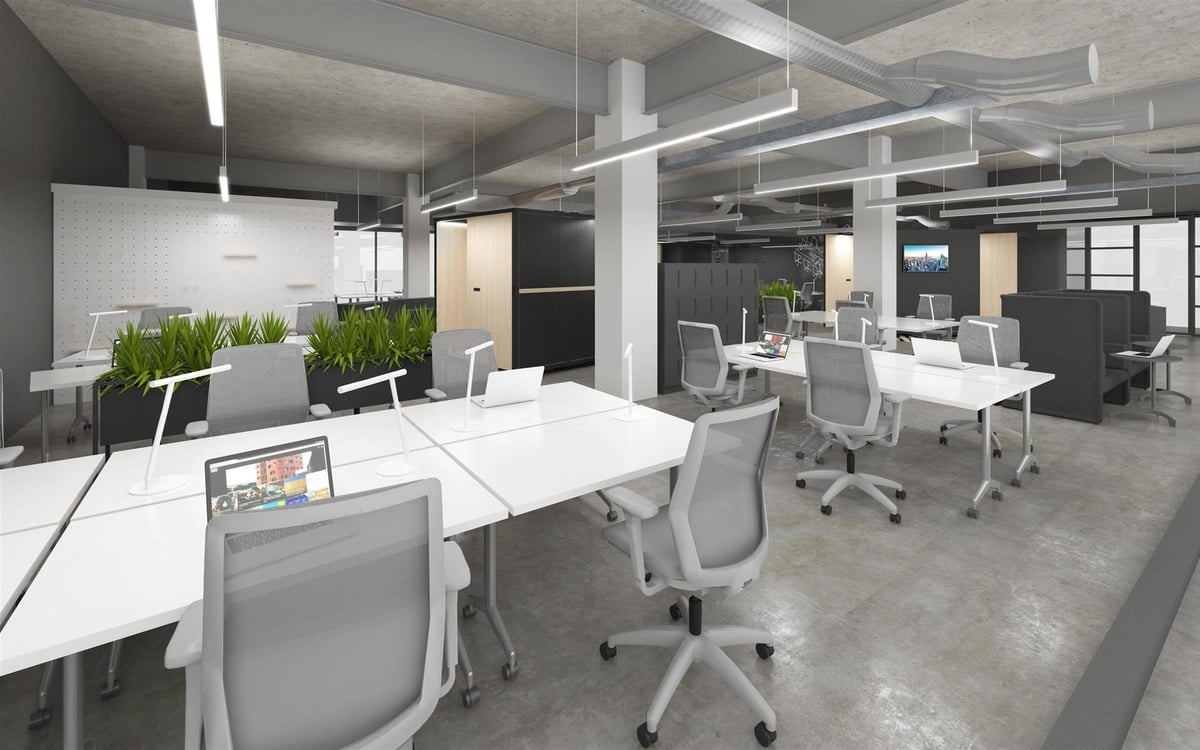 Companies seeking space get their choice of predesigned office fit outs in a number of eligible spaces, with each design varying according to the particular needs of the company. Building owners now have a creative option to add to their real estate portfolio which will help them fill underused spaces without the high cost of buildouts. Brokers now have an answer for tenants who are unsatisfied with available options – customize your own space on flexible terms! Oh yeah, and you can move in within 60 days. Fast, flexible, and free to use, licensing workspace with the altSpace program is just as easy as booking any office in the LiquidSpace network.
Thank you for being a part of 3 million transactions. We hope you come along for the ride as we accelerate towards 4 million total transactions, 100 million square feet of inventory, and more.
Join Our Journey Forward
Enter your email below and we'll send you updates, reports, and all our future blog content.