LiquidSpace offers post-COVID workplace options that augment work-from-home with individual and team spaces, on-demand.
Today, for the first time in modern history, corporate offices sit empty while most Fortune 500 employees work from home.
Eventually, health officials will signal that it's safe to return. Will employees flock back to the office? Or will they choose to cautiously stay home?
It's probably going to be somewhere in between, according to LiquidSpace CEO Mark Gilbreath. "Our enterprise customers are telling us that they anticipate a transition period in which employees and work teams will be scattered amongst home offices, flexible office spaces, and corporate campuses."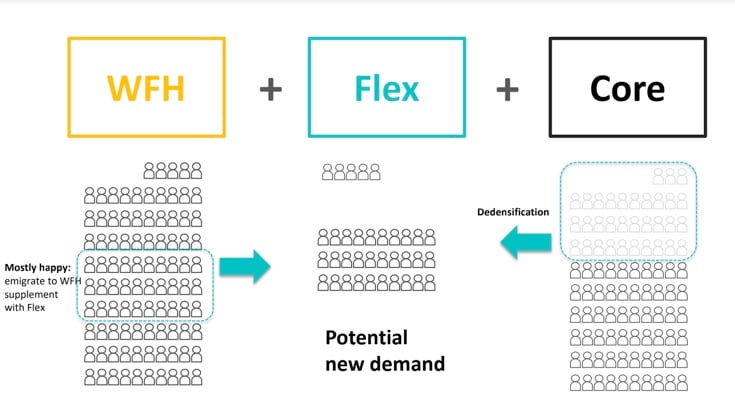 To help enterprise companies and their employees more easily manage this "re-entry" period, LiquidSpace is offering a solution that provides the agility corporations need in this unprecedented time. This solution includes free use of their powerful Mobility Manager platform, now through September. Using Mobility Manager, powered by the LiquidSpace network, employers will be able to curate their own portfolios of vetted and approved flexible office spaces, which employees and teams can use as interim workspaces.
For many employees, staying close to home will be important, as most schools and youth activities are physically closed until fall. This could force parents to actively juggle work and family during business hours. An additional consideration for employers is that we may see new outbreaks of COVID-19, as has already happened in other countries. Employers will have to stay nimble and be ready to respond to changing circumstances.
LiquidSpace's re-entry solution allows employers to implement a phased return to HQ by giving employees and teams the ability to work from a flexible network of safe workspaces. This network of on-demand office space will help employers manage the unprecedented months that lie ahead. Using LiquidSpace, employers can easily discover, contract, and manage a wide variety of flexible spaces, including touchdown spaces, private offices, meeting rooms, and team suites. This provides employees with the choice they need to feel comfortable and productive, while giving employers the controls they desire to effectively manage operations.
Mobility Manager lets employers easily create a workspace-mobility program. Using the tool, managers can find, evaluate, and approve flexible office spaces that employees can then book individually or as teams. On the back end, Mobility Manager lets employers manage employee access and program costs from one centralized dashboard.
"Our goal is to give large employers the ability to get their employees back to work – without having to bring everyone back on campus," Gilbreath said. "We anticipate employers using LiquidSpace to create a collection of approved workspaces closer to employees' homes so they can choose when to work from home, when to work in the neighborhood, and when to make the commute to campus."
For the past four years, many large employers have used LiquidSpace and Mobility Manager to give employees easy access to quality workspaces across the country. Customers have included well-known pharmaceutical, staffing, and technology companies.
"As a manager, the platform is helpful for me so I can retain high-level visibility on our spend, while still empowering my team to schedule and reserve the space they need without always seeking direct approval from our finance team," said Nick Jones, Chief Operating Officer at BlueCrew. "The added benefit for my team is being able to book through an online interface without having to call around to multiple options and inquire on pricing."
To ensure it can deliver adequate support, LiquidSpace is limiting this free offer to 50 companies. The program will expire on Sept. 30, 2020. For more information about this program and how your company can take advantage of it, please visit: https://buzz.liquidspace.com/mobility-manager
About LiquidSpace
LiquidSpace is the world's largest flexible office marketplace. The LiquidSpace network transforms the entire commercial real estate process by connecting growing teams and professionals looking for space, directly with space providers. Our online tools simplify the discovery, contracting, and management of office space.