Coworking options at The Farm in Soho, NY, an installment of our Workplace of the Week campaign written this week by Ashley Collis-Burgess.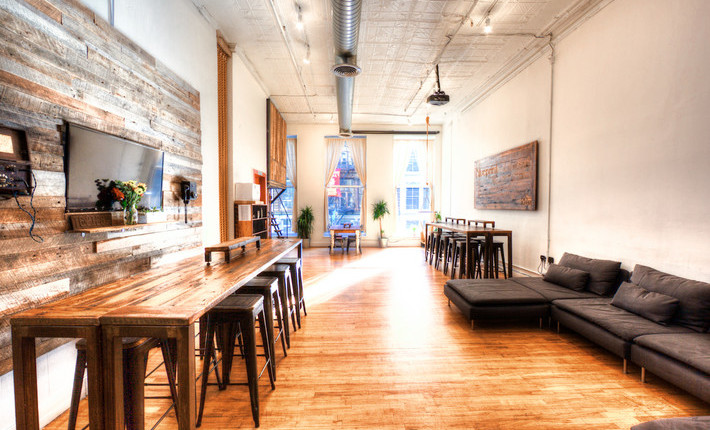 If you are seeking a trendy, yet affordable coworking spot in Soho then look no further than The Farm. The Farm is a wooden converted loft within the most bustling area in New York City. This is a cozy and contemporary space worthy of Housing Works magazine. I had a day pass to tour and work at this notorious workspace.
Entering the first room, I saw high tables, couches, shared tables and even a nifty knitted swing. The large main room offered shared tables with computers available for dedicated desk reservations. A designated table and ample space made for a productive environment for day pass holders like myself. Coworkers huddled together collaborating on projects. Well-designed meeting rooms branched off the main room. A fully stocked kitchen, bathrooms, and small private rooms completed the full array of options.
Coworking – an Escape from Isolated City Life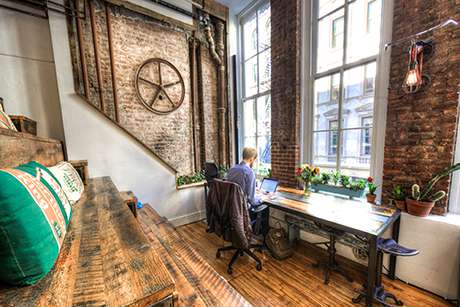 The manager, James Arslan said that he's been a part of The Farm SoHo from the beginning. The founder approached James to fix up an empty loft and convert it into a coworking space. LiquidSpace was the first company that The Farm worked with to draw in members.
A rustic and organic experience at The Farm comes from the wood walls salvaged from a barn, making the Farm SoHo an escape from the impersonal city building lifestyle.
"We wanted it to be more farm looking and more comfortable," he said. "In a farm you grow all together with the members in a company".
Curious, I started speaking to people working at The Farm to see if it attracted a specific demographic of workers. Arslan responded that the community was very diverse and friendly. He explained that members can meet a few people each day from almost every field.
"50% of the community is from the digital health care industry and the rest are mixed," he said. "I love the community here."
Discover a Coworking Community of High Achievers and Innovators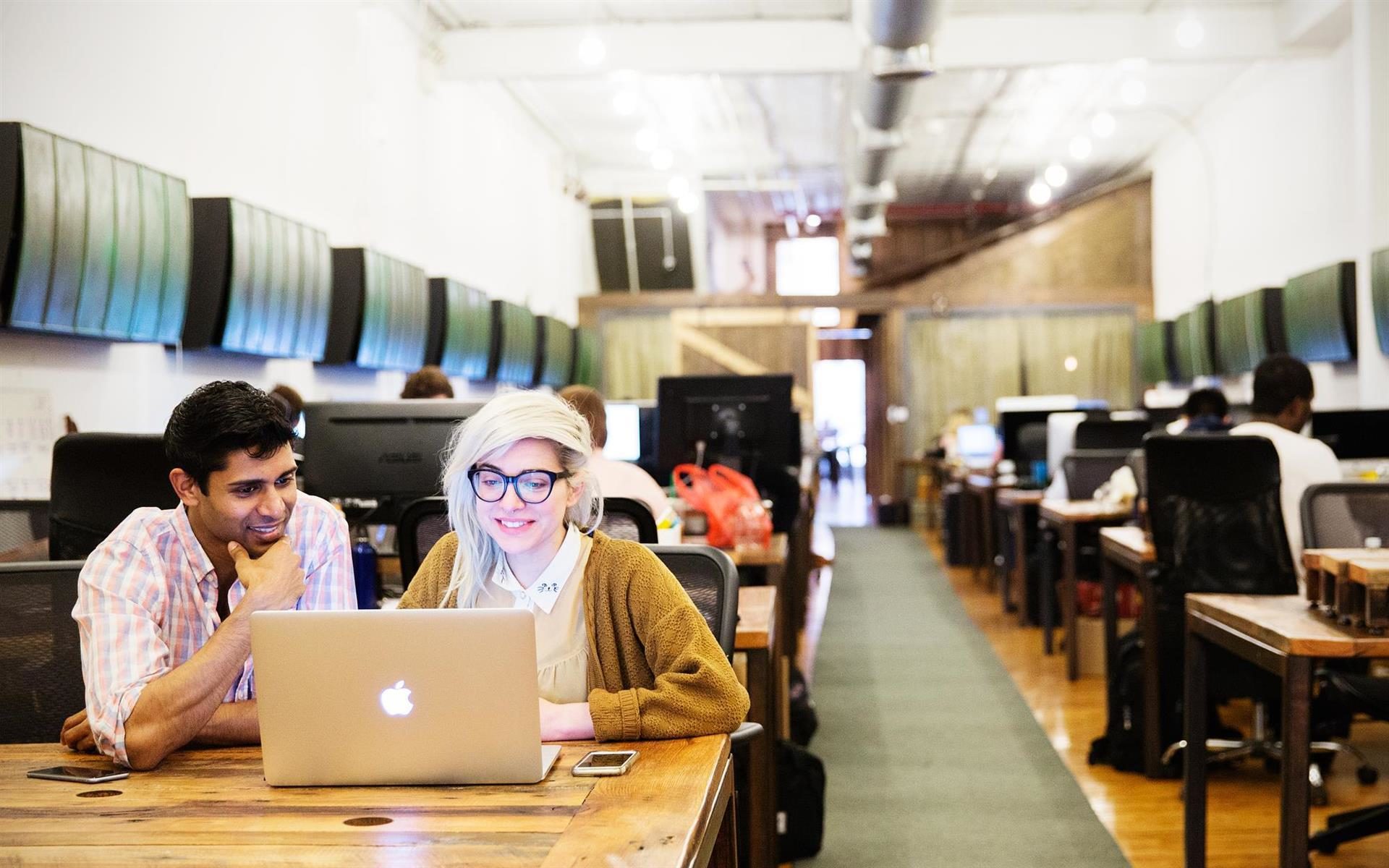 I noticed the diversity in age and style, while coworking in this SoHo space. A cute small dog added to the warm atmosphere. Checkout other Pet Friendly Workspaces . I noticed a lean towards people working at startups. Most of the folks I talked with at the space either founded or worked at a startup.
"Everyone is friendly" found Ryan Lee, the Analytics Lead of a startup called WellSheet where members worked together at The Farm SoHo. Lee expressed that the main draw to The Farm, SoHo was "its affordability, flexibility, and location".
CityFleet cofounder, Sarah Asregphan, appreciates The Farm for providing the most professional and ideal working conditions. The space allows her to efficiently complete her work within a centrally located area. She said that she prefers The Farm over WeWork since she can complete her work here with more ease and privacy.
"The staff are not too overbearing and just enough because I have work to do," Sarah explains. "But they're also available if I need something."
Asregphan has a main office. Most of her employees work there. However, she needed a place to work separately some of the time. Sarah began renting a workspace here part-time to work on solo projects. The Farm, SoHo is a much better alternative to paying for a second office in New York City, given her specific needs.
"I like that this is casual and affordable enough that I don't need to feel guilty that I'm not here all the time," Asregphan said. "It's just something I can have on the side."
Renting a coworking space is the perfect intermediary option for those wanting something "in between having your own office but still being amongst people", Asregphan believes. A huge fan of coworking, she encourages anyone who needs to do work outside of the office to book a space.
Final Thoughts about Coworking in SoHo
The Farm, SoHo fills the need for inspiration, community and a productive place to work. I managed to get a lot of my work done here, inspired by the thriving entrepreneurial community. I left fulfilled and encourage any worker to give this space a visit.