3 Tips for Hosting a Sizzling Summer Office Party
What better way to kick off summer than a summer office party for the whole company? Inject some sunshine into your work environment, and make sure your party is one your team remembers. A summer office party can boost team morale and employee satisfaction (which helps you attract and retain top talent).
A successful event can also be great for your brand. Throw a summer office party for your current or future clients! It's an easy way to raise brand awareness in a casual environment.
Whether you're putting on something for a team of ten or a hundred, here are a few things to remember to make sure your event is a smashing hit.
1. Stay cool with a playlist of hot summer jams.
The music sets the mood. It's an important part of a successful party. We love old-school summer jams because they're perfect for creating that laid back summer feeling. Check out this playlist of summer oldies:
Of course there are plenty of other music options for summer events. You can always book a DJ or live band, but if you want a simple solution, grab some speakers and an awesome playlist.
Some resources to help you get started on your summer playlist:
• The 50 best summer songs ever made
• The 44 Most Summery Summer Songs of All Time
2. Serve refreshments that will be the talk of your summer office party.
The golden rule of party beverages is, "Don't run out." But the rest is up to you. Summer parties are great for making big-batch mixers with bright colors and citrus flavors. You can choose something sweet or tangy, something with alcohol, and/or something without. You'll know if you chose wisely when you see everyone crowding around the refreshments table.
The cocktail you see below is made with tangerine, Campari, with tequila, with a recipe from serious eats.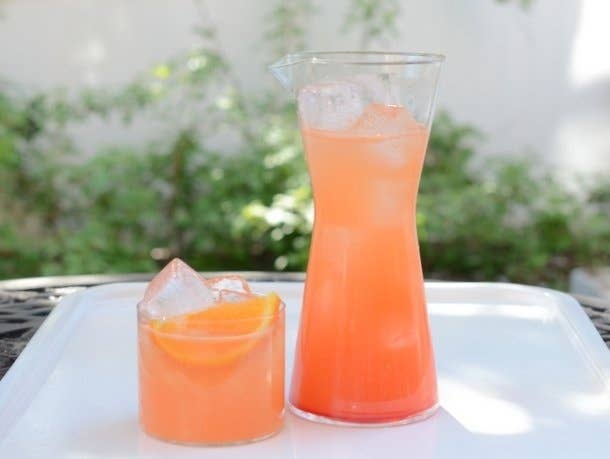 If you want a playful summer beverage that will definitely get people talking, try this one – it's called the Shark Attack! It's a fun drink that tastes great too – a perfect choice for any summer office party.
Make your own summer cocktail menu – Here are a couple places to get started:
• 28 Big-Batch Summer Drinks That Know How To Get Down
• 20 Non-Alcoholic Party Drinks Everyone Will Love
3. Location, Location, Location.
Of course, the best place for a great summer party is outdoors, because, you know, it's summer! Local parks are a great place to throw an impromptu celebration with your team. You may need to reserve something with your city, but if the sun's shining, you can also just grab a blanket and head to the closest park.
Rooftops are another awesome option. One of our favorite rooftop spaces is at WorkHouseNYC in Midtown Manhattan. With a top-notch location and space enough for a small team, this is an ideal option for creative collaboration or a small summer shindig. Just check out those views:
But if you're looking to bring summer to you, there are plenty of event spaces available in the LiquidSpace Network, many of which feature great views or outdoor spaces. Find an event space near you and kick off the summer right.
Whether you're planning a hot weather retreat, a Q3 training session, or an all out summer party we hope these tips will help make it a summer success. We had so much fun putting this list together, now we can't wait to go out and put it to use – how about you?