Accommodate any space request – leverage your LiquidSpace network.
Don't have the space a prospect is looking for, or have a guest graduating? Turn a "Sorry…" into an "I can help you with that" and keep your guests coming back with extra hospitality powers by leveraging your LiquidSpace network. It's easy, and you can read more on LearningSpace. Refer guests into the LiquidSpace network with your personal link. We'll get them into the right space today. You stay in control and track their progress in your Venue Manager Referrals tab. Once they book their perfect space, you'll get more than a Thank You and a happy customer with a $100 bonus from LiquidSpace.
Share your hospitality secret.
How'd you do that? You've been monetizing your extra space, keeping on-top of all your leads, and providing memorable hospitality leveraging LiquidSpace. Give your space owner friends network powers. Refer space owners to LiquidSpace with your personal link. We'll take care of getting their profiles set up and spaces merchandised. You keep track of their progress and nurture your relationship. Once they get their first monthly booking, we'll pay you $100 for referring an awesome new partner and growing your LiquidSpace network.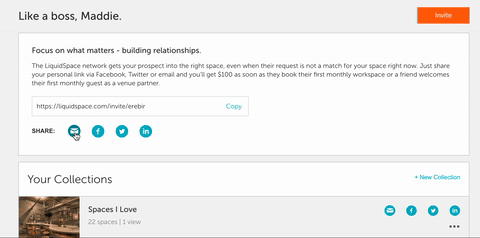 Take care of your clients and friends with LiquidSpace.
Get the inside scoop and all the nitty gritty details on LearningSpace.