This guest post about how top places to work remote in Phoenix, comes from Sam Casteris. To submit your own guest blog, first read the guidelines here.
Life as a freelancer can be challenging (just ask this writer). You need a workspace that fits the technical needs of that you or any of your team members have, the space needs to be situated in a location that is easily accessible and free of distractions, and it needs to facilitate concentration to keep you energized and focused. Luckily, if you're based in Phoenix, there are plenty of incredible spaces to work for an afternoon, for a week, or even permanently if you're hoping to make a space all your own. To harness the creative energy and the bustle of Phoenix, here are the most unique places to get work done remotely while in Phoenix.
This downtown Phoenix building is available for rent and features an 8-seat boardroom in addition to your more typical office space. It includes amenities like a Smart TV, a Keurig coffee maker and a mini fridge with coffee and water provided.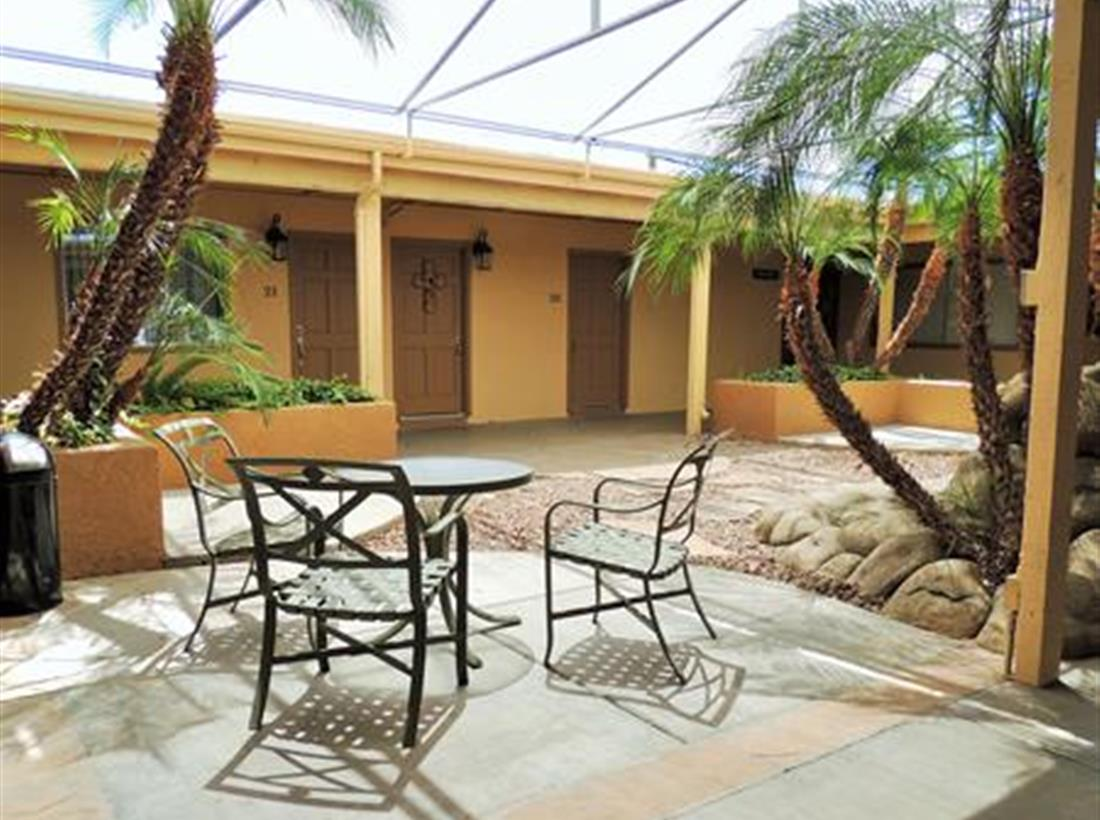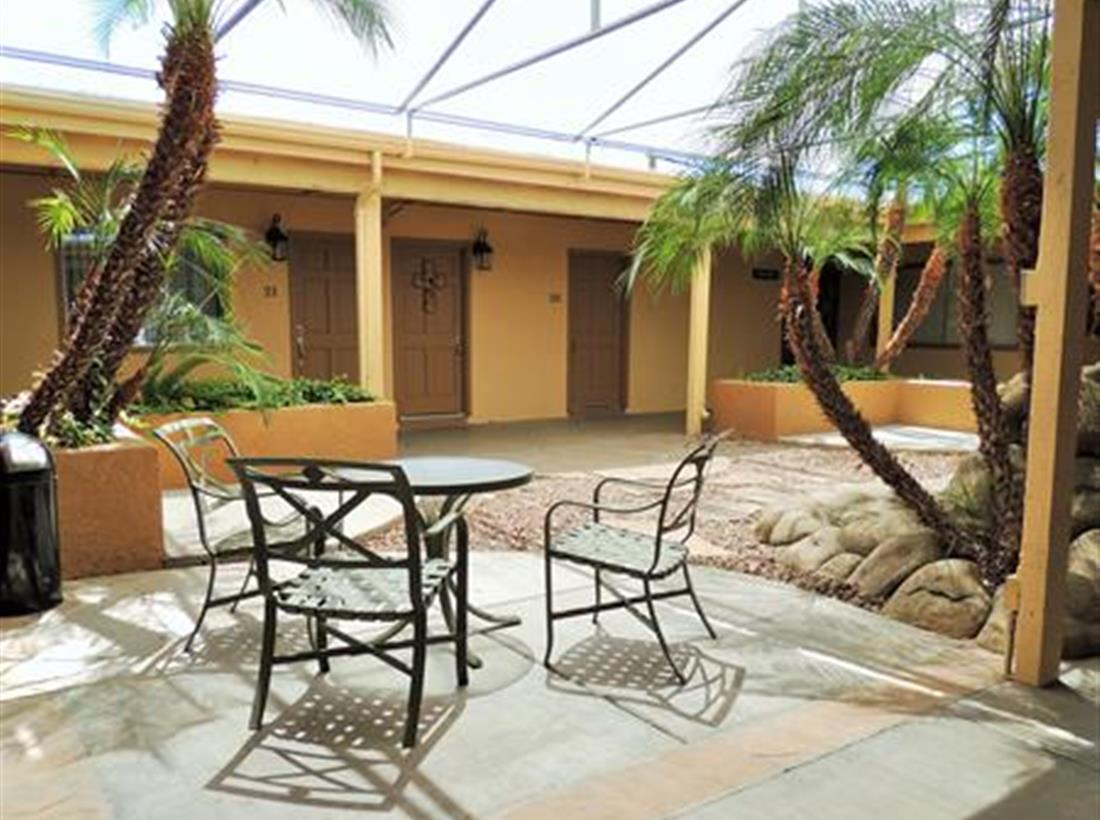 For those on your team who prefer to work outside, the space also features a large central courtyard with tables, chairs and a fountain for an elegant work experience. It's also great for hosting client meetings. This space offers a killer combination environmental diversity and consistently excellent quality across the board.
Prefer to work with a buzz of energy as your backdrop? Though less ideal for quiet meetings and client conversations, Lola Coffee Bar is one of the top coffeehouses in Phoenix for remote workers.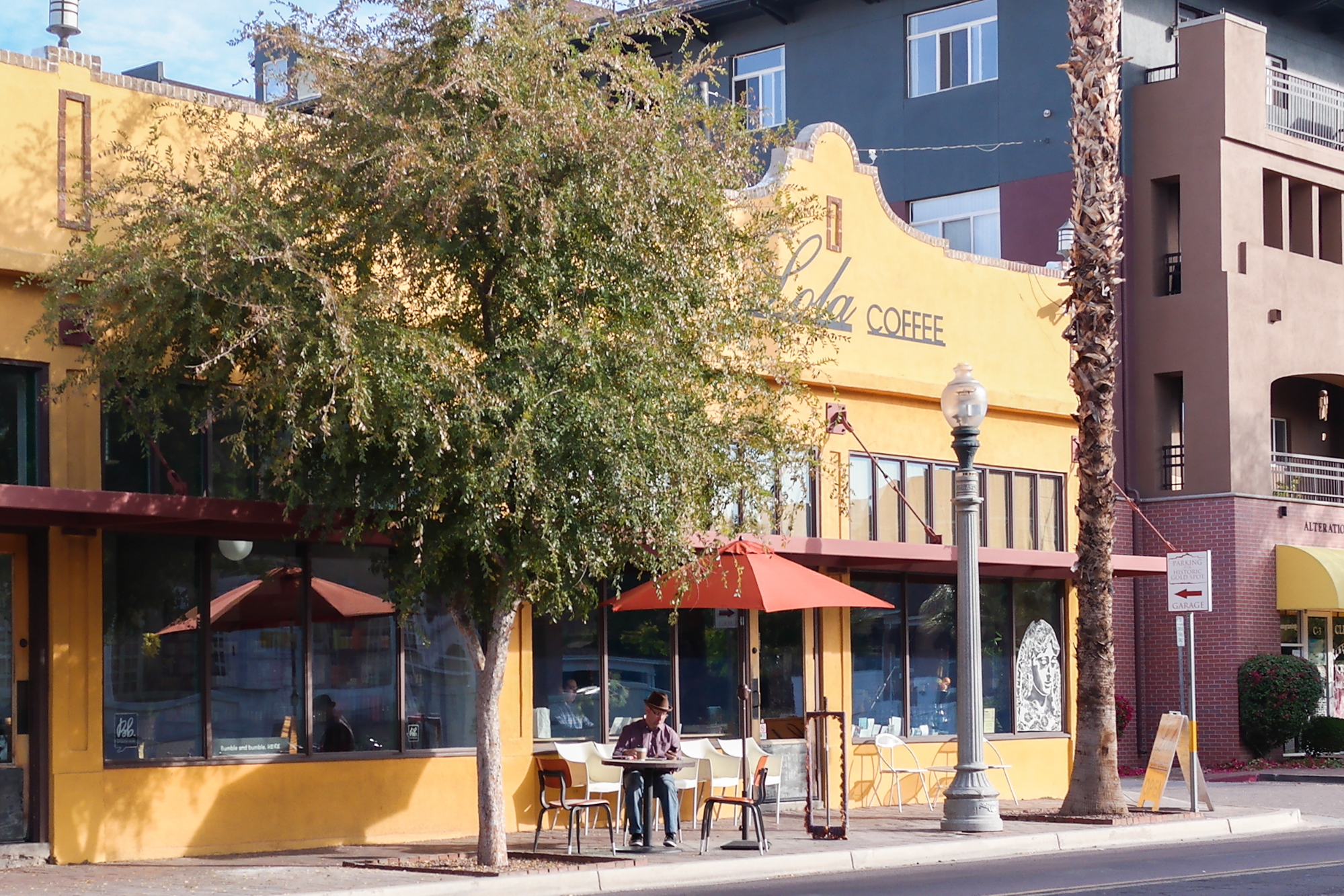 The bar is known for its array of delicious pastries and hot and cold drinks, but it's best feature is its cozy, shaded back patio—perfect for a pleasant and creative work day no matter the time of year.
Mod Phoenix strives to offer more than office space and boasts unique "workspace experiences" for its tenants in Midtown Phoenix. Mod offers workspace, meeting rooms and specialized services to individuals, groups and companies alike with an emphasis on workplace enjoyment. Their open concept floor plans accommodate professionals from many different industries, and their "mod-cierge" service caters to simplify every unexpected remote work problem, so whether you need to ship a package and notarize documents on Tuesday but then Thursday need to pick up food and replace the charger you forgot at home, Mod Phoenix has your back. If you're looking for a unique place to work, Mod is certain to offer you unmatched support.
For a quieter place to work that still has the energy of a public place, check out Cholla Library just west of the I-17 freeway. This two-story library has a charming Quonset-esque design with a corrugated roof, cement walls and bright yellow-and-red shelving. The facility has plenty of space in which to work independently, and also has space available for groups. Study rooms on the second-floor fit small groups under five people. You can reserve these up to two weeks in advance. While larger groups can pay a small fee to rent the 75-person meeting room in the library. Get back to the basics and try working among the books at Cholla Library.
Lakeside Center offers prospective tenants a professional, resort-style office environment with fountain courtyards and impeccable landscaping.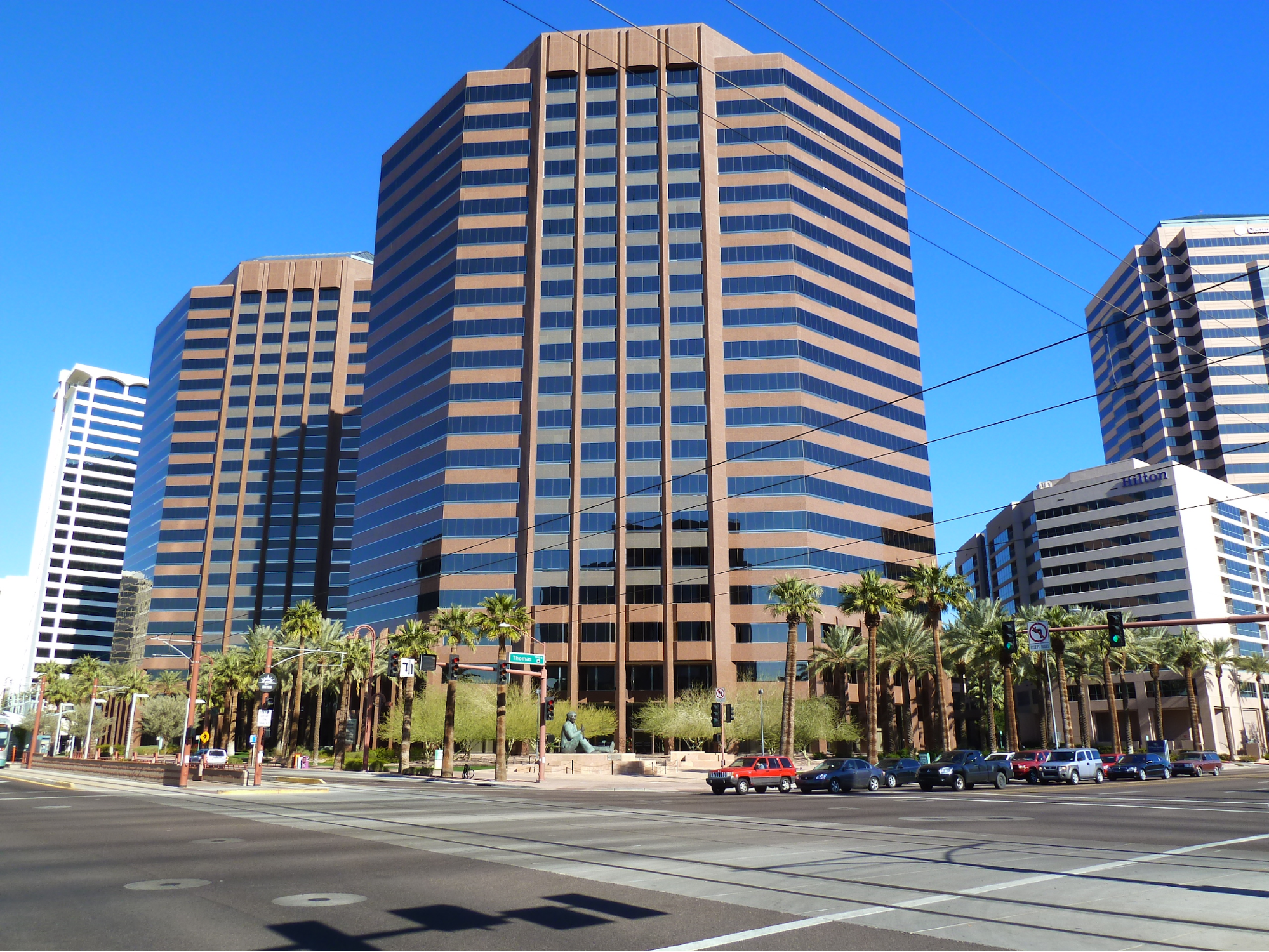 The property's host, Boxer, offers tenants free space planning and other related apps via their website. Office-goers in Lakeside Center also enjoy access to an on-site deli, as well as maintenance staff and in-house property management to address any concerns they may have.
For another classic coffee shop option, check out Giant Coffee downtown.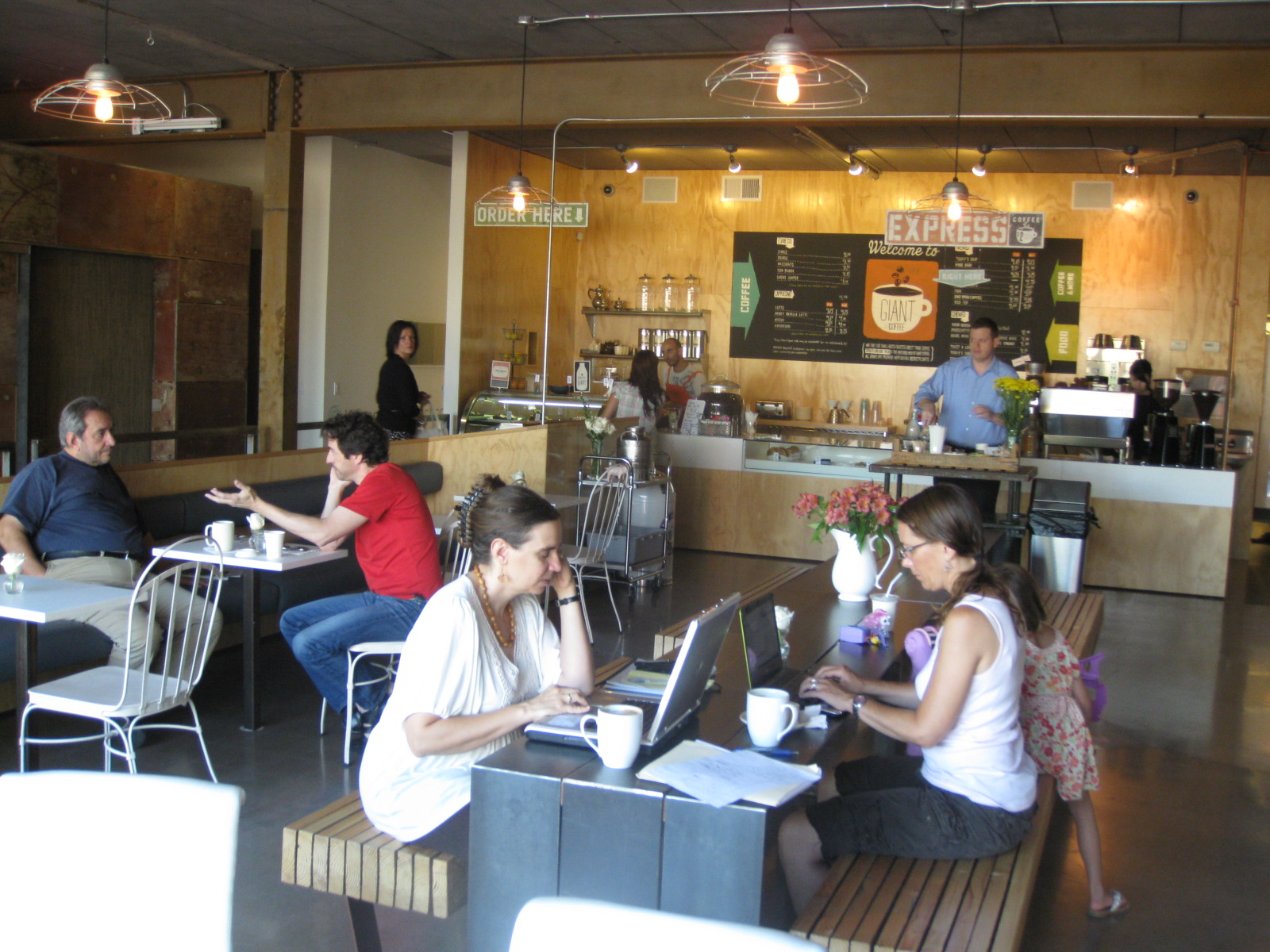 Consistently ranked as one of the area's best, Giant Coffee offers Phoenicians fantastic coffee and homemade pastries—but more importantly, a spacious and delightfully sunny space to strike up a conversation or dig into some work.
One of the newest additions to the Phoenix workspace market, Office Evolution offers spacious, cutting-edge facilities. The venue features a vibrant mix of dedicated work space, coworking areas, meeting rooms and furnished offices. All of which facilitate networking opportunities with the venue's built-in network of small businesses and business owners.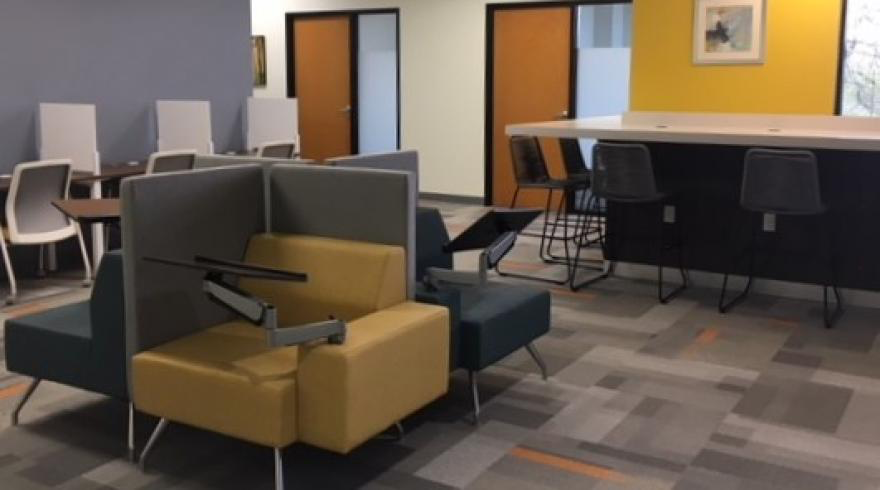 Office Evolution equips its tenants with every amenity a remote-professional could want: from Wi-Fi and mail service to a kitchen and 24/7 entry.
Do you fly frequently for business? Find AZ Common Ground Co-Sharing right near Sky Harbor Airport. Common Ground offers office and event space to tenants via a unique, monthly co-sharing membership. In addition to their rented space, members get lots of extra amenities. That includes access to free on-site parking, Wi-Fi, storage space and use of the facility's conference and video presentation rooms. Conference and video rooms are great for anything from meetings to weekly classes and seminars. Even if you're not looking for office space, Common Ground has lots of conference and presentation rooms available to nonmembers.
About the author
Sam Casteris is a writer currently located in Phoenix, AZ. She travels frequently and often. As someone who works remotely, she values co-work spaces that allow her to relax and stay alert at the same time. For more information about Sam and her work, check out her portfolio.