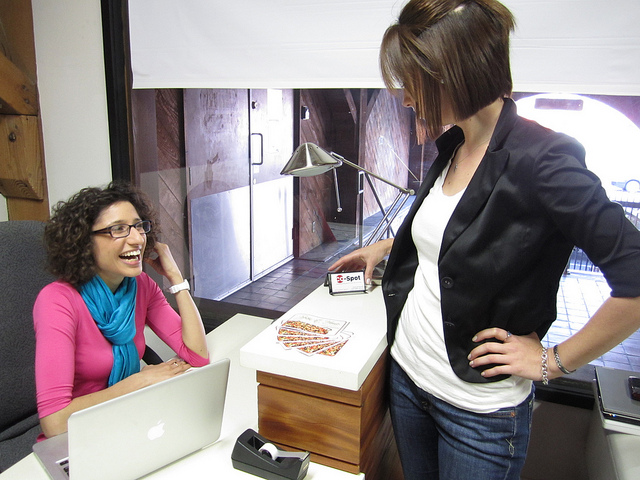 For my second adventure in my quest to find the perfect place to work in San Francisco, I browsed LiquidSpace's marketplace and found Co-Spot at 350 Townsend, in the trendy SOMA district; or, as I like to call it, Startupville.
One of the great things about a city like San Francisco is its condensed urban core. For a big city, it's pretty dense, and you can easily walk it. And so I have no idea why I hailed a cab. I was just walking along, then this cab rolled by, and my arm shot up seemingly on its own.
He was a great cab driver in my opinion, filled with joy and a great apathy for human life, including his own. He sent pedestrians hurtling out of his way like bowling pins before a Zamboni. I asked for his card and he gave it to me. All it listed was his name and "Studies In Advanced Physics" and a phone number.
I've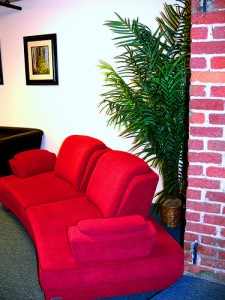 got Co-Spot mostly to myself today. That means I've got one — no, two — lobbies at my disposal. And five or six cubicles. Also a copy machine, a printer, a break room with coffee and water and snacks, and a guy upstairs at the reception desk making sure I'm not disturbed. I've got a conference room with a whiteboard, a long table, and a couple of couches (altogether I have seven different couches, five black ones, a red one, and a white one) and about 48 outlets to plug things into.
This is an older building, and the office is in the basement. To go to the bathroom, which is not in the office, you need to walk through the bowels of an old factory. It feels like a cave or the inside of an old mine shaft, and it's great fun to get lost and wander around.
When I looked around at all the empty cubicles, just waiting for a brainstorming session or a startup to come in and invent the next mind-blowing app, I couldn't help but think of all those people sitting around in coffee shops, helplessly distracted by baristas passing out samples of frozen coffee drinks.
All those hardworking creative people are no doubt longing for some peace and quiet or a space to work and call their own. And here I was, mostly alone, in an ideal space in a great, innovative part of the city.
Co-Spot is perfect for groups who want to rent it out for a couple of hours or a day. A corporate retreat. A quarterly meeting. An off-site brainstorming session. All of these would be perfect.
And you can't beat the location. It's across the street from a Cal-Tran station. And it's only a couple of blocks from AT&T Park. You could come to the city, work all day, take in a Giants game in the evening, then take the train home.
Being self-employed, and having a plethora of couches to nap on, it only made sense that I should have a burrito. So, for lunch I treated myself to Victors, a small Mexican restaurant at 3rd and Townsend. Their burritos come in two sizes: Regular (guaranteed food coma) and Super (possible trip to the ER). I got the Regular and could feel my brain shut down almost immediately. A great grogginess came over me, and I managed to get back to my wonderfully-quiet office just in time for a much needed siesta.
You can reserve a conference room, coworking, private cubicle right now at Co-Spot.