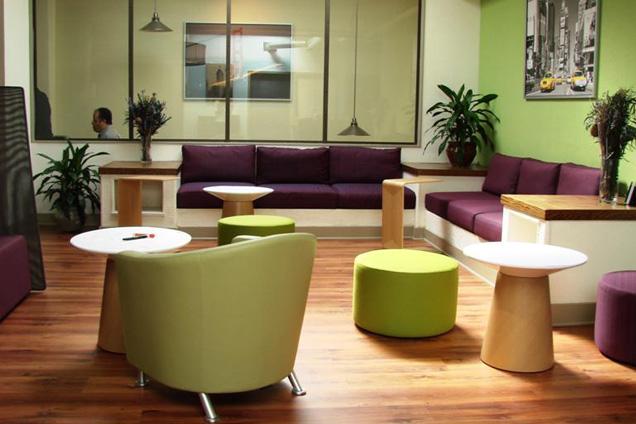 It happened all the time. My cell would ring — a conference call — just at the moment my trusty San Francisco coffee shop had suddenly transformed into a nursery. I would try to run outside only to find myself trapped by a phalanx of high-end strollers. Meanwhile, the person on the other end of the call would be wondering why he could hear people discussing breastfeeding methods in the background. Even for a freelance writer, such chaos is simply not professional.
And so when LiquidSpace asked me to visit and write about the great offices spaces they have all over the Bay Area, it took me about a nanosecond to say yes. I opened up LiquidSpace on my iPhone and in about a minute I had a reservation for a spot at Sandbox Suites, a dedicated coworking space with three offices in the Bay Area.
The next morning I headed to Sandbox Suites' downtown location, off Union Square on Sutter Street. Walking in from the street, I was greeted by a large colorful room that featured three long communal tables, a lobby area and a reception desk, including two stools.
The first thing I noticed was that there were no babies. Also no dogs. This was a very good thing and not my normal working circumstances to be honest (read Starbucks and every other overcrowded coffeeshop in SF).
Along the far wall were two small conference rooms. As a test of the soundproofing, I walked into one and let out a primal scream. Nobody batted an eye. Across the hall was a larger conference room for meetings or brainstorming sessions. Off the other side of the lobby were restrooms, lockers, a kitchen and eating tables. All in all, a good mix of spaces to choose from.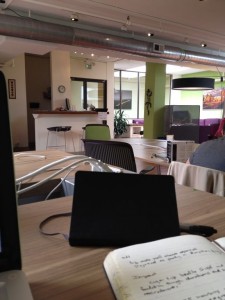 I found it surprisingly easy to work at Sandbox Suites — it helped that, unlike coffeeshops worldwide, the wifi was fast and reliable. I say 'surprisingly,' because for the first hour there was plenty of chatter. But as it died down, I found myself falling into a zone. Because I was working solo, I wasn't interrupted at all. At some point I realized how much of my time at the coffeeshop is taken up with looking around, and yawning, and stretching, and making faces at cute little dogs, and eavesdropping on conversations about breastfeeding. It felt good to actually work.
Around noon, my new fellow coworkers began to disperse for lunch, and I allowed myself the indulgence of checking out the entrance lobby. The sofa cushions beckoned me with their burgundy plushness and lack of stiff lumbar support. It was tempting to take a nap, but I was working too well to stop — and I didn't want Sandbox Suites to think I was homeless and call security.
After a day at Sandbox Suites, my usual work-from-nearest-coffee-shop routine was doomed. But my quest was far from over…
You can reserve workspace now at Sandbox Suites with a full day pass.