When it comes to office space, you can only say so much. We prefer to show over tell.
Introducing Collections.
Collections is a simple, beautiful new way to interact with spaces. Create, personalize and share unlimited Collections of incredible workspaces, at the touch of a button.
Save your favorite Coworking Spaces in one place, create a Collection of go-to Creative Spaces for quick and easy booking or share potential Boardrooms in Midtown with the team to find the perfect place for your investor pitch.
Create a Collection
Browse the LiquidSpace network to find the best spaces for your Collection.
Customize your search by selecting hourly or daily from the dropdown if you're looking for a meeting room, day pass or event space or select monthly for a longer term space. To add a space to your Collection, simply click the heart icon.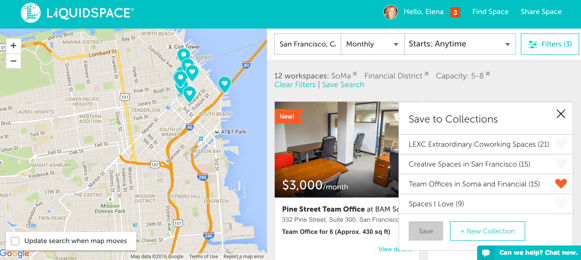 Looking forward to a little sunshine? Search for rooftop workspaces, create a Collection and start adding your favorites. You'll have a killer line-up ready to book by the time the snow melts!
Collect with Teams
We understand that finding your next office space is a team decision. Collections makes it easy for you to share your top picks. Just send your Collection to team members, get feedback and book it!
Will they pick the rooftop views and grunge-chic of Garage or the central location and modern vibe of altSpace?
Host Collections
Collections is also a powerful tool for hosts to showcase available space with high-quality images that help guests visualize where they'll be working and book confidently.
Work the Way You Do
Collections is now live. Guests and hosts can create personalized Collections based on space type, location, amenities, proximity to tacos – anything! Once built, your Collections can be found in MyLiquidSpace under the Collections tab.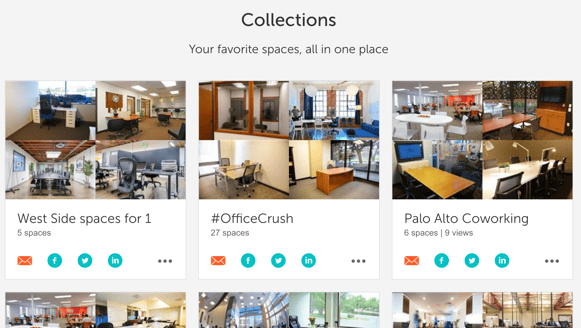 Looking for inspiration? Here's a handful of Collections to get you started: