Update 3.30.20
As the COVID-19 pandemic continues to spread, many businesses have been making the difficult decision to limit access or close temporarily for the health and safety of their members and employees. Local governments have also been increasing orders to shelter-in-place and limit their travel for essential services. And, although many of us are able to work from home, many still need access to a professional work environment, high-speed internet, or mail and shipping services provided by our flexible office partners.
It is our mission to provide you the most up-to-date information on which venues are still open, which are providing limited service and which are closed. Additionally, our partners that are open are posting their Health & Safety Policies (LINK) in order to communicate actions they are taking to protect their members, guests and employees.
Today you can go to LiquidSpace.com and do a real-time search for a flexible office location near you that is open and has posted their health and safety policies. We also have space experts standing by to help you navigate these ever-changing times and help you find the space you need to stay productive.
Under current conditions, it is recommended we all take the necessary steps to stay safe at work and at home. In fact, for many of us, home now is our work environment. If you must work outside your home, it's important to know the health and safety policies of your work environment.
In particular, if you are considering flexible office space, reviewing the venue's health and safety policy may be a key part of your buying process. That's why LiquidSpace is making it easy not only to review the health and safety policies of our venue partners but to find the venues that are sharing their policies with the public.
See workspaces' Health & Safety policies
To help bring full transparency to your workspace decision-making, we are actively asking our venue partners to post their health and safety policies and practices on LiquidSpace. As they do so, you will be able to view each venue's policies and practices and make informed choices. Each venue's policy (once they've posted it) can be viewed on their venue profile pages.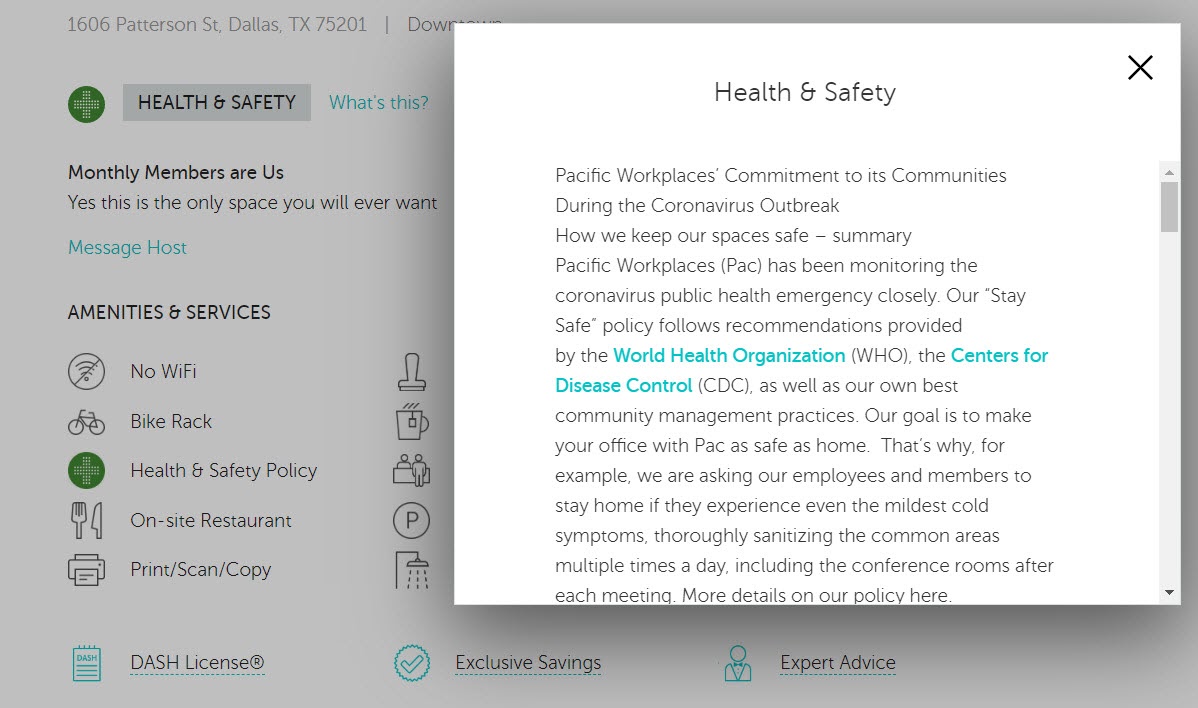 Use the new Health & Safety filter
We have also provided a Health & Safety filter, so as you search for spaces you can quickly identify workspaces that have posted Health & Safety policies. Look for spaces that feature the green Health & Safety badge. You can read the full policy on the venue's profile and workspace pages.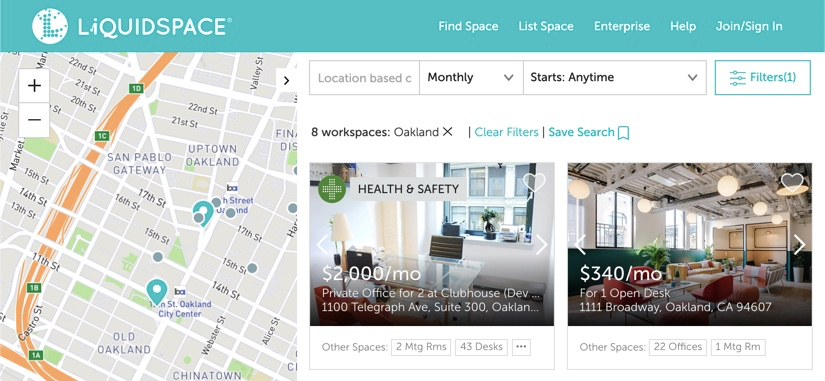 As the COVID-19 pandemic evolves, we want to be responsive to our members and our provider partners. To that end, we welcome your ideas and thoughts on ways we can help you be the most productive and safe as you navigate new work environments. We will continue to look for ways to bring better communication and transparency to the flexible office marketplace, with the goal of making work safer for everyone.
While we have made it easy to find spaces on our site with Health and Saftey policies, our space experts are also available to assist you with your flexible space needs. Get the conversation started today through our live chat or support@liquidspace.com .