How exactly will we return to the office? And what will that office look like? Mapping out post-covid work scenarios is the unenviable task faced right now by many senior corporate executives.
When is the last time in history that the majority of large employers have faced the same monumental decisions all at once? Indeed, many companies currently find themselves in the throes of analysis paralysis. They are weighing many factors – and many potential consequences – in order to determine how best to transition back to the office. What was a Fall 2020 return date got moved to January 2021 and then to July. Employees are yet to receive solid direction on whether, how and when they will return to the office.
The future of work is a mixed bag
Some firms like Facebook, Shopify, Slack and Twitter have made news in announcing their intent to adopt a mostly remote workplace. But the reality is that most companies will probably adopt hybrid policies, perhaps on a business unit or departmental basis. They will ultimately plot themselves somewhere on the continuum of workplace models that include:
Old school – Working fully onsite, or "butts in seats" as it has been called.
Flexible – Permitting occasional work from home.
Remote – Enabling full-time work away from a central office.
Work from Anywhere (WFA) – allowing teams to work from the office, home or flexible office locations according to business needs or personal preferences.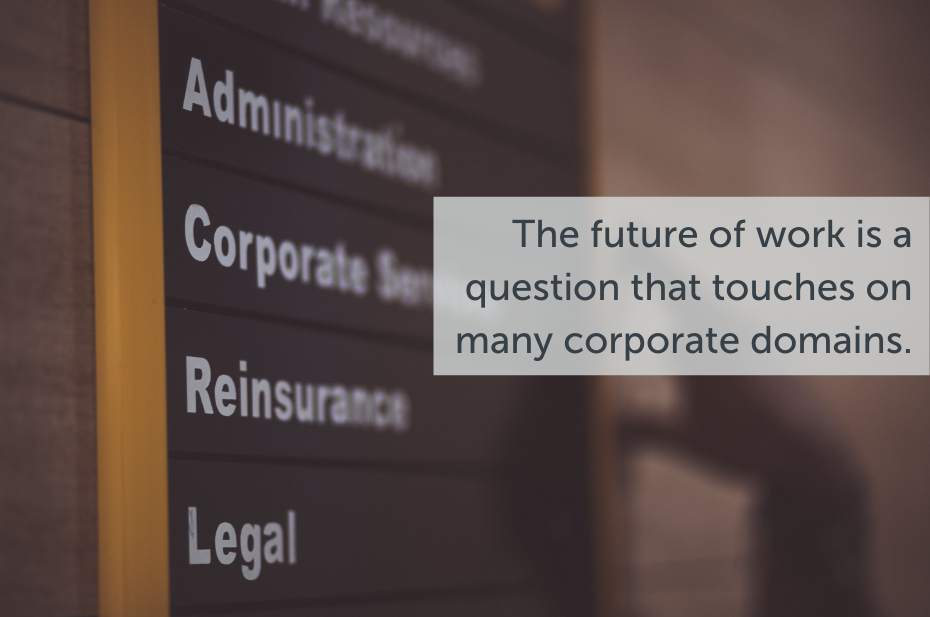 Who owns this problem?
At first blush, it might seem as though the task of developing the organization's new workplace model falls on the human resources department. Or, since it involves major real estate assets, perhaps it's a job for corporate real estate (CRE)? But in fact, the future of work at any company is a question that touches on many distinct corporate domains, certainly including HR and CRE, but also Finance, IT and Risk Management.
Below are just some of the factors that need to be taken into account by corporate strategists tackling this problem.
Is the past prologue?
In developing a future model of work, perhaps the first question is: what were the company's pre-Covid workplace policies and practices? If an organization was already lenient toward employee work modes, then it will more easily move toward a more flexible workplace model, or even adopt a "work from anywhere" policy. However, if the company insisted on "butts in seats," then moving toward a more flexible workspace model will be challenging. After all, except for the pandemic period, neither the employees nor the managers will have had experience in dealing with a distributed work model. Managers may need help in feeling confident about managing remote teams.
What is the industry norm?
Industry standards and practices are another key factor to consider. Is the company in an industry that embraces more flexible workplace models? Or is it in a more traditional sector? By way of example, a recent report by the global real estate brokerage Savills found that very few law firms are giving serious consideration to altering their traditional approach to officing, post-pandemic. By contrast, when Savills studied technology firms it discovered that 55% of those companies expect to jettison at least some of their space in the next 12-18 months.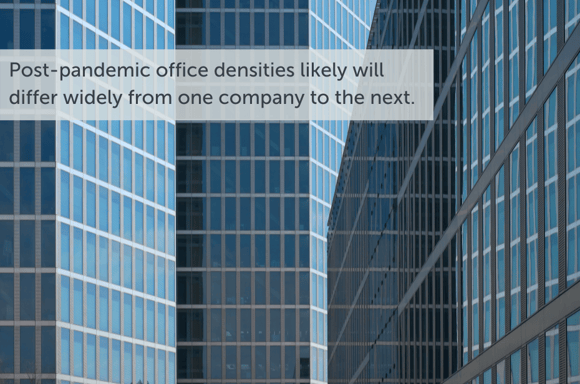 What's the target density?
Oddly, the Savills tech-firm study also found that 34% of respondents believed they will need more rentable square feet per employee in the future. This speaks to the widely held belief that in order to be safe, offices will need to be "de-densified." In other words, due to the risk of viral transmission, tightly packed cubicle farms and open floor plans are both likely to become a thing of the past.
However, there is no single target density being offered by the government or by workplace experts. Thus, density targets will probably vary widely from one firm to the next. Or, as a McKinsey article put it: "The answer, different for every organization, will be based on what talent is needed, which roles are most important, how much collaboration is necessary for excellence, and where offices are located today, among other factors."
Are managers prepared?
For employers that have always required employees to work on site, moving toward a more flexible workplace model is as much a question of manager readiness as employee readiness. Managing a more remote team might require new skills, especially for managers who have always equated attendance with productivity. How do those bosses actually manage employees with whom they're not in regular, line-of-sight contact? How do employees develop their careers in a remote work world? And how does the company continue to harness the benefits of idea exchange and serendipity that come from frequent face-to-face contact?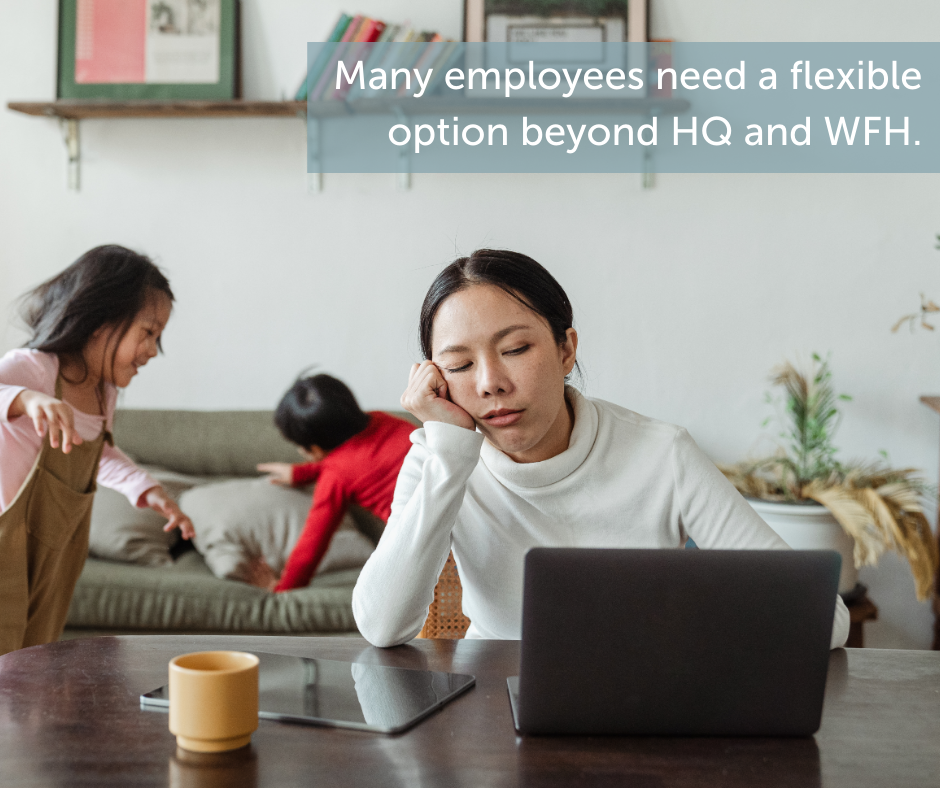 Is WFA easier said than done?
Until now, most employees have experienced working at the office (pre-pandemic) and working from home (during the pandemic). But our post-pandemic future is likely to be a mix of those two work modes, plus the added ability to work from a flexible office location, like a coworking space or serviced office. This new option will be particularly important for employees who primarily work from home but don't actually find that work mode to be healthy or productive.
True workplace flexibility will require two things:
One, that employees can readily locate and transact flexible office arrangements. For example, they might need to book a private office for a week of intense collaboration with teammates.
Two, that employers can manage these employee transactions but still maintain corporate standards for workplace safety, cost management and legal compliance.
In other words, companies need to empower their people to make sound individual choices at scale. Fortunately, LiquidSpace stands ready to help large employers manage this challenge.
WFA doesn't have to be chaos
The thought of thousands of employees booking workspaces by the day or month is enough to give your procurement director a heart attack. But it doesn't have to be that way. LiquidSpace is the first and only WFA (work from anywhere) management platform, giving employees access to the world's largest flexible office marketplace – while giving companies centralized command and control. With LiquidSpace, workplace leaders can manage what would otherwise be an unwieldy tangle of employee transactions.