We are excited to introduce our new app for iPhone®, putting workspace freedom in the palm of your hand.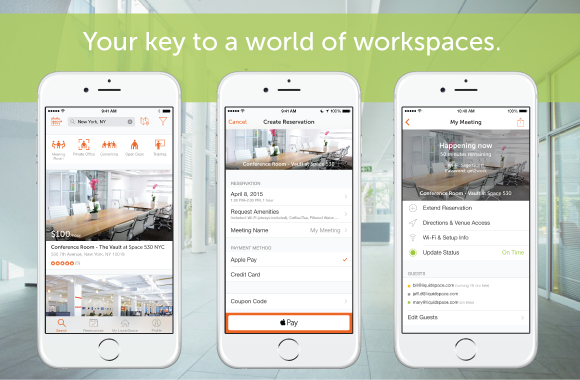 Our team has been working hard on new features that help you more easily find and book workspace in just a few taps, get up and running in the space more easily, and invite and track meeting guests. You can also now extend a meeting reservation in just one tap!
Here's what new:
Streamlined search features
You can now search for more types of specific workspaces that meet your needs (in addition to filtering by price, amenities, location and availability for a specific date and time). For example, you can search specifically for an available nearby private office, meeting room, coworking space, open desk or training room.
Deep integration with iOS 8 to pay, stay organized and get there
You can use your credit card or Apple Pay to complete a reservation and then sync booking details directly with iCal, Maps, Passbook and your iPhone's Today view, making it simple to see workspace details, parking tips and WiFi passwords.
Invite meeting guests and know when they are running late
Hosting a meeting? You can now quickly send invites through the app to colleagues or clients which automatically shares time, date and location details. Thirty minutes before a meeting, attendees will be prompted to share their arrival status and can notify you in a single tap if they are running a few minutes late.
Extend a reservation
If you need a workspace for longer than originally booked, you can use the app to extend the reservation in just one tap.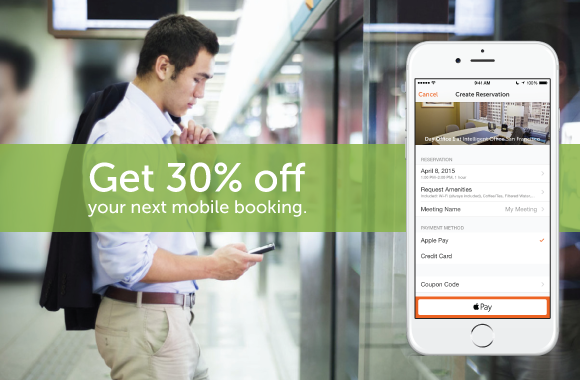 Download the LiquidSpace app for iPhone and then use the code GOMOBILE by May 10, 2015 to enjoy 30% off your next mobile booking. Enjoy workspace freedom with our network of more than 5,500 workspaces in over 600 cities.
Android users, we love you too! The 30% promotion is valid for all mobile bookings. Our Android app will be updated with our new features soon.