Tired of playing schedule tag? We hear ya. Introducing, Instant Tour Scheduling!

Our team analyzed thousands of network conversations to uncover your biggest 'time suck' and found that it takes an average of 6 messages to schedule a space tour. That's back-and-forth with venue hosts, coordinating with your team, rescheduling…and on and on. Now, there's a better way. With instant tour scheduling, simply select a specific date and time, receive instant confirmation, view a space and book!
Watch the video HERE for a quick how-to. More details below: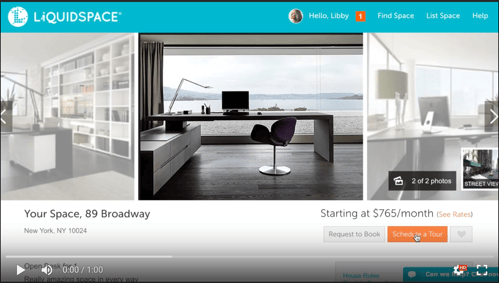 Find Your Office Space in 1, 2, 3
Looking for your growing team's next office or a private space to start your business away from the distractions of home?
Select the city you're looking in, then filter your choices based on budget, location and team size. Save your search to get alerts when fresh spaces are added to the LiquidSpace network that fit your criteria. In each space profile, you'll find information on space amenities, community and culture, as well as what restaurants and transportation options in the neighborhood.
Like a space? Give it some love by clicking the heart icon! Name your Collection and share it. Your team will see the choices you made and will be able to quickly help narrow down the space options.

1. Scheduling
Ready to tour? Go to your Collections and click on the spaces you're interested in checking out. Click on Schedule a Tour, for a no commitment tour of the space. Enter the date and time that is convenient for you. Introduce yourself to your venue host. We'll notify you once the host confirms. That's all there is to it!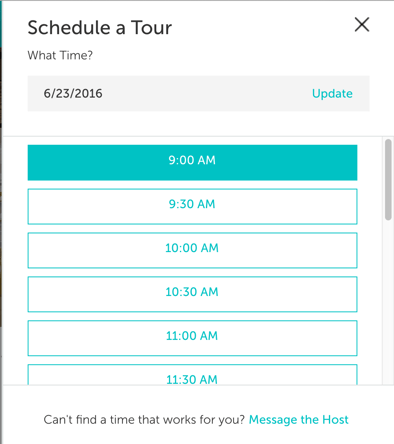 2. Tour Day
Life happens and things come up for you and your venue host, so there's an opportunity to propose a different time. Just click Change Tour anytime and propose a different time. We'll update the schedule and get you a confirmation from your host ASAP. Found your dream office? You can always Cancel Tour.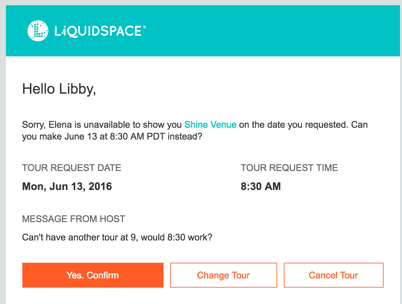 Once you've scheduled a tour, we'll send you a simple schedule of Tours Coming Up each day. This tour agenda will include date, time, the name of the venue host giving the tour and directions to each space – right at your fingertips! You'll get this information in a printable email and in your MyLiquidSpace for easy access anytime.
3. Booking

How did it go? Making a decision on where you and your team will spend a large chunk of your day is kinda important…but it doesn't have to be scary! We're here to help. We'll check in with you and your venue host to see if you want to proceed with a booking online. If the host has approved your booking all you have to do is click Book it Now. Otherwise just Request to Book, and we'll get your host to approve within 24 hours.
Need more time? All of the spaces you've toured will be waiting for you in the "Spaces to Tour" Collection. Click and drag the winners to the top of that list to compare and rank. Then share the top picks with your team. Once you're ready, complete your booking on LiquidSpace by clicking Book it Now. Enter your payment details and BAM, the space is yours!
Yep. That easy. Now you'll see your transactions in one place, leverage the LiquidSpace network benefits and enjoy a flexible 30-day cancel notice option for if your space requirements change.
Need questions answered? A LiquidSpace space expert is a chat away to assist with your requests!
Get inspired with our team's top space picks!