Today we're excited to introduce Favorites, a new feature that makes it easier for you to curate your own collection of favorite workspaces on LiquidSpace.
Favorites helps you put together a shortlist of workspaces and meeting rooms you want to try or keep track of the ones you already use and love. And if you are shopping for an office for your startup, you can use Favorites to create a visual gallery of the monthly spaces you're interested in and then share it with your team to get their input and make a decision. If you travel frequently, your Favorites is a handy way to reference your preferred places to touchdown around the country.
Create A Collection of the Spaces You Love
Browse among thousands of spaces, and click the heart icon to save a workspace to your Favorites. Changed your mind, or your team disagrees? Just click the heart again to take it off your list.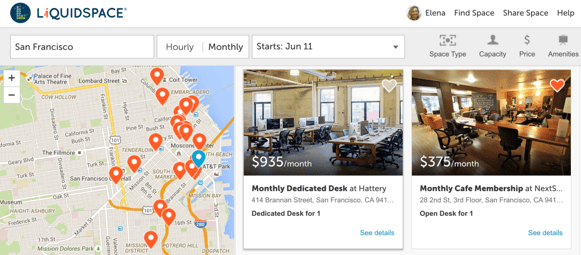 View Your Favorites
Add Favorites any time you're browsing LiquidSpace. To view your Favorites collection, simply select My LiquidSpace and then Favorites and voila!

Your favorite workspaces are now just a tap away.
Share Your Top Picks
Don't hoard this newfound Favorites treasure. Share! That's right, if there is a team involved you probably want their input in selecting a meeting room or deciding on your company's next office space. Share your Favorites. Making a decision has just become easy. No more digging through emails or collating URLs.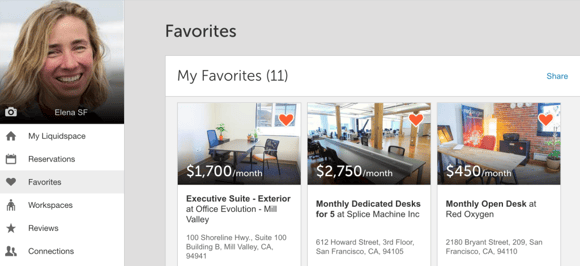 Click on Share and either send your team an email or get your whole social sphere involved by polling your Facebook friends on whether the freshly cooked daily lunch at Hattery or Ziploft's proximity to Montgomery Bart station are a better fit for the growth of your business.
Welcome to Workspace Freedom!
Ready to get inspired? Check out my Favorites for monthly workspaces in New York and San Francisco and start curating yours.