Learn more about how work from anywhere management and workplace technologies like Proxyclick go hand-in-hand as part of seamless, consistent re-entry plans.
Join us for a virtual roundtable: "How the new employee experience will drive a safe, seamless workplace re-entry" on Wed., Apr 21, 6-6:45 p.m., EST. Book your seat now!
---
Gensler's Work from Home Survey (2020) highlights that only 12% of employees are comfortable with full-time remote work.
Employees want and need to return to an office environment, even as part of a hybrid working model. Before they do, however, they're requiring workplaces and workspaces to change.
"My thoughts are employees are in charge, not companies. The employees and the talent market [are] going to drive working flexibility, not the companies. Because if a company says these are our rules, they're not going to have the talent."
-Brian Chesky, CEO of Airbnb
Offices and facilities should not only be safer, adhering to health and safety protocols amidst a pandemic. The whole experience of going to an office or flex space, before employees even walk into the building, must also be seamless and allow for increased worker flexibility.
This demand for a new and improved experience in this new world of work is driving organizations to make important decisions around the use of office space. Company leaders, especially in HR, as well as landlords, must think beyond their pre-pandemic roles; their employees and tenants overall need to be more autonomous in the workplace, to collaborate better, and to want to go back to a space that allows them to work safely and more effectively.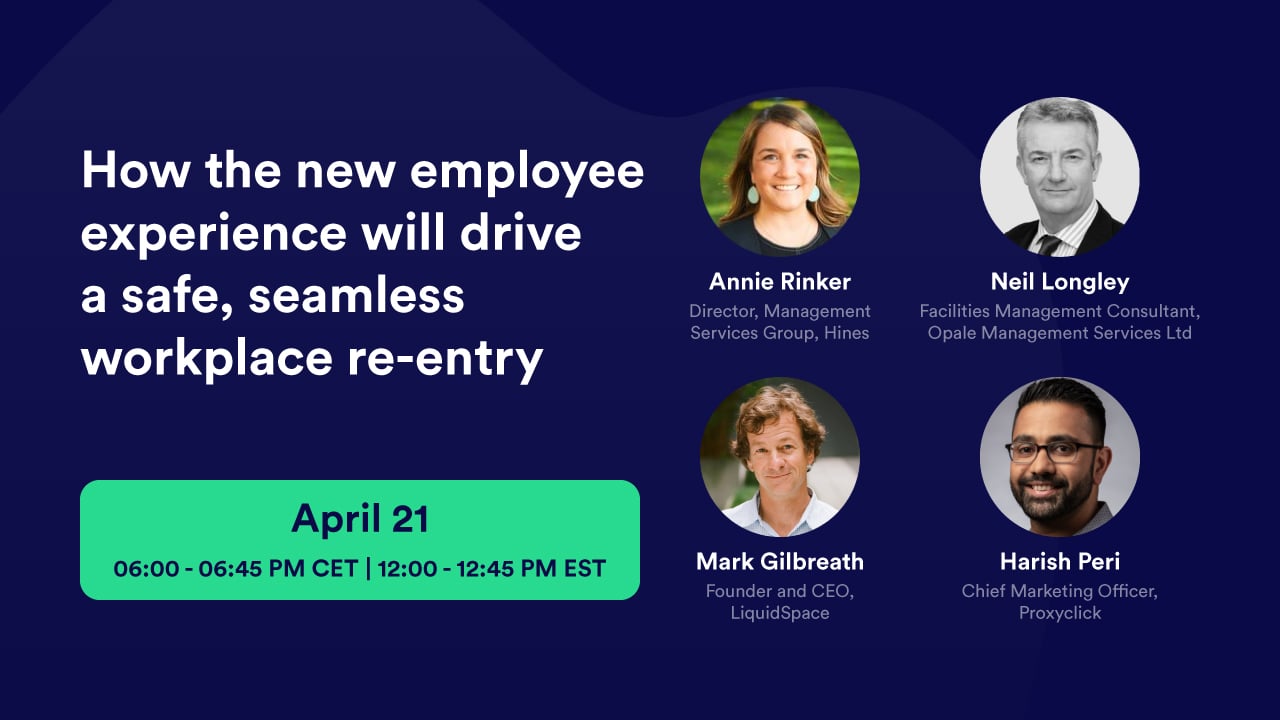 The new employee experience will require the right workplace solutions
As employees demand safe, user-friendly, and consistent spaces to return to, organizations and landlords will need to implement the right solutions and technologies.
Both on-demand workspaces, and workplace technologies like visitor management systems implemented within them, can work hand-in-hand to fulfill these new needs.
Work From Anywhere management
Giving employees access to alternative office locations through a 'Work From Anywhere' management platform and an on-demand office marketplace like LiquidSpace lets employees make the choice of how, where, and when to utilize space. On-demand offices can include serviced offices, co-working, dedicated hubs, and even a company's own HQ.
As employees move about working from anywhere they will seek a seamless, automated, and consistent experience.
Visitor management systems
A workplace fit for welcoming staff back must meet pandemic-era health and safety regulations. Organizations should implement the right cloud-based visitor management system in their offices, first and foremost, to ensure everyone on the premises remains safe, in compliance with local or national health regulations.
Proxyclick, for example, manages all flows of employees, visitors, and contractors entering the premises via a touchless check-in coupled with a suite of features including pre-screening health questionnaires, building occupancy management, access control integrations, and more.
Visitor management systems also provide more efficient, seamless check-in and check-out experiences, freeing up front desk staff's time and creating more memorable welcome experiences.
The need for landlords to support a seamless re-entry experience
Before the onset of the pandemic, a few landlords offered on-demand office spaces through operators. However, the crisis's aftermath - and the new world of work that's unfolding - has caused many commercial real estate owners to partner with these operators and offer flex spaces as a joint undertaking.
Landlords with commercial properties now understand the value of creating dynamic, versatile workspaces containing everything traditional offices do but with added functionality.
The role of the landlord is also changing with the new employee experience described above - as with employers, it's ever-more crucial for landlords to think ahead about the types of spaces they're providing. Landlords need to provide more options to their tenants, and to their tenants' employees, to meet these changing employee needs.
For example, some organizations will choose to support the "hub-and-spoke" working model, where certain groups of individuals come in to collaborate on certain days. Landlords need to think about how they can support this, and other hybrid-type working environments, fueling increased flexibility for organizations.
While on-demand office agreements initially have their fair share of risks for landlords, they're also more financially viable in the long term. Landlords will receive a greater revenue share—especially in places with minimal real estate investment due to the pandemic.
"We are aiming to solve for the provisioning of flexibility and choice for employees at scale, and the transaction of space efficiently, from thousands of potential providers that are distributed across thousands of cities and locations. Traditional leasing and traditional workplace practices never tried to solve that, but the mapping of people to place across near-infinite combinations is the new challenge area, and that's what we're squarely focused on."
- Mark Gilbreath, CEO of LiquidSpace
What will companies and employees need before returning to the office?
Mark Gilbreath, CEO of LiquidSpace, believes that "A year on from [COVID-19], the concept of flexibility, choice, and an agile workplace has gone from being a peripheral thought where it was 3 percent of a footprint, to now being the central thought for many companies."
Companies and employees now need flexible working spaces and solutions that:
Are adaptable. Similar to traditional offices, on-demand working spaces had to increase distances between stations and reconfigure their areas. However, their multi-purpose design made this process easy.


Emphasize collaboration and employees' well-being. Employees have already been through a major overhaul when governments enforced remote work last March. Many workers had to work out of their living rooms or bedrooms while coping with familial distractions and the stress of being present for long online meetings.

On-demand office spaces enable organizations to provide employees with workspaces near their homes that follow stringent health and safety guidelines. Workstations that boast a biophilic design increase the connection employees feel to their environment, thereby boosting productivity and well-being.
Are sustainable. In today's age, organizations need to go above and beyond to prove their commitment to sustainability. By using work from anywhere management platforms, organizations reduce the amount of fuel their employees use to commute to work every day since these locations are close to their homes.

These spaces are more environmentally friendly than traditional offices since their modular design enables companies to modify the workspace without encountering the waste produced by renovations or reconstructions.
Cut costs. A short-term lease enables companies to enjoy flexibility. Many have recognized that long-term leases are impractical due to the operational expenses that they encounter through these contracts. Short-term on-demand office leases are low-commitment andcost-effective alternatives to traditional workspaces.

These flexible spaces also provide amenities such as Wi-Fi, furniture, printers, and utilities as part of the contract, unlike traditional workspaces. Employers can quickly move employees from one space to another without incurring costs.


Are safe. On-demand offices need to have features such as touchless check-ins for visitors, contractors, employees, and all people entering and exiting the building. A cloud-based visitor management solution, for one, enables organizations to screen individuals before they arrive, allows for safe, contactless entry, and keeps an easily auditable record of all those on the premises in case contact tracing is needed.

In addition, the right technology for managing people flows can help businesses comply with new OSHA guidelines for returning to work in the US.
Moving ahead with a consistent, reliable return to work plan
The pandemic has changed the shape of the workspace forever. Flexible working solutions in today's world of work are becoming increasingly imperative among landlords and organizations, in order to meet employees' changing needs.
On-demand workspaces enable employees to enjoy well-being and greater functionality while avoiding the burnout that comes with working remotely. They also cut down costs and allow landlords to enjoy increased revenues.
But any office - an on-demand office, an HQ, or a visiting office workplace experience - needs to incorporate the right seamless technologies for workplace safety to succeed in and sustain an office re-entry. That starts with cloud-based visitor management systems that safely, securely, and seamlessly manage all people flows.