UPDATE: March 18, 2020
Companies and individuals seeking flexible office space in these trying times are also seeking information that allows them to make informed decisions about their health and safety. We encourage our venue partners to share their health and safety policies. We have created a feature that allows you to easily post your health & safety policy on your LiquidSpace profile, allowing:
Customers who search on LiquidSpace to see a Health & Safety badge on any of your workspaces that show up in search results.
Customers to view your policy when they visit your LiquidSpace profile and workspace listings.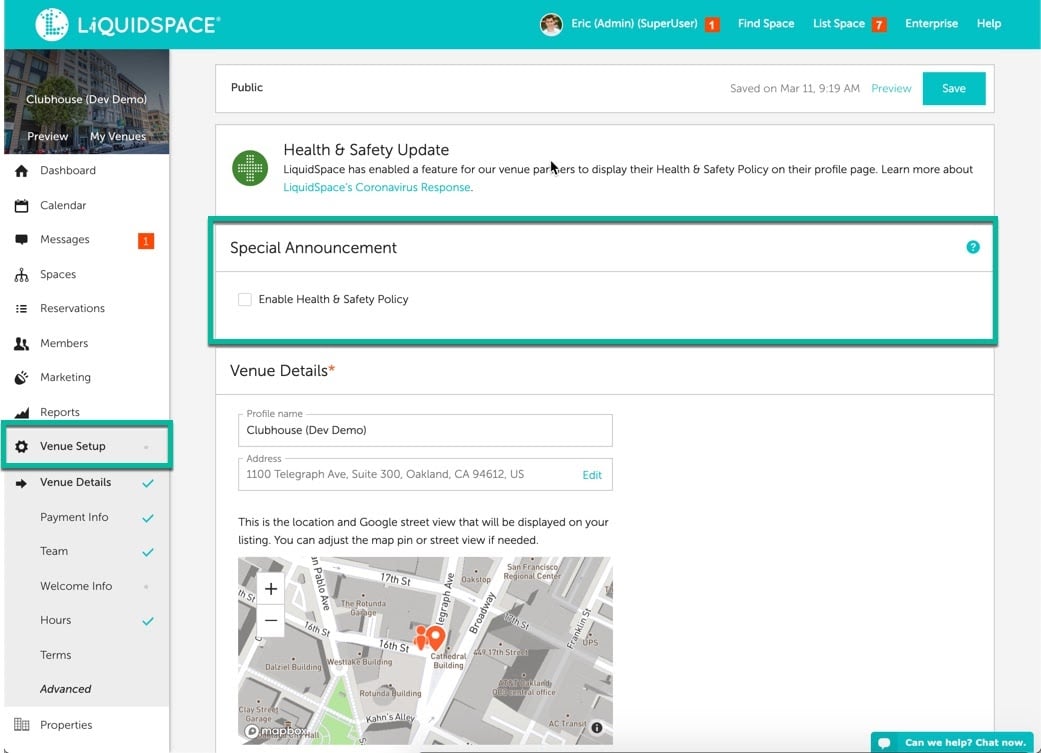 Setup your Health & Safety policy from your LiquidSpace venue manager.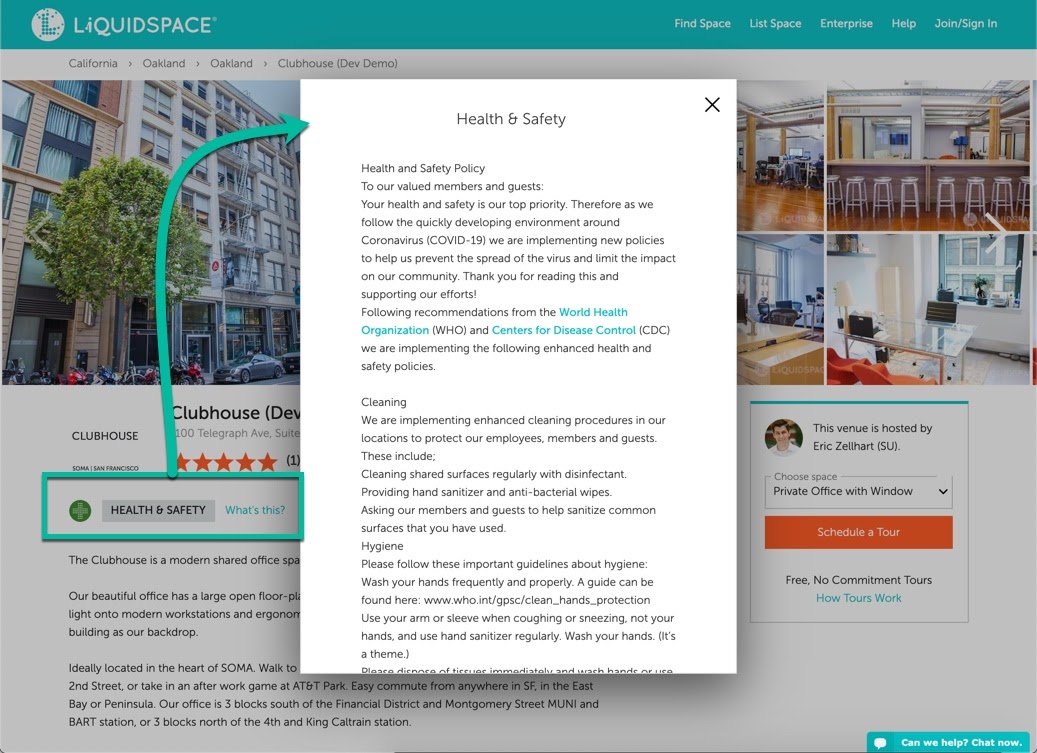 Your Health & Safety Policy will appear in a pop-up on your profile and workspace pages.
If you are temporarily closing, please tell us:
Date of closure
Anticipated reopen date (unless you give us further notice, we will change your status back to open on this date)
Any message you want us to share (when customers visit your profile or location pages, they will get your message)
Our team is here to help if you have questions or need assistance in setting up your Health & Safety policies in LiquidSpace. Please contact our team at support@liquidspace.com.
With the World Health Organization having declared COVID-19, or the coronavirus, a global pandemic, there's no question that we have entered new territory.
Any business or institution that regularly hosts large numbers of people in one space – whether that space is a cruise liner, a corporate HQ or a university has to take the virus seriously and start making continuation plans.
Indeed, large companies including Microsoft, Google, Amazon, Twitter, JP Morgan, Ford Motor, CNN and Citigroup have either asked or ordered their workers to stay home. Dozens of universities have closed or suspended in-person education.
We surveyed flexible office providers to find out how they have responded to the health crisis.
As it turns out, these providers have already taken measures big and small to keep their members and staff safe. What follows is a list of best practices, drawn from flexible office operators who have shared their efforts publicly or with us directly.
1) Communicate!
It's been said that in the absence of information, people will jump to the worst conclusions. So, be sure to let your community know that you take the situation seriously and enumerate the steps you're taking to keep members safe. This can certainly happen via email, and on your website, as WeWork has done at the top of its homepage.
As a LiquidSpace venue, starting on March 18, 2020, you will be able to post your Health & Safety policies on your profile in LiquidSpace. LiquidSpace users will see a badge on your listing indicating that you have put a policy in place.
We will inform our provider partners on March 18. Meanwhile, read our suggestions for drafting your own Health & Safety policy.
Also, consider the power of on-site signage. Prominent signage not only communicates healthy practices but reassure members and guests that safety is top of mind in your space.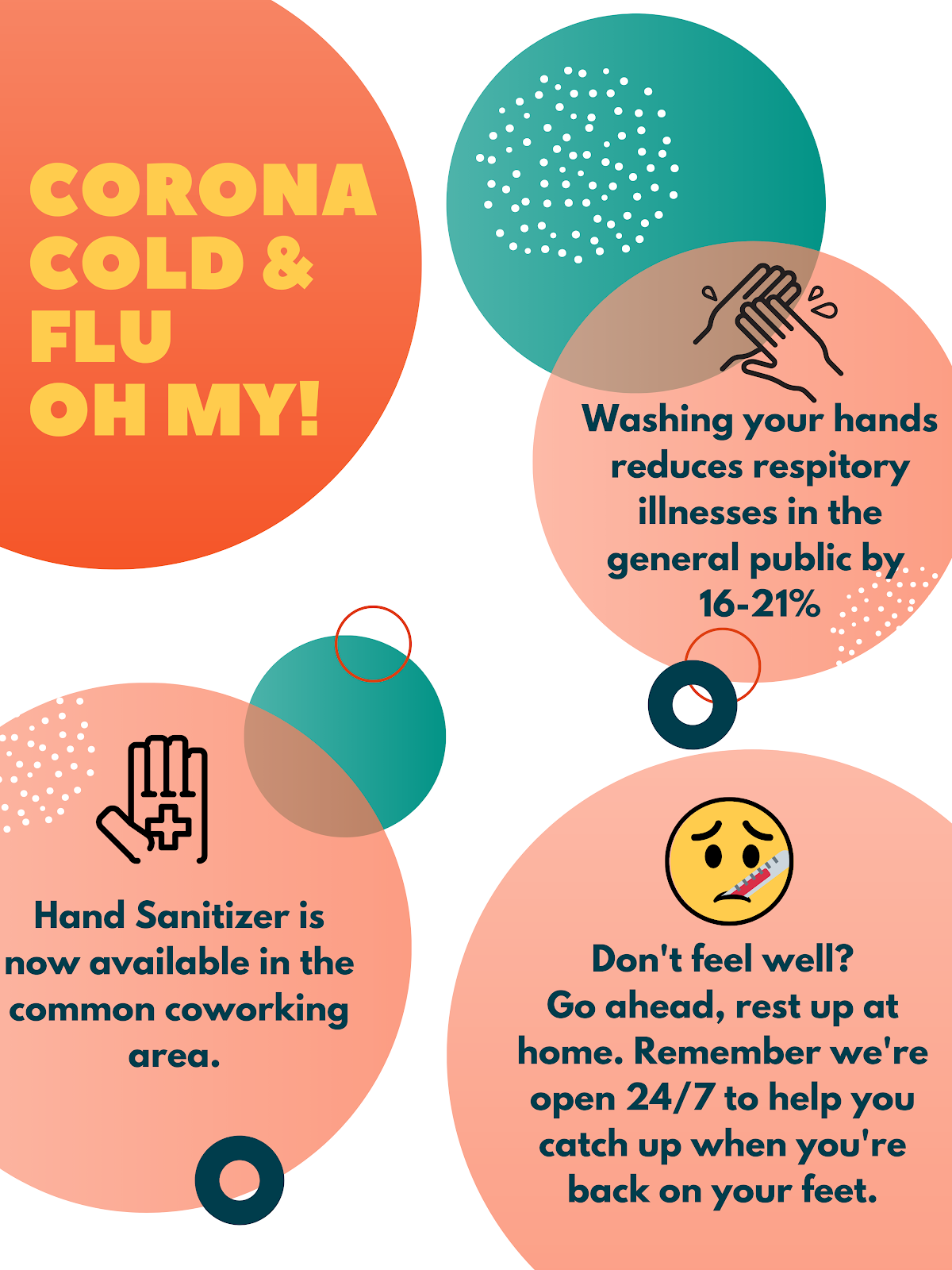 Signage posted at Enerspace Palo Alto
2) Tell the sickly to stay home
Being in the hospitality business, it goes against our nature to tell people to stay away. But there's a lot at stake. So, consider making it a very visible and public policy that members and staffers who are exposed to the virus or experience symptoms, such as fever and coughing, should simply stay home. And if a member sees someone with symptoms, they should inform your staff so that they can take action and send the person home.
At Canada's IQ Office, CEO Kane Wilmott is taking things one step further. "We are reducing our staff to one person per location and encouraging a work from home program for those Members that haven't already been mandated by their employer to do so," he reports.
I think this will have an impact in the short term as new transactions will likely slow. We are already seeing the effects of slower decision making due to a lack of ability to tour.
3) Make video tours available
In-person tours may have already dropped, but there's no reason to stop showing off your space. Even if the future is uncertain, many companies still have to procure workspace for when things return to normal. To keep the deals flowing, you can:
Offer to provide live video tours via FaceTime, Zoom or Google Hangouts.
Record a tour using professional equipment (if you have access) or your mobile device.
Add a recorded video tour to your LiquidSpace venue profile. Here's how.
4) Encourage cleanliness
Even though we are seeing this advice everywhere, it's still a good idea to remind your members to wash their hands frequently and thoroughly. In a recent blog post, Blankspaces had some fun with the subject:
"…remember to wash hands thoroughly for at least 20 seconds. In case counting or singing "Happy Birthday" is too boring, our staff has posted some of their favorite 20-second song lyrics above the sink for you to hum along!"
5) Put a cleaning regimen in place
Rather than waiting for the cleaners to do their thing after hours, consider having staff disinfect during the day. Frequently touched surfaces include:
Doorknobs
Phones
TV remotes
Conference room tables
Conference phones
Coffee airports
Kitchen counters
Phone booths
6) Make hand sanitizer and wipes a prominent feature
The ubiquitous presence of hand sanitizer and disinfectant wipes helps members to be more cognizant of germs and to take action in the moment. Locating hand sanitizer at the front desk makes sense, but also consider locations such as the kitchen, the commons, and conference rooms. Members may want to wipe down their own work areas, so it's a good idea to provide them with disinfectant wipes for that purpose. Guests in conference rooms may want to do the same, so why not station wipes in your conference rooms as well?
7) Encourage safe social interactions
Flexible office spaces are social places with lots of meetings happening all the time. Some spaces have encouraged members and guests to use alternative forms of social contact, such as elbow bumps or toe kicks, rather than shaking hands.
8) Rethink unnecessary group situations
One of the first measures taken by Enerspace in Palo Alto was to cancel upcoming events at the space. Similarly, GCUC's Seattle conference was postponed. You might consider eliminating public gatherings and events at your spaces until the situation improves.
9) Develop a contingency plan
Preventive measures are great, but what if a member becomes infected? Coworking giant WeWork has already had to contend with confirmed cases of the virus amongst its members. It temporarily closed many of its locations in China, as well as in Seattle and New York City, or deep cleaning. Brooklyn Creative League informed its members that if a someone at the space tests positive,
"we will consult the NYC Dept of Health, and proceed based on the advice we receive. In addition to quarantining the sick, additional steps may include:
Temporary closure so we can clean and disinfect.
Indefinite closure until officials give the all-clear.
Any other steps public health officials deem necessary."
10) Stay optimistic!
This is a crisis. And it may affect the health of your business. But is there a silver lining? Yes, according to GCUC CEO Liz Elam. "Two interesting things are happening that could help coworking. First, companies and humans will figure out they can work from home. This should lead to an eventual rise in coworking as working from home is isolating and lonely over time. In addition, companies will work on strategies for a more distributed workforce and coworking will be part of that solution."
Bonus – Don't stop marketing
Despite the public health threat, many corporate employees who are sent home will need to meet and collaborate outside of the home. Many will go to coffee shops, which are arguably far less safe than a flexible office space that has enacted proactive policies and practices. Consider marketing your venue – particularly your empty suites and conference rooms – as safer spaces for people to meet and work if and when they absolutely need to do so.