While you're working independently in various on-demand workspaces or looking after a growing team of employees and colleagues, you want to keep everyone's safety and health in mind.
Fortunately, efficiency-boosting, fatigue-zapping ergonomic office furniture and accessories are more than just artsy-looking inventions. They really work, and they'll help you do the same. We've found innovations you'll want to have in your office ASAP:
Winning Workstations
Before you book your next office, make sure the workstation is up to task. Your desk and chair are important work tools. They don't need to be fancy, but a little high-tech engineering can go a long way. Many LiquidSpace venues—like Park Avenue Workspace in NYC and Sandbox Suites in Berkeley, CA—feature state-of-the-art ergonomic designs, and you'll find that many offices offer top ergonomic amenities without even mentioning it. Be on the lookout as you consider various venues. The best ergonomic desks come in many shapes and sizes, but they need to:
Stand at a level where you can work with relaxed neck and shoulders, without slouching or stooping
Offer easy access to the tools and supplies you use most frequently throughout the workday
Supply adequate back and posture support
Stand/Sit Desks
Standing while working isn't just an obvious choice for the busy entrepreneur. According to a 2014 report by the folks at the Smithsonian, this is an optimal set up for any professionals who are looking to improve their circulation, boost their metabolism, and reduce their risk of heart disease. Having the option to take a seat now and then is also an important health and efficiency feature.
We know you're wondering which desks do it best, and many sources agree that NextDesk Terra is the top choice for professionals who have the funds for a functional and sleek electronically adjustable ergonomic workstation. For a smaller price tag, ErgoDepot Jarvis and UpLift 900 won't win any beauty contests, but they are stellar picks for about half the price. If your office space doesn't offer the option of a stand/sit desk, look for venues where you can easily set up a workstation converter, like the popular Kangaroo Pro.
Chairs You'll Want to Sit In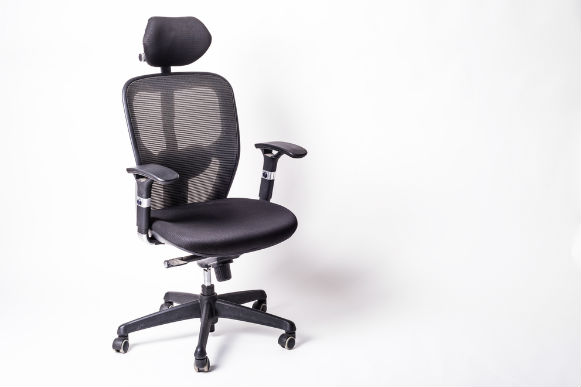 When you do sit at work, a good chair will be your spine's best friend. You don't necessarily have to break the bank for this piece of furniture, but be picky. An ergonomic chair design should accommodate your body size, and feature a backrest that supports the small of your back as well as possess the ability to adjust for height and posture. The market is wide open with good finds, but we've got the scoop on the cream of the crop:
Aeron and Embody chairs by Herman Miller take the cake for high-end ergonomics, with curved backrests, comfortable armrests, and an adjustment-friendly seat and backrest. When you need sturdy chairs for the startup crew, price may be a big concern. The Mid-Back Mesh Chair by Flash Furniture is topping reviews while keeping costs low. If aesthetics are important to you, add a pop of color and a comfy seat to your workspace with a LexMod chair. These chairs offer good ergonomics in an array of energy-inspiring colors.
Indispensable Accessories
You can't get your work done without the right desk accessories. Did you know those can be ergonomically sound, too? Try a few of these on for size: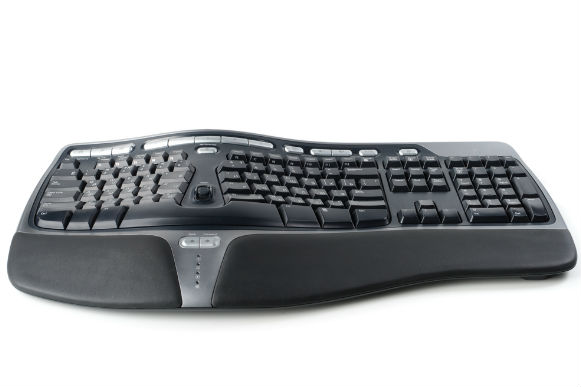 Believe it or not, your body dreams about a split keyboard with a curved wrist support to prevent carpal tunnel and repetitive stress injury. The Microsoft Sculpt Ergonomic Keyboard does all that with finesse. Kinesis Freestyle keyboards are another popular option, and they're adjustable, so you can separate the two key quadrants to your own comfort.
Scrolling through your daily emails should be as easy on your hand as sipping an iced tea. Opt for a mouse shaped to the human hand that requires no wrist acrobatics. Unconventionally shaped tools like Evoluent Vertical Mouse and Handshoe Wireless Mouse might look like elegant sculptures, but they aren't just sitting pretty, placing little to no strain on fingers.
When you book your next office space, we hope you'll use these ideas to work better and more comfortably. As you search for the most ergonomic workstation designs and accessories, let us know your favorites.