This design blog is part of our LiquidSpace Voices content campaign, featuring a new author from the LiquidSpace team each week
As a senior design student in college, I have been interning at LiquidSpace for about 3 months now. One of my favorite things about working at LiquidSpace is that I have plenty of freedom. I can freely manage my own time and work when and where I want. Before I started this internship at LiquidSpace, I was hesitant about interning in my senior year because all senior design students have to complete large projects during their final semesters.
I was worried that i wouldn't have had the time to commute back and forth between school, office, and home. LiquidSpace's flexible working environment made it possible for me to balance my school life and work life. However, having the freedom to manage my own time doesn't mean that I don't interact with my coworkers and mentors. In fact, I meet with with them every week. Plus I get to experience different working environments all the time. We go to different office and coworking spaces around the Bay Area each week. In my time at the company, we've done a lot.
What I've Done So Far…
Working as a design intern at LiquidSpace, our product team and my design mentor really contribute to my growth as a designer. I have had the opportunity to explore a variety of projects, from the brainstorming process, to iconography, illustration, web, mobile, infographics, and promotional materials. I love most of my projects because they are fun, challenging, and I can always learn something new from them. While doing the production work isn't my favorite, I know that this is something all entry-level designers have to endure. Here are some of the projects I've worked on: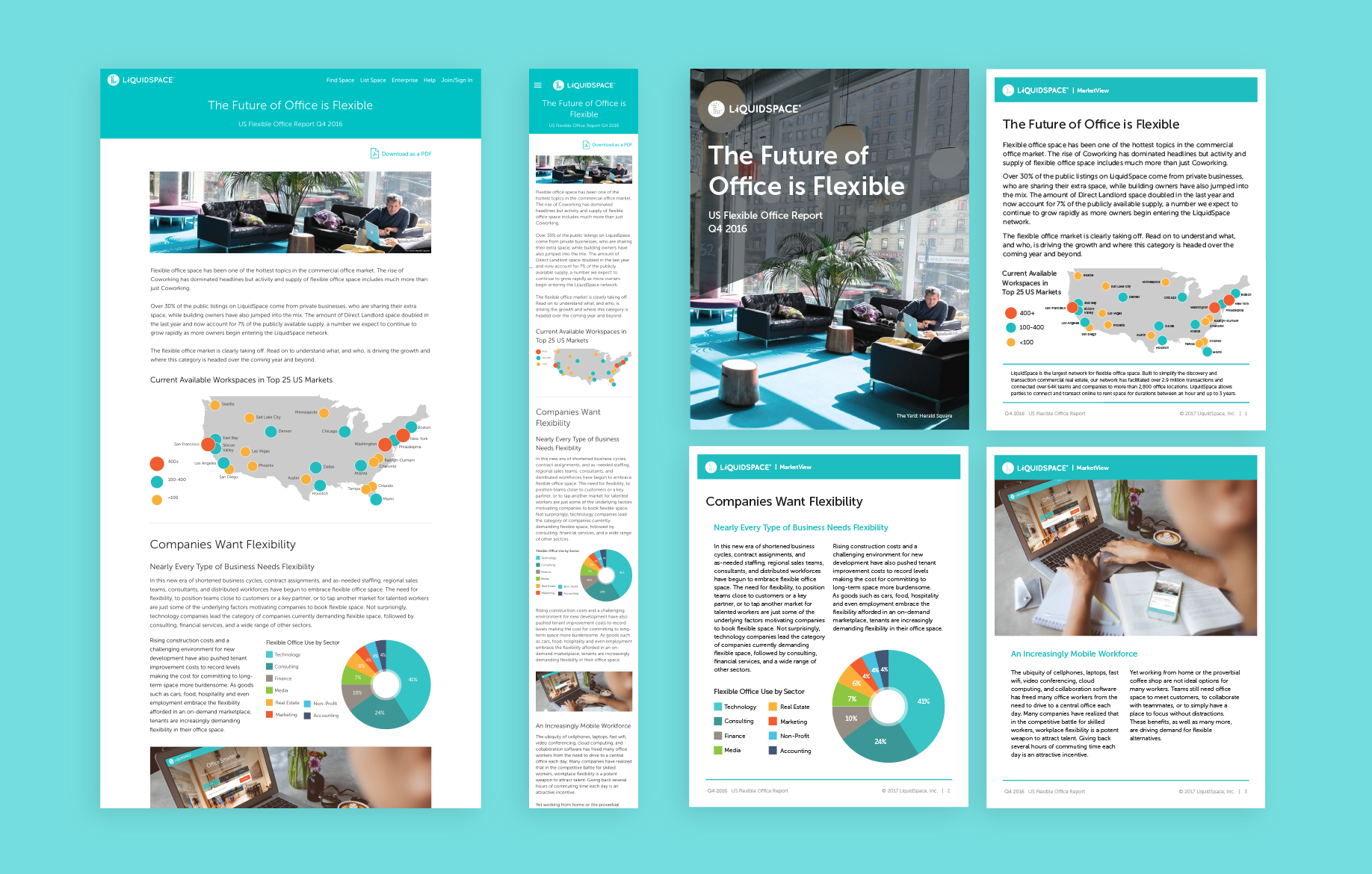 This statistic report is a promotional piece that I designed to help LiquidSpace define the category of flexible office space. I designed this in both web and print formats.

The objective of this project is to illustrate a set of iconography that describes the altSpace experience for brokers.

Similarly, I had to illustrate a set of iconography for companies and altSpace. Because we're talking to different types of people the design must reflect that.
My Future at LiquidSpace
After I graduate from college, I can see myself working as a junior designer at LiquidSpace. The flexible working environment and amazing people at the company make it a great place to intern. Fast learners should give LiquidSpace (or companies that promote work-life balance) a shot. However, do keep in mind that working remotely at a startup means that the day-to-day not as hands-on as in a traditional company. But, the project pace is still fast. Don't be afraid to ask questions when you feel like you're not matching their pace. Your mentor and teammates welcome your curiosity!
Ivy Li
Design Intern / Lifetime Learner