The world of work has changed because of mobility and the pace of innovation. Especially for startups, time and funding horizons have shrunk dramatically. Even in the age of distributed communications, teams still need to come together to work.
Team space can come in many forms – a shared desk at a friend's office, a coworking space, an open bay of offices next to a fellow startup, a move-in ready floor of an office building. The startups' time horizon may be as short as a month or as long as a year or two, but rarely more.
Yet, in the world of real estate the only standard legal basis for an agreement is a long-term lease between a landlord and a tenant with a bounty of terms that are overkill for simple, short-term office use.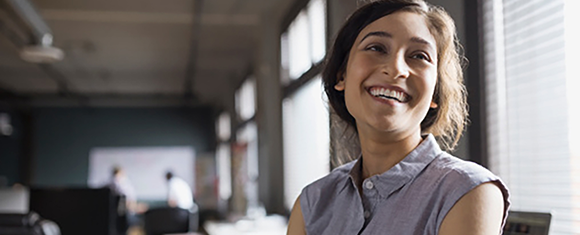 A New Type of Agreement Designed for Short-term Office Use
Now there is DASH License, a fast, simple agreement for short-term office use that moves at the speed of startups. LiquidSpace created DASH (Direct Agreement for Space Hosting) License for people with space (Hosts) to share it with people who need space (Guests) for short-term office use. Since we use DASH License as the basis of transactions in the LiquidSpace system, the entire LiquidSpace community has helped in its evolution including building owners, real estate attorneys, coworking and business center operators, startups, and F500 corporations. DASH License reflects the combination of this input with current practices and norms and, as a result, we expect to update it from time to time.
DASH License should reduce both the time and cost of an office space transaction. For a startup or any innovation team needing space, time and money are vital. From the perspective of an owner or lessor of space, while moving away from the traditional full-blown rental documents entails giving up a number of rights and protections, when taken across the numerous transactions, the benefits of spending less time and money on the documents outweigh the cost of sacrificing these additional rights and protections.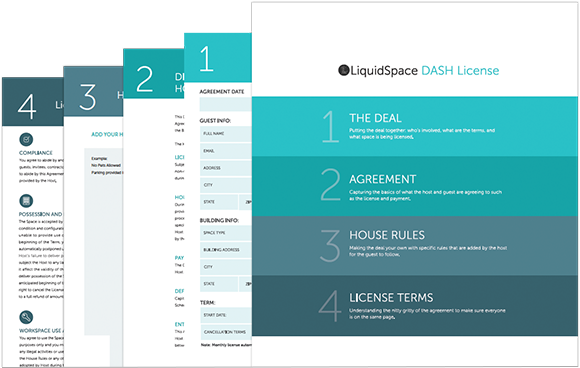 DASH License Principles
We created DASH License with the following principles in mind:
| | |
| --- | --- |
| • | Fair: It is intended to be fair, favoring neither the host or guest. |
| • | Simple: Instead of a 60 page lease, DASH License is 11 pages long and written in simple language so that an entrepreneur can read and understand it without devoting an inordinate amount of time and energy. |
| • | "Fill in the Blank": The document is "fill in the blank" meaning that they are intended to be used as-is without further negotiation other than completing the information needed to make them accurate. Hosts can fill in "House Rules" to capture the rules specific to a building like parking. |
| • | Transparent: DASH License increases transparency. Since this is available online, any host and guest can now agree with confidence that there are no hidden "gotchas". |
Of course, DASH License isn't appropriate for all space transactions in all jurisdictions. We assume prospective guests and hosts will review their particular circumstances to determine if DASH License can be used as is or as a starting point for an agreement.
We encourage you to bring DASH License to the table the next time you're sharing short-term office space. To encourage its use and dissemination, we are providing DASH License as 'free software' under the terms of the GNU Public License. Download the interactive PDF today and customize it for your transactions.
Download DASH License today
DISCLAIMER
LiquidSpace does not assume any responsibility for any consequence of using the DASH License. We provide the DASH License to assist you with the preparation and execution of your own license agreement for short-term office use. Each situation is highly fact specific and the law is different from jurisdiction to jurisdiction, and may be subject to interpretation by different courts and therefore any party should seek legal advice from a licensed attorney in the relevant jurisdictions. If you need legal advice for your specific matter, or if your matter is too complex to be addressed by the DASH License, you should consult a licensed attorney in your area. If you use the DASH License, LiquidSpace is not advising you on the suitability of such DASH License for any particular use. You understand that our providing of the DASH License to you is not legal advice, and that the DASH License is not customized to your particular needs or intended use. The DASH License is for informational purposes only; it is not guaranteed to be correct, complete or up-to-date. We do not review the DASH License for accuracy or legal sufficiency, draw legal conclusions, provide legal advice or apply the law to the facts of your particular situation. LiquidSpace expressly disclaims any and all liability with respect to actions or omissions based on the DASH License.