Highlighting the office options at ECO-SYSTM in SoMa, San Francisco this is an installment of our Workplace of the Week content campaign.
ECO-SYSTM is located in SoMa, on Howard between 1st and 2nd. Get good eats nearby, at places like Anchor & Hope, Fang, and Uno Dos Tacos. You'll find plenty of lunch spots, watering holes, and upscale dinner options in this bustling neighborhood. More than your typical workspace, this spot combines nightclub, with art-gallery and coworking into a truly inspiring ecosystem.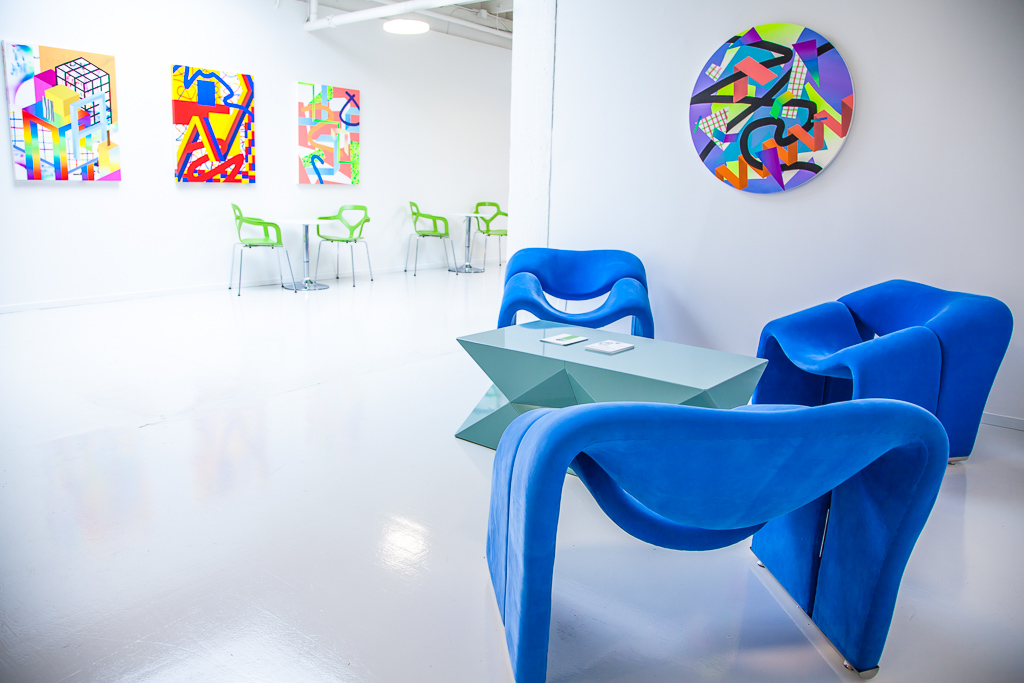 We asked Meaghen Liebe, Director of Operations at Zen Compound (which owns and develops ECO-SYSTM) What makes your space so unique?
"ECO-SYSTM is unique, first and foremost, because of the other businesses with which we share the space. A nightclub, a gallery, and a coworking space all walk into a bar…haha just kidding. But yes, operating all three businesses together can be quite challenging, but we feel the pros definitely outweigh the cons.

Thanks to the gallery and the relationships we have with the artists that show here, our conference rooms, phone booths, bathrooms, and pretty much every spare blank wall at ECO-SYSTM, comes adorned with beautiful world class artwork from well respected artists. And similarly with the nightclub, our members that appreciate electronic music have the opportunity to see incredibly talented DJ's right downstairs from their workspace. And the delicious snacks and drinks that we provide at our happy hours are also a nice perk thanks to our in house cafe Hive, which in addition to whipping up delicious happy hour treats also serves breakfast and lunch dishes that can be delivered right to your desk. "
Our team had a chance to cowork at ECO-SYSTM, San Francisco last week, here's why we loved it!
The Art at ECO-SYSTM
Everywhere you turn from the murals on the walls to the artists in residence at the Mirus Gallery, a walk through ECO-SYSTM, SoMa will inspire you.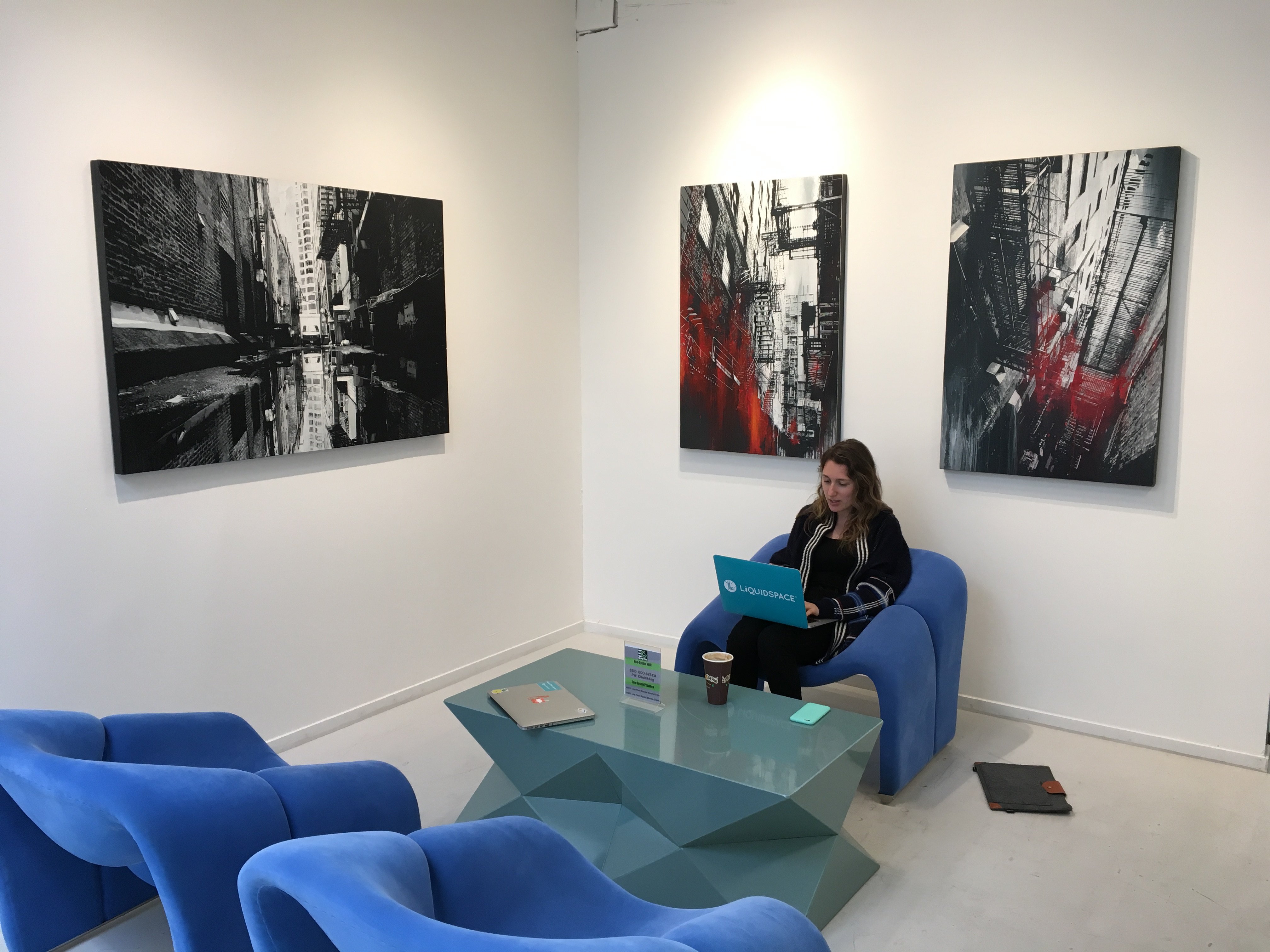 What's even better the Mirus Gallery artists in residents are often present to talk about their work, so your lunch or coffee break can turn into a culturally stimulating experience.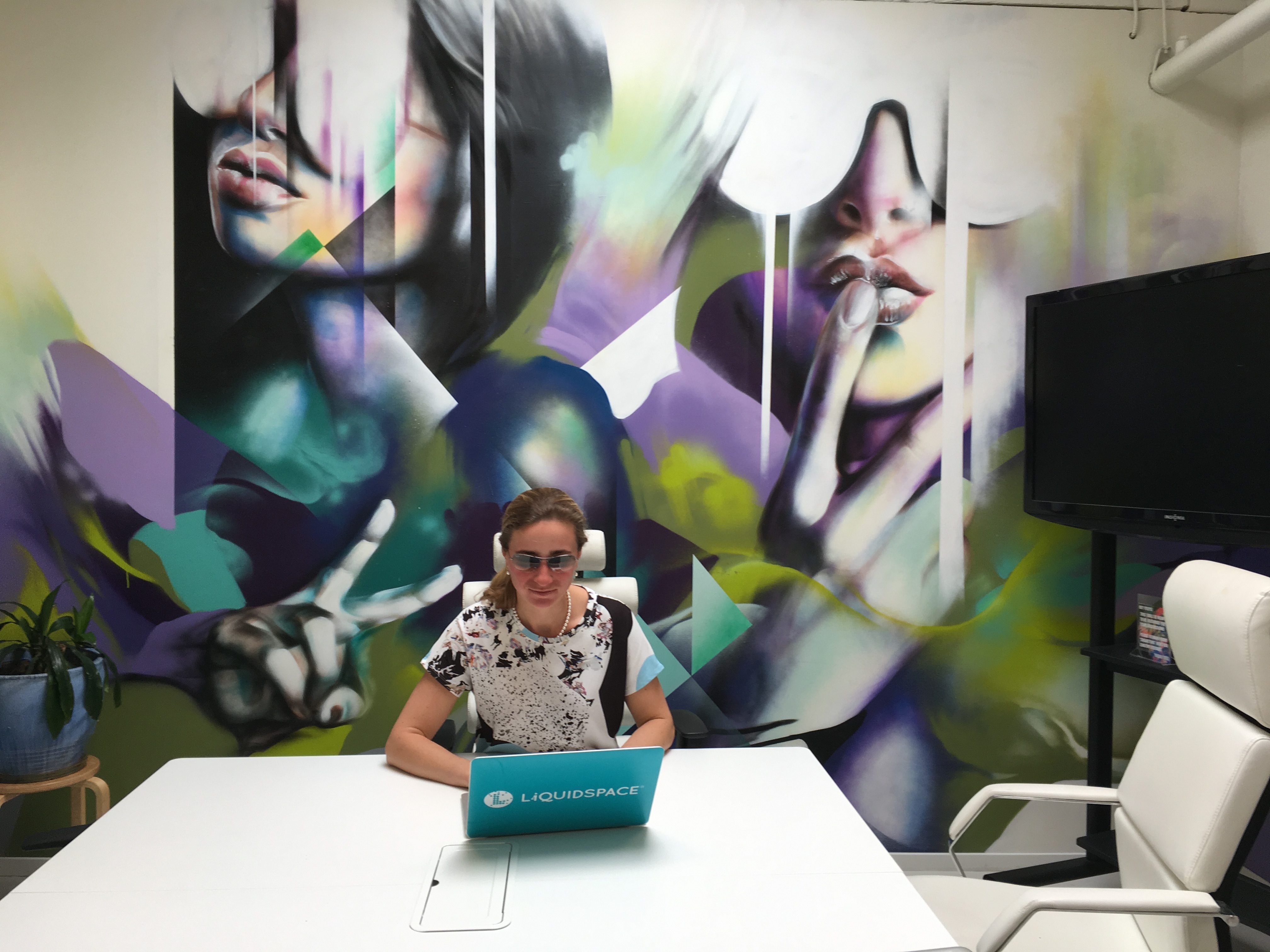 The Ergonomic Furniture
Every chair, table, recliner and even the, "I do not know what to call it pieces" have been selected for their aesthetic and ergonomic value. Each chair is comfortable and easily adjustable, and the lounge spots are comfortable and unique. The colors are vibrant and fit nicely into the brick, high ceiling setting of the space.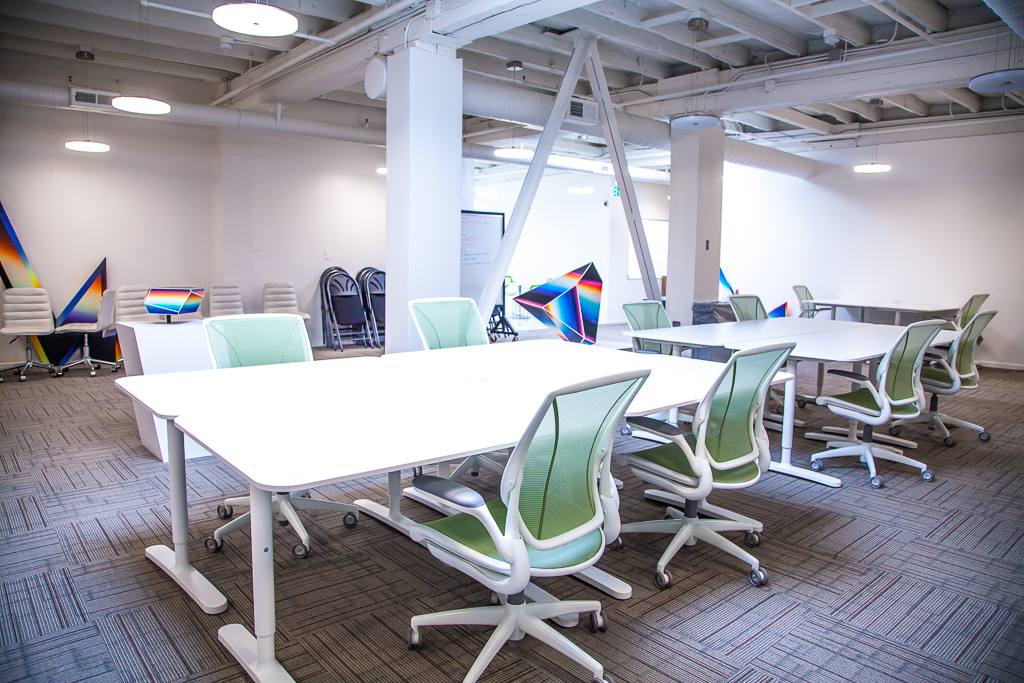 The Flexible Office Options
ECO-SYSTM has it all. Lavish conference rooms where any startup would be proud to pitch their product to an investor or book it for the day for a brainstorming session, like LiquidSpace did, to nail down our next quarter objectives. Last week we got day passes for the 6 of us to work together, collaborate and get inspired. Plus teams love the expansive team offices and individual desks available by the month or longer and often choose ECO-SYSTM as their headquarters.
A Focus on an ECO-SYSTM & Community
Meaghen and team really focus on building an inclusive and inspiring community and this is felt from the moment you come in. The person greeting you shows you the way and makes sure you get up and running quickly. The people working here are friendly and take a break to say "Hi". Every week there is a roster of events from artistic, to business to electronica and other DJ showcases at the Temple Night Club.
When asked What's your favorite thing about ECO-SYSTM? Meaghen explained:
"My favorite thing about ECO-SYSTM is the members of course. A coworking space is nothing without its members. The individuals and companies that come here every day and share this space with us and help us create this amazing eclectic community are what makes me keep coming back every day."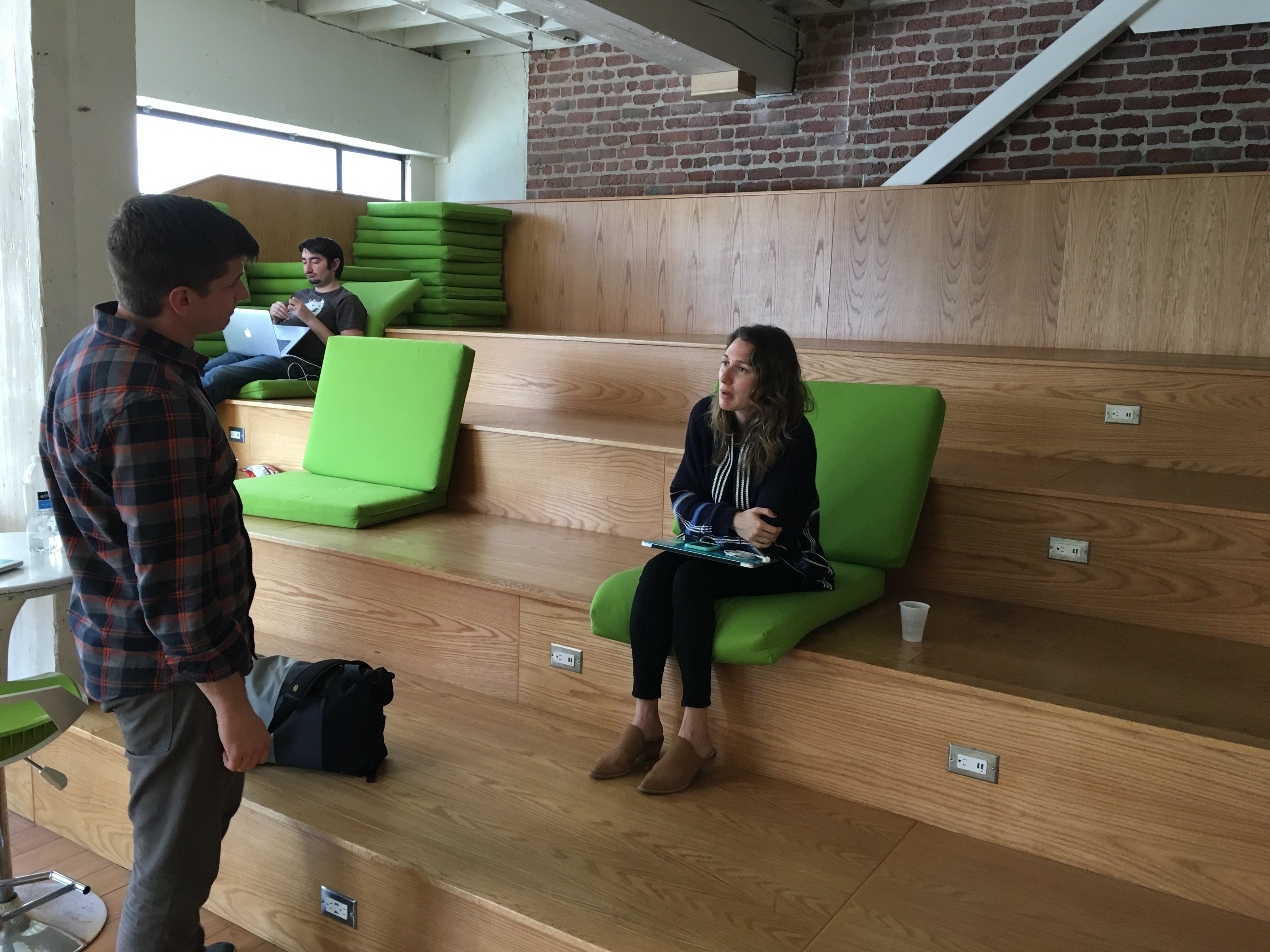 The Rooftop
Yes there is a rooftop. This is a surprise in San Francisco as you can count the number of places with a rooftop on one hand. A beautiful wooden deck with a skyline view. A quiet spot for lunch or just to take a break. Plus if you find yourself here on Thursday there is a happy hour with delicious food from the Hive, the in house cafe, bubbles and beer on tap, and interesting people to talk to.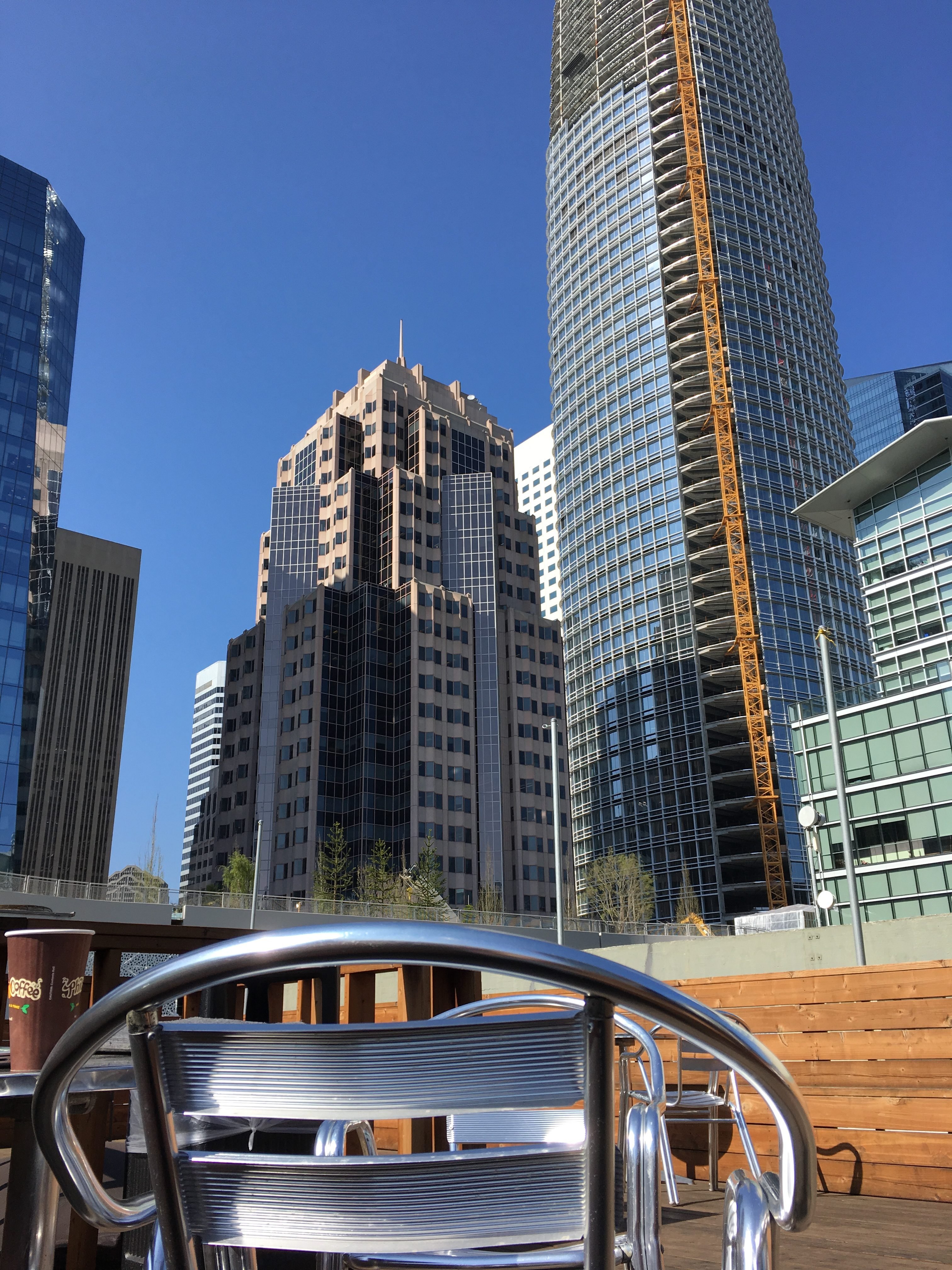 The ECO-SYSTM Vision
In closing Meghan asked Paul Hemming, the entrepreneur mastermind behind this concept.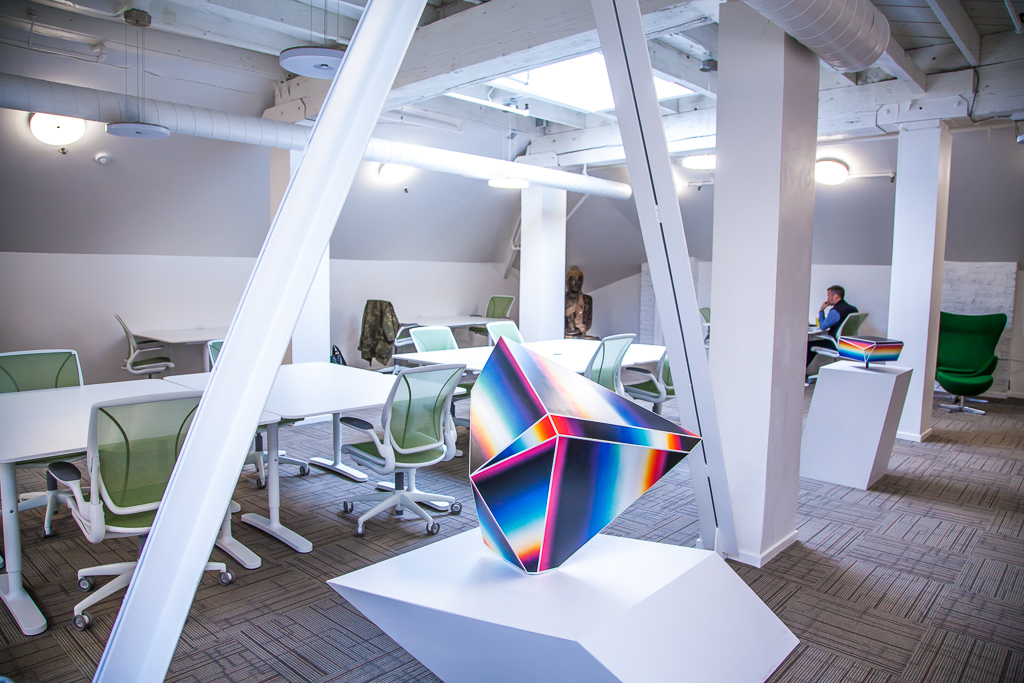 Nightclub, Art Gallery and Coworking – How did these three concepts emerge and benefit each other? Paul explained his vision:
"They emerged out of my passions. The nightclub started from DJing and the record store I had where we hung out and threw parties. From that we took over this building and I was looking for different solutions to fill the extra space we had upstairs, so I essentially attempted coworking before I even knew what coworking was. I had different companies come in to try it out, some stayed a while, some failed and left. I've always been surrounded by tech companies and entrepreneurs in SF so we've seen it develop around us. Twitter did their launch party in the nightclub. All these big startups guys and founders came through the club. So the energy was there.

Then one night I went to Parisoma for a ping pong tournament. That was how I discovered the coworking industry. Their conference rooms tables doubled as ping pong tables and my colleague and I played in a tournament that night. And I thought, this place is so cool! I've always been looking for a way to utilize this space during the daytime. Coworking was the perfect compliment to the nightclub because it operates during the day. From there I looked up coworking online and did some research, found out about GCUC and went to the conference in Kansas City and came back inspired to give it a go.

At the same time that I was attempting to fill my empty space with companies I also was starting the gallery. It started with meeting artists when they would come into the record store and I would hang their art and try selling it. Then when we started the nightclub I would have artists do art installations. I started following and collecting the artwork of Mario Martinez, Damon Soule and Oliver Vernon. (They're all friends and well respected artists.) And I used them to launch the gallery on the 3rd floor. Nightclub, gallery, coworking in that order. People work at the space and want to party at the nightclub. People party in the nightclub and I give them tours of the coworking space and gallery and they see all the other stuff we're doing and they sometimes buy art. It just all flows together."
So come check out ECO-SYSTM for the coworking, and stay for the art and nightclub. Whatever happens, we guarantee you'll be inspired to meet creative people because of this environment. Stay tuned next week for another Workplace of the Week highlight, and don't forget to subscribe.
Get All Workplace of the Week Content
Enter your email below and we'll send you every blog we publish as we publish them. So you'll get everything from our Workplace of the Week campaign and more.