Highlighting the office options at Covo in Soma, San Francisco this is an installment of our Workplace of the Week content campaign.
Some spaces talk about real connection, ambiance, and culture – Covo nails it! Located in the heart of Soma at the intersection of Mission and 6th, you'll find a high ceiling warehouse space with beautiful brick, and your choice of desk, lounge, and office space.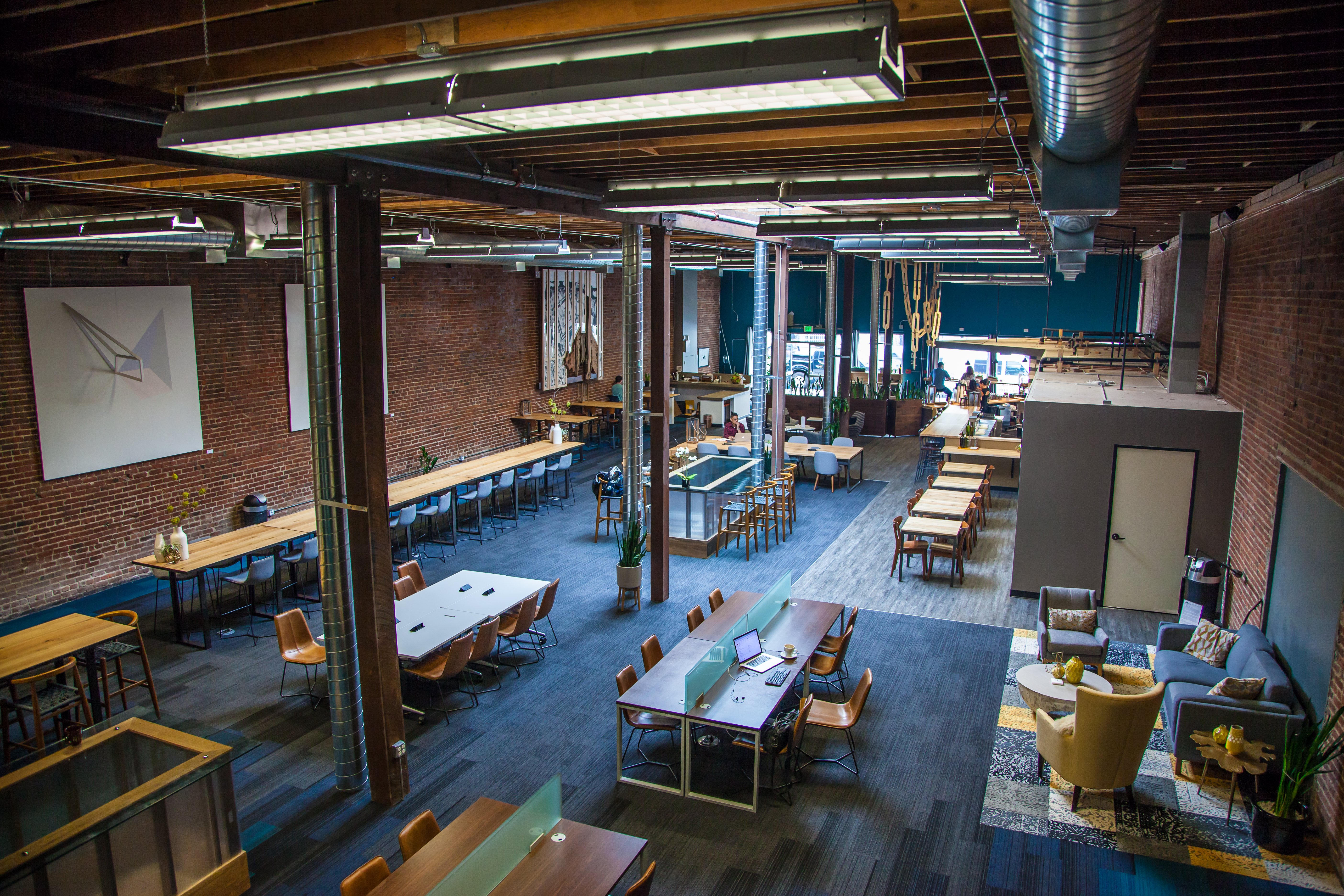 Our team had a chance to cowork at Covo, San Francisco last week – check us out: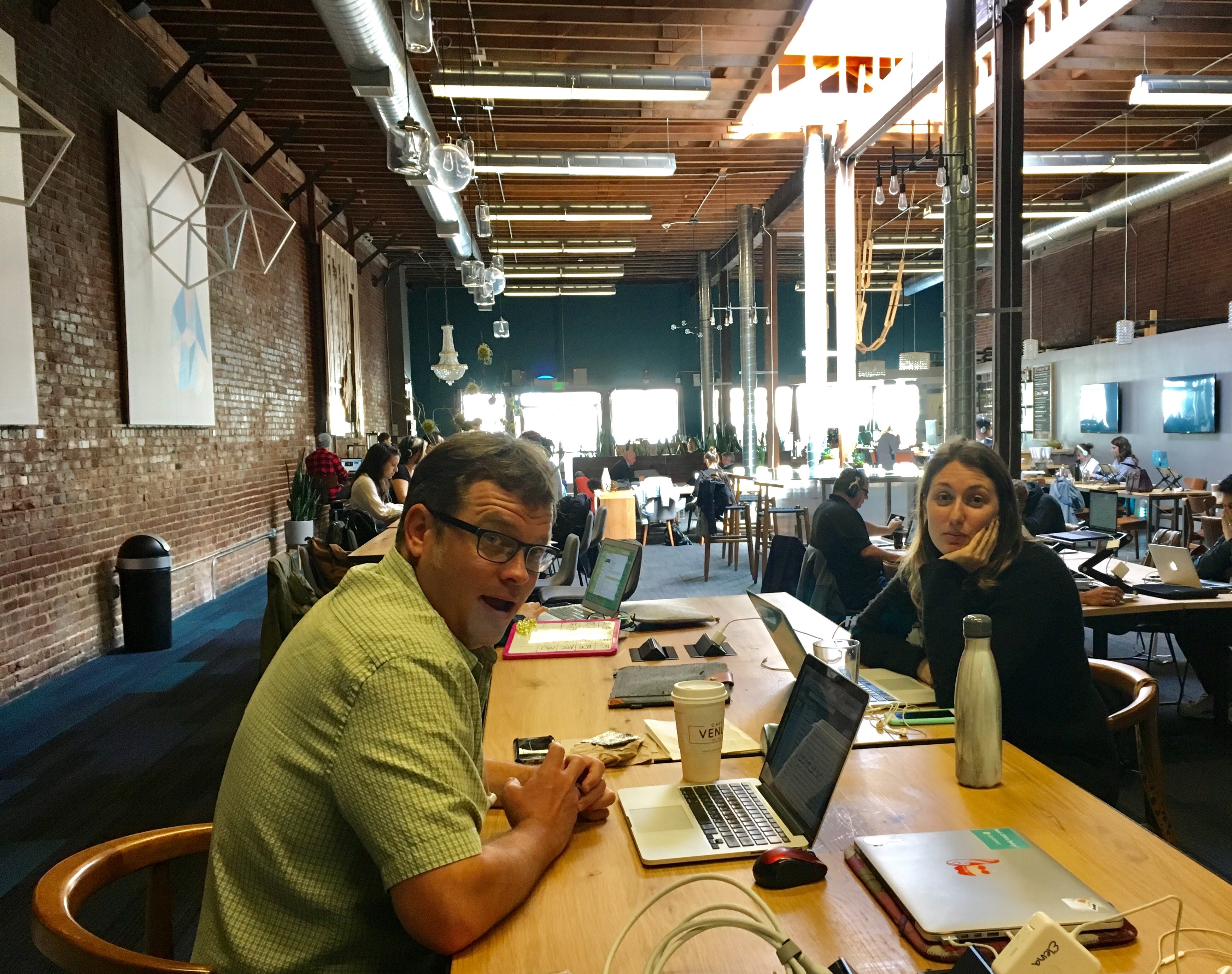 The Covo Space is Gorgeous
Covo's CEO, Rebecca, and her founding team carefully considered every design element of the space and executed it flawlessly. High ceilings and a skylight in the middle give this space an inviting grandiose vibe. Unique and impactful artwork captured my gaze on several occasions as I strolled through Covo – from tiny paintings and photographs to one-of-a-kind multimedia installations.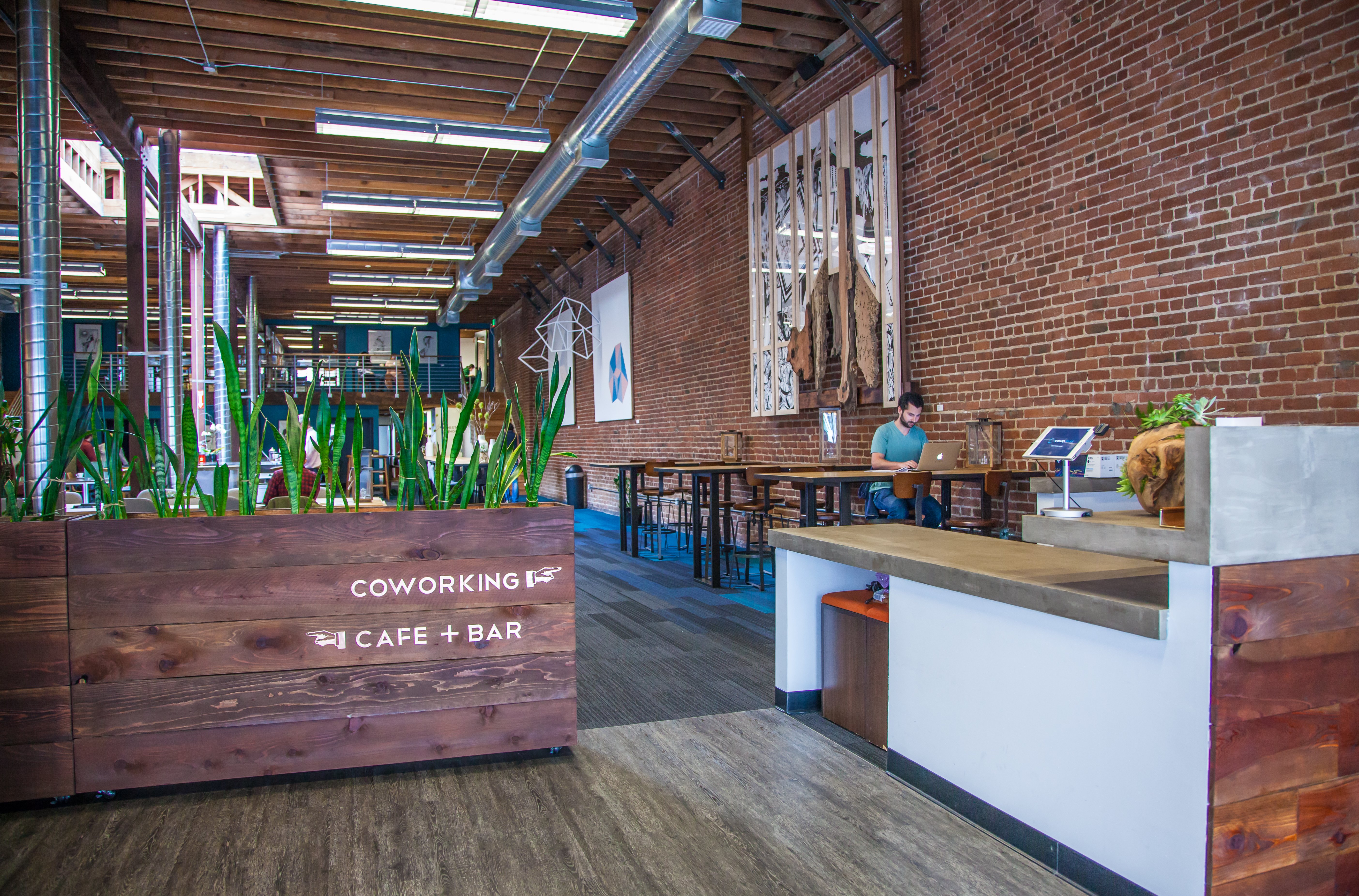 "Covo is such a dynamic place to work. The space is busy, has great energy, yet allows you to get focused and get your work done. I love the furniture and decor too!" added Ricki Dorman, Growth Manager for LiquidSpace.
Function, Form, Flexibility
Ergonomic chairs, access to power outlets everywhere you sit, and a balanced mix of sitting and standing desk options allowed us to find just the right team table for our group of 7 visiting for the day. The succulent plants throughout the venue made the space breathe. The lounge spaces by the coffee bar allowed us to decompress and have the more casual conversations.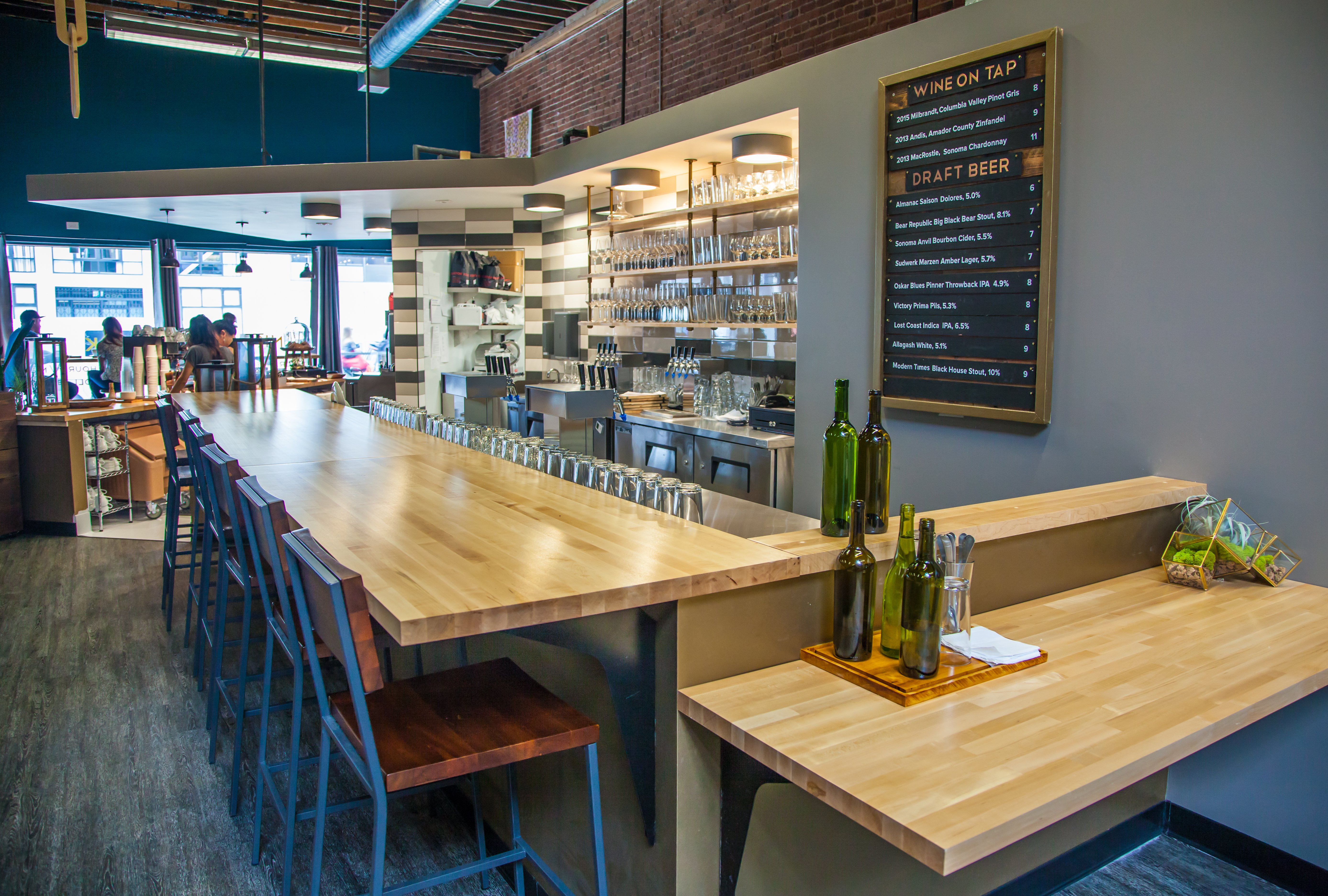 For San Francisco digital nomads that need to work with east coast teams, an early opening time is critical to productivity. Covo is open 7:30am – 8:30pm for non-members, and it's 24/7 for monthly members. We're happy to report Covo is the spot for you to have the productive day you need for your main and side hustles. They even have meeting rooms, see: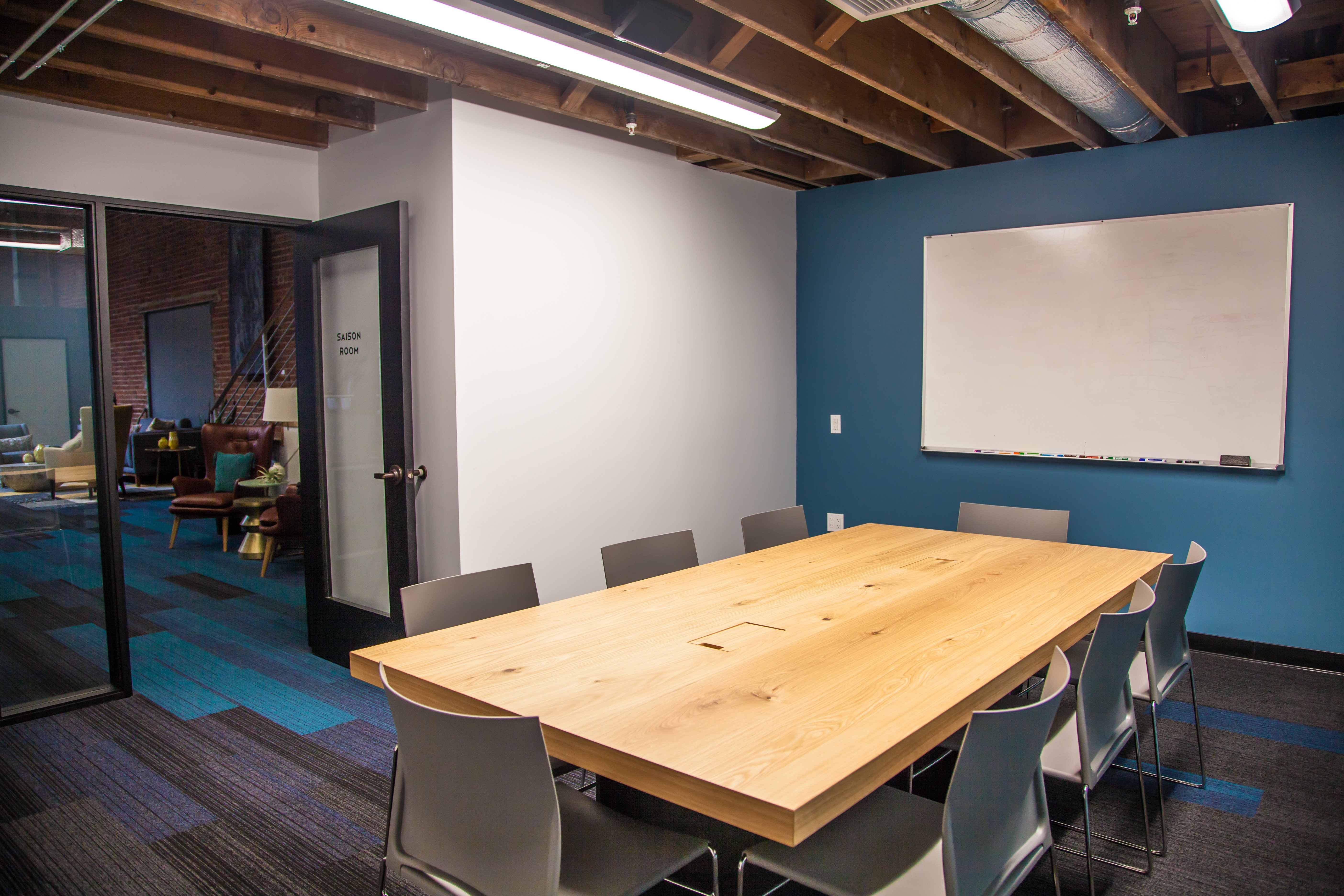 The Noise
That's right the noise. Unless you're a seasoned coworker, noise isn't typically an important factor for choosing a workspace. But take our word for it, you'll know it when it's just right. A little bit of background music, a level of chatter from the people nearby – enough white noise for you to feel like you can talk on the phone or to your colleagues without disturbing those around you. This balance, keeps you out of the phone booths and happily productive at your desk longer.
"Working at Covo made me feel productive. In addition to being a beautiful space, I really appreciated that they got the noise right… it wasn't too quiet, or too loud," said Eric Zellhart, Senior Product Manager at LiquidSpace.
The Coffee Shop and Tap Room
As a part of Covo's motto "Work. Life. Balanced." Covo is home to the Coffee Shop and the Tap Room. For your mornings or pick me up breaks indulge in a cup of Equator Coffee or a Leaves and Flowers Tea, we partook in both. For the evenings check out the 12 rotating wine and beer taps, plus a curated list of bottles to suit any palate or your team event.
We caught up with Rebecca, Covo's founder, over a glass of wine, tea, and a lavender latte, to talk about why she started Covo. Here's her vision.
"The idea for Covo originated with my cofounder and husband, Jason. We completely believe in the value of coworking, but recognize that having membership dues be 100% of a space's revenue can be risky. Jason felt that by adding a coffee shop, we could diversify our revenue, add utilization to a real estate asset, and improve the user experience. I proposed that if we were going to get into the food and beverage business, we should add a bar to the experience as well. And Covo was born.

My favorite part is watching people connect quickly and on a deep level. I have met so many phenomenal humans at Covo, and I'm not alone in this. I also love how often I overhear people who don't know who I am comment to their friends about how much they like the space / art / vibe / music / chairs / staff / wine. I quietly giggle in glee.

We created Covo for all the people trying to work in coffee shops or their living rooms, and feeling distracted, frustrated, and lonely."

Rebecca Brian Pan, CEO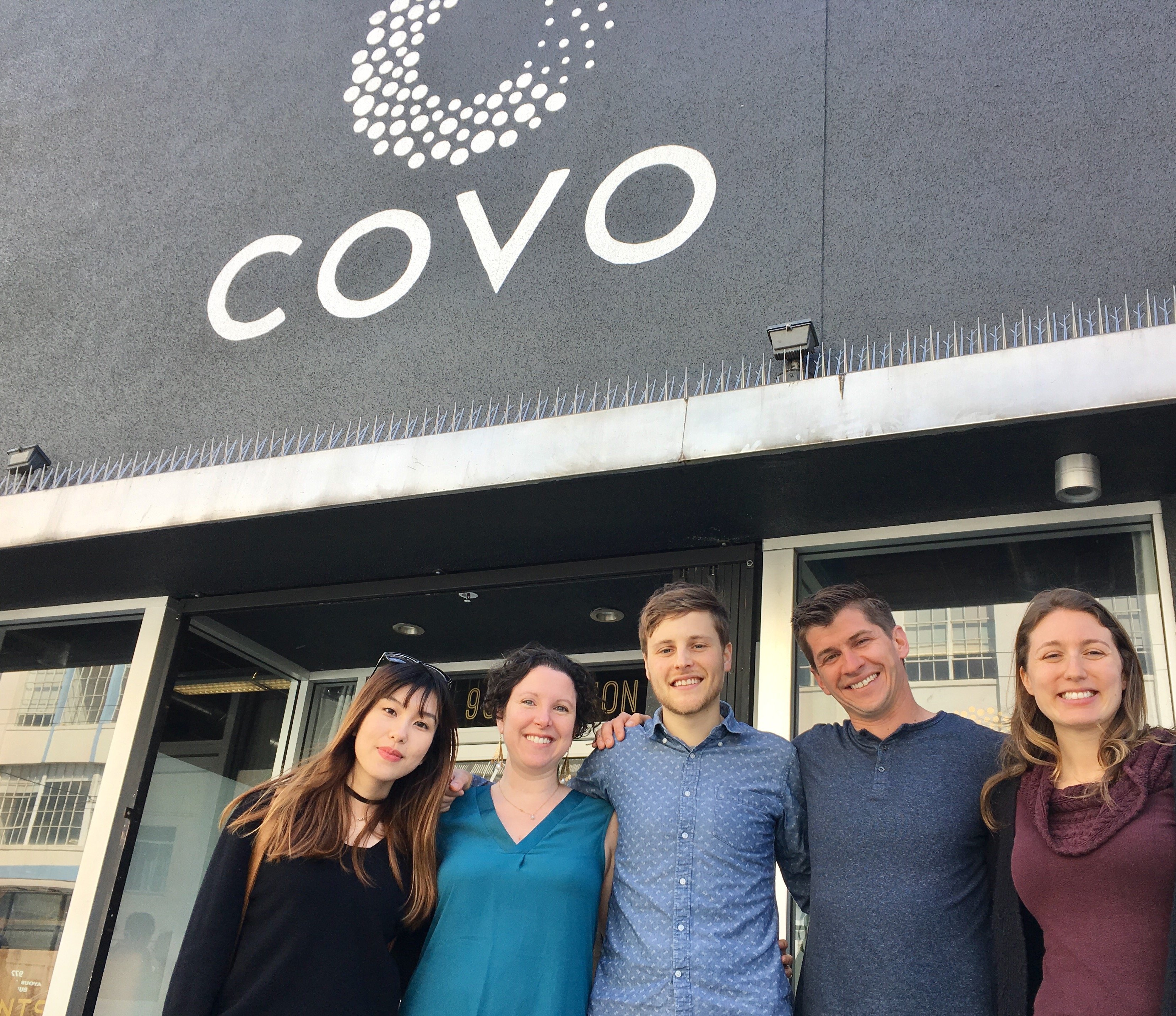 We couldn't agree more with Rebecca's vision, and we marveled at how flawlessly it was executed. For an in depth look at Rebecca's story check out her interview at FoundHer
Whatever your office space needs, Covo has you covered from by the hour options to by the month options. Stay tuned next week for another Workplace of the Week highlight, and don't forget to subscribe.
Get All Workplace of the Week Content
Enter your email below and we'll send you every blog we publish, including everything from our Workplace of the Week campaign.