This blog, about Q2 product features will help venue hosts close deals. It comes from Eric Zellhart, Sr. Product Manager at LiquidSpace. Whether you're a landlord or coworking venue host, Eric works tirelessly to create the best product experiences for you. For more content from our team, check out LiquidSpaces Voices.
Flexible Office Space Isn't Just for Startups Anymore
One noticeable trend in 2017 is larger companies renting private team offices at coworking spaces and business centers for teams of 20 person teams and more. Both startups and Fortune 500 companies alike are demanding the flexibility of short-term commitments, a serviced office environment, and a competitive cost per employee compared to leased space. Read more about 2017 trends in our Q1 2017 and Q2 2017 Flexible Office Report.

3,000+ Hosts on LiquidSpace
Thank you to our 3,000+ hosts who are actively listing hourly meeting rooms and monthly office spaces on LiquidSpace. Because of you, we're helping more teams find their perfect office on LiquidSpace. I want to share some of the highlight from the first half of 2017, and give you a peek into the tools our Product team is building for you to help grow your business even more.

– Eric Zellhart, Sr. Product Manager @ LiquidSpace
How can you benefit from this growing demand? Make sure to list your larger team offices as well as all of your spaces. Teams are often looking for a combination of several private offices plus an open environment to support the needs of their teams on LiquidSpace. And now you can start marketing them before they're available. Add a listing to your LiquidSpace profile, set the status to Public, and set the Availability Date for when that office is first available.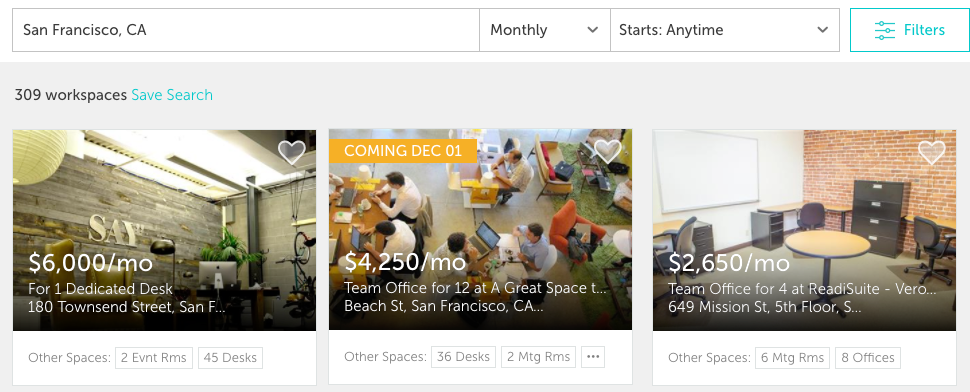 Don't let your most valuable space sit empty. On LiquidSpace, venues can rent their spaces even before their current commercial tenants move out!
Close Deals, Online or Offline
One of the most frequent questions I get is "Do I need to close deals online exclusively and use the LiquidSpace payment processing and the DASH License legal agreement?" The short answer, no. We want to help you close leads you get from LiquidSpace, regardless if they sign your member agreement and pay you directly, or if you use LiquidSpace as your payment and legal platform.
So let's close more deals, together! You pay the same fee of 10% to LiquidSpace if you close a deal 'Offline', on your agreement, or 'Online' with LiquidSpace. However, if you want to close deals faster and position your space to appeal to Fortune 500 and enterprise customers, ask our team about online payments and our industry standard DASH License, a lawyer tested, and Fortune 500 approved legal agreement that you can customize with your House Rules. As we work with more enterprise customers that are booking multiple spaces in several cities from different space providers, the consistent ask is one legal agreement and one place to see and pay for all their space requirements and DASH gives them and you that – making it a more appealing choice to close deals online.
LiquidSpace as a Platform
LiquidSpace is an end-to-end platform for coworking spaces, business centers, landlords and any company to market their shared workspace, close deals faster, and manage monthly payments and activity all in one platform.
This past month we made it even easier for you to manage ongoing reservations. You can manage all active reservations from your Reservations Page, you can view payment status, monthly receipts, and their DASH License legal agreement. If your members incur additional charges throughout the month, you can add these incidentals to their monthly LiquidSpace payment. It's simple, clear and helpful for your members to pay for everything in one consolidated monthly bill. Plus you can eliminate the chasing and follow up.
Merchandising Your Profile
We all know the old adage, "A picture is worth 1,000 words." And we all know that outstanding photos help sell space. This past quarter we released a new photo upload tool to make it even easier to beautifully merchandise your LiquidSpace profile. Now you can upload multiple photos at a time, crop and rotate, sort by image, and caption all your images, directly from your Spaces page.
So, What's Coming Next in 2017?
We have lots of work to do, but now it's time to go enjoy your summer!
Cheers,
Eric