The pandemic ravaged the economy and almost brought the system to a standstill. It has indeed been a trying moment for everyone, no matter the industry you identify with. The drastic change had many businesses scurrying for a solution to stay afloat. Thankfully, technology and human ingenuity came to the rescue, and an answer was born.
Many companies can now attest to the economic effects of remote work. As the coronavirus forced people to practice social distancing and staying indoors, even die-hard traditionalists finally had to embrace remote work. Working from home has gone from a reward for diligent employees to a business necessity. It is no longer just a perk that companies use to attract talented millennials.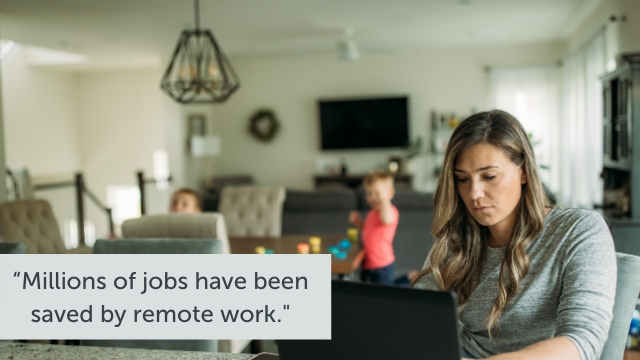 The truth is that remote work has saved a lot of jobs. Imagine the number of layoffs that would have occurred without the option to work from anywhere. While a staggering 26 million working Americans filed for unemployment following the pandemic, millions of jobs have also been saved by remote work.
We still wait for a vaccine to be widely distributed. In the meantime, setting up a remote workforce has helped to maintain employee health and safety. What's more, it has increased business profits.
The question is no longer whether remote work is necessary; it is a question of how it can be used to save the economy. Flexibility in remote work is something employers have to embrace as well. The economic slowdown didn't just affect workers; it affected their children as well. With more than 45 million at home following school shutdown, maintaining a rigid 9-to-5 work frame is no longer possible. Employees need to cater to their families, and allowing for flexibility has helped businesses to boost worker productivity.
Remote work may not be perfect, but the flexibility have helped keep a sinking economy from going down the drain entirely. Giving people the freedom to choose where, when, and how they work has increased not just productivity but also creativity and engagement as well.
What We Should Know: The Effects of Remote Work on the Economy
As companies prepare to call back employees to the office, flexible work must be at the very foundation of these efforts. Business owners can put a system in place, allowing workers to commute to the office twice a week and work remotely three days a week. The workforce can be divided into groups A and B, with group A commuting to the office on days when group B is working remotely. This will ensure that businesses enjoy the simultaneous benefits of onsite and remote work while avoiding overcrowding and maintaining social distancing.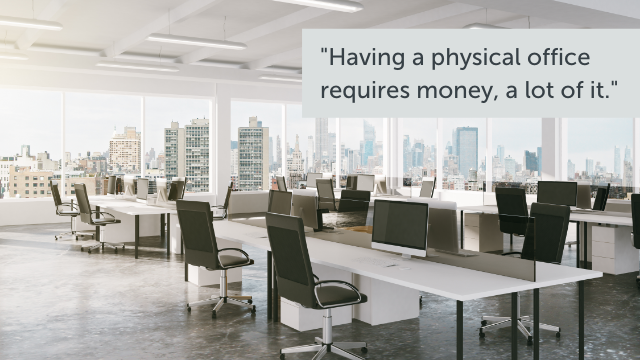 Business owners must not overlook the advantages of remote work if they want to protect the health of workers and maintain their happiness and productivity.
Companies Spend Less and Save More Money
Think of it this way: having a physical office requires money, a lot of it. It costs money to rent a space, pay for office supplies and cleaning, cover electricity use, maintain office hardware, among other things.
Having a fully remote team saves companies from such expenses. Think of the amount of money that will be saved annually with this spending out of the way. These extra savings can be put into other sectors to generate more revenue for the company. Business owners can even rent on-demand office spaces. These spaces are more pocket-friendly and do not require the permanent presence of the company.
In essence, it gives employers the added advantage of hiring more employees without worrying about the cost of a bigger space or higher maintenance costs. This leads to growth and a reduction in unemployment rates.
Employers can use this extra money to find creative ways to reward productive employees, encourage loyalty, or generate more revenue.
Remote Workers are More Productive
Studies show that allowing workers to work remotely increases productivity. With commute-time eliminated and employees more in control of their time, employees can easily choose when to work at their own convenience. An individual that works best at night no longer has to force herself to work during the early hours of the morning. The problem of co-worker distraction is also eliminated. As there are no co-workers to run over with distracting questions, it is easier to focus.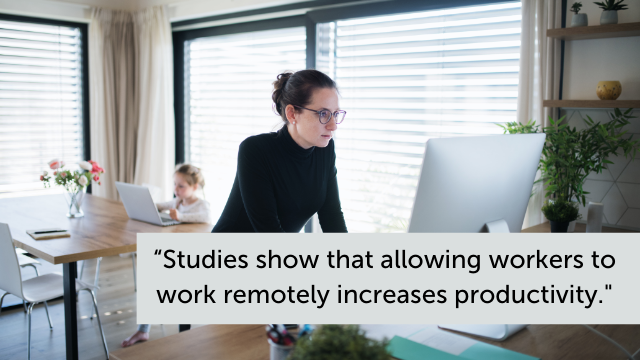 Also, having a workforce with team members in different time zones means there's almost always someone available. This increases productivity and reduces workload and stress.
More Talent in the Pool
A remote team means there are no limitations on where businesses can hire talents. Removing the restrictions of a physical office, companies no longer need to hire workers based on office location. They can employ a workforce from literally any part of the world.
By extension, workers can work from wherever they want. They can save money on renting apartments, as they no longer have to pay exorbitant amounts to rent living spaces close to the company's office.
It also makes it easier to hire the best talent available because the limitation of office location is removed.
Employees Save More
Just as companies save money by not having office-related expenses to worry about, so do employees as well. It costs money to commute to the office on a daily basis. On average, a working American travels up to 16 miles from home to work and spends anywhere from $2,000 to $5,000 annually on transportation alone. Not to mention, paying for lunch costs an extra $1,250 per year at the price of $5 per day. When you take all that and add in the cost of car repairs and other miscellaneous expenses incurred outside the home, the annual expenditure spikes considerably.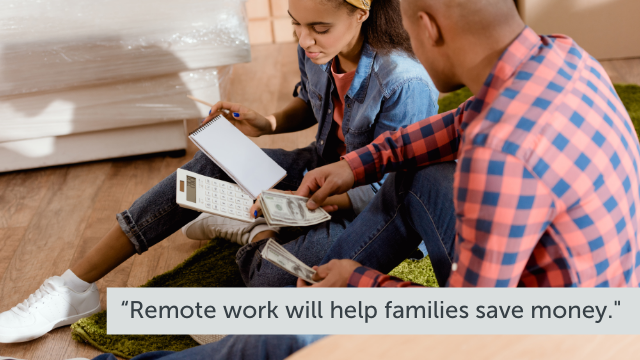 All that extra money can now go into paying off the mortgage, putting up savings, making investments for additional income, or even taking the family out for a treat. The benefits are endless.
It's no secret that having better finances boosts happiness. When employees spend less and save more, they're happier and more willing to put in more effort in their work. Happy workers are more productive than their counterparts who are not. An increase in productivity yields an increase in profits.
How to Save the Economy: The Way Forward
Businesses that entertain large crowds took the biggest hit in this pandemic. Gyms, restaurants, bars, movie theaters, among others, had to shut down. It wasn't so easy for these businesses to switch to remote work.
However, moving forward, these industries can use remote work and its added flexibility to their advantage. For example, restaurants can divide their service teams into groups A and B. This will allow them to reduce the seating capacity in the dining section, thereby avoiding crowding and encouraging social distancing. Also, they can incorporate an efficient takeout service. Gyms can offer online classes and even use a more spread out timetable to reduce the number of people at each physical class.
While this won't be the same as what we're used to, it'll do the magic. It's not about taking things back to the way they were. Instead, it's about taking things to what they can be and accepting that we can do things differently. After all, if people stuck to their guns about the traditional office, the whole economy would be down the drain right now. We have to embrace change and realize that new changes bring new ways.
Over the past decade, remote work hasn't received the best reviews. Few organizations agreed that flexibility was necessary, and even fewer went ahead to implement it. However, when the pandemic hit, the latter were better prepared to handle it. Businesses that neglected flexible work were caught off guard and had to struggle to find their feet. This is something to remember moving forward.
The era of insisting on the rigidity of work is fast getting behind us. The coronavirus has shown us that the four-day workweek is not the one-size-fits-all that many business owners thought it to be. Flexible work is no longer a perk given to the select few.
The old notion that work is a "place" you go to is no longer true. Business owners can now monitor employees by simply tracking their time. Employees can also use time tracking to increase efficiency and become more productive. It's a win-win. Why stick to the old way when the new way had paved a path at a time when all hope seemed lost?
A blend of flexible work and commuting is the hybrid of the future. If you cannot afford to have an exclusively remote team, allowing employees to commute to the office twice or thrice a week is the way forward in saving the economy.
Businesses that choose to run a fully remote team can use on-demand workspaces. These co-working spaces allow companies to rent spaces for their workers. They can then provide necessary tools such as high-speed WIFI without having a permanent physical presence in any location. Remote employees can go to any of these places to work or hold meetings when necessary. On-demand workspaces cost so much less than permanent offices. You can search and book thousands of on-demand workspaces using LiquidSpace.
To rebuild our economy, we have to redefine what we consider as work. Is it just a "place"? Of course not! Work is about what we do, how we do it, when we can do it, and where we can do it.
Conclusion
In this technological era, we have to be more creative and embrace the immense possibilities of remote work. Each era leaves something new to history. Perhaps our gift to history will be the flexibility of work!
About the author
Grace Morris is a tech and digital marketing enthusiast who loves to travel and is passionate about learning new emerging trends in digital media and the internet.
Her interest in helping businesses leverage their digital authority has led her a career as a Digital Content Specialist at Traqq.
Her next goals include writing a book and becoming an event speaker.