This article is part 1 of a 4-part series honoring Black pioneers in commercial real estate.
---
Success stories so often focus on the dizzying heights of achievement. But what about the hardship that some people have to overcome before they can reach the heights?
The story of Biddy Mason isn't just noteworthy, but astonishing, for the handicaps she had to overcome before she achieved success.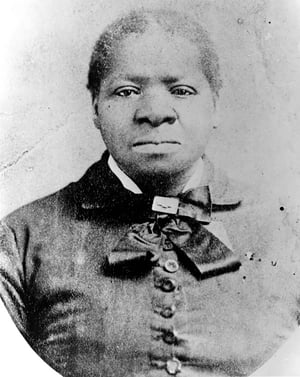 Bidddy's story begins in 1818, in rural Georgia, where she was born as a slave and named Bridget (with no surname). Not much is known about her early years, but in 1848, she arrived in Utah's Salt Lake Valley, having walked 1,700 miles behind her owner's wagon in a pioneer caravan.
She was then taken to Southern California, where thanks to state laws and her own wherewithal, she was able to sue for her freedom. In doing so, she also freed 13 members of her extended family.
She had been enslaved for 37 years.
Mason worked as a midwife and nurse, which allowed her to save the money for her first property. She bought a house at 311 Spring St., now the site of a State of California building in downtown Los Angeles, for $250.
Los Angeles in the 2nd half of the 19th Century was a boomtown. Spring Street, where her property was located, had become a commercial street lined with shops and boarding houses. In 1884, she was able to sell a portion of her Spring Street property and then build a two-story brick building on the rest. She had officially become the landlord of a mixed-use commercial property. That same year, she flipped another property she had bought, on Olive Street, for $2,800, making more than 600% profit.
In 1885, she gave a portion of her property to her grandsons "for the sum of love and affection and ten dollars," signing the deed with an "X" as she never learned to read or write.

The oldest surviving photo of Los Angeles from when it was a small town.
Despite every imaginable lack of privilege, Biddy Mason became one of the wealthiest citizens of Los Angeles. By the time she died in 1891, she was worth some $300,000 (more than $6 million in today's dollars).
Had she merely amassed wealth, perhaps Mason wouldn't be remembered so fondly. But from early on, she used her financial power to do good. Among her many deeds, she donated to charities, operated a shelter out of her home and helped start an elementary school for Black children. She also helped organize and donated the land for the First A.M.E. Church, the first African American church in Los Angeles.

For further reading:
Wikipedia: Biddy Mason
Biddy Mason: One of LA's first black real estate moguls
From Enslaved to Entrepreneur