So you want to find a workspace in Boston? There are a lot of options…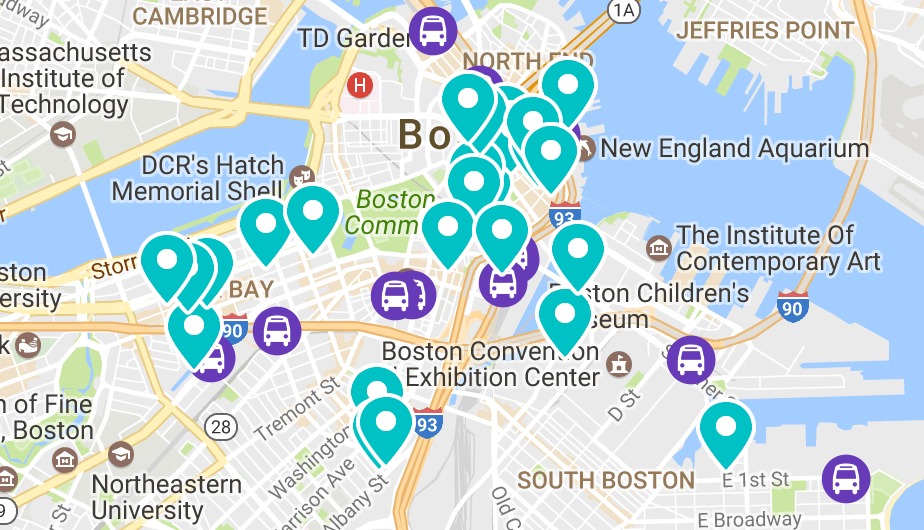 If you're having trouble picking the neighborhood for you, we're here to help. Here's a rundown of a handful of Boston's neighborhoods. This is the second installation of our Neighborhoods content campaign. Last week we gave you NYC's Neighborhoods and over the next few weeks we'll be covering the top cities and neighborhoods in the LiquidSpace network. Dig in:
A trendy neighborhood that combines a rich history with high-end shopping, the representative feature of Back Bay is its many 19th century Victorian brownstones. You can even work in one of these iconic buildings through LiquidSpace. Make this Back Bay brownstone at 297 Newbury Street your next office. Back Bay isn't exclusively filled with Victorian homes, it's also where you can find two of Boston's most famous skyscrapers, the Prudential Center and John Hancock Tower. The Boston Public Garden is a natural wonder in Back Bay, ideal for a day trip. Check out the Charles River Esplanade to enjoy some fresh air and beautiful sights. Nearby is Boston Common, Beacon Hill, the South End, and Downtown Boston. For companies seeking a neighborhood with history plus all the benefits of the modern workspace environment, Back Bay could be the right fit.
A diverse neighborhood with the hottest and most eclectic restaurant scene in Boston, South End is filled with Victorian townhouses and a history of jazz.. With tons of amazing places to eat, the up-and-coming restaurant scene in South End means that living or working in this neighborhood will afford you many opportunities for deliciousness. If you're a foodie, then The Food Loft is the perfect coworking spot, right in the heart of Boston's burgeoning restaurant neighborhood.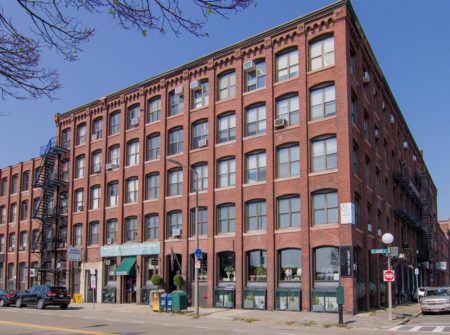 The Food Loft has flexible booking options, and is home to a number of startups and companies in the food industry. This neighborhood has a lot of green space and many parks, with Worcester Square being one of the loveliest. Near Back Bay, Chinatown, and Roxbury, South End is a workspace environment best suited for growing companies and professionals. While you won't find any skyscrapers here, the workspace options are abundant, lively, and as diverse as the neighborhood itself.
A neighborhood of college kids and tech startups, Cambridge is one of Boston's most highly sought after areas for residential and commercial tenants alike. There are still some great deals in this hood though.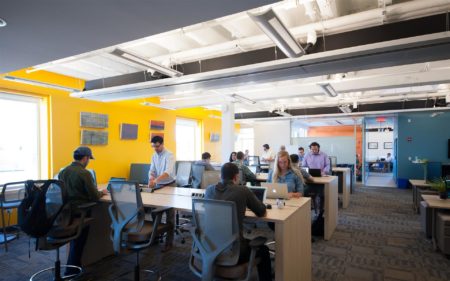 Workbar Cambridge, for example, is smack dab in the middle of Central Square, and offers various workspaces and membership options. Harvard and MIT are two of the best known organizations to call Cambridge home, but Cambridge is more than just an educational epicenter. There's a vibrant restaurant and going-out scene here, and plenty of transportation, with the Red and Green Lines nearby. Neighboring areas like Charlestown, Watertown, and Arlington are worth a weekend trip if you want a bit of a change of scenery. Find an office in Cambridge and you can be among Boston's cutting edge startup scene, where companies in biotech, education, fintech, and more, are innovating amongst students at the world's most prestigious universities.
An up-and-coming neighborhood, Somerville is a suburban area with a strong sense of community and many pockets of culture. If you're looking for a clean, casual, and welcoming place to work, try Alpha Landmark, with numerous workspace options for various team sizes, and plenty of meeting rooms to boot! Somerville's squares are anything but square. Union Square, Ball Square, Davis Square, Assembly Square, and Teele Square are among the best known in this hood. With unique shopping, restaurants, and culture, in each square, you're bound to have a favorite, but you should explore every nook and cranny of Somerville if you want to enjoy all this neighborhood has to offer. A top working environment for artists and creative young companies, Somerville is a neighborhood with plenty of deals on office space. Start searching today!
A tiny, two block area, the Leather District aka LD, is a niche neighborhood and a hidden gem in Boston. If you need a place to work in this hood, check out Coalition Boston, where small companies, freelancers, and independent contractors share a bustling coworking environment. Between the Financial District and Chinatown, LD is where many cultures and styles converge. The entire district itself is somewhat of a historic site. Featuring architecture in the Classical Revival and Romanesque, you can walk every block of LD in just a day, but to get the full story, you'll have to spend some time here. While this neighborhood was historically Boston's epicenter for the leather industry, it's now home to many startups and growing companies who want a unique, ambitious, and potent work environment.
Downtown Boston is the center of this historic city, and perhaps of the entire New England region. Servcorp at One International Place, is exemplary of the office environments in Downtown Boston: hardworking, high-quality, and often traditional. Overlooking the Boston Harbor (where the famous Boston Tea Party occurred) this workspace also has easy access to culture, history, shopping and dining, as does this entire neighborhood.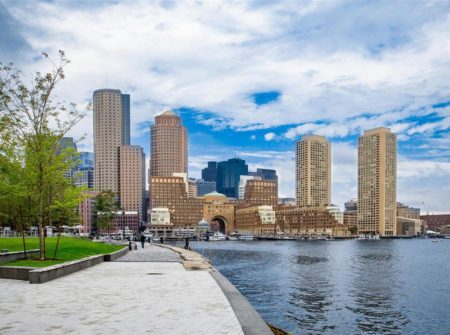 The Financial District and the Government Center are nearby, and you can catch the Blue, Orange, and Green Lines through Downtown Boston. With the Boston Waterfront just to the west, for those companies who want it all, plus a great view, Downtown Boston is the cream of the crop.
Thanks for checking out our blog on Boston Neighborhoods. Stay tuned in the coming weeks as we deliver more content about the top neighborhoods and cities in our network. And if you want to stay in the loop, don't forget to subscribe!