Marina Workplaces recently joined LiquidSpace, offering our guests two (really beautiful) new options as a place to work or hold a small meeting in the Marina District of San Francisco (1630 Lombard Street).
The rooms have an incredible aesthetic, are just $30/hour to reserve, and have an entrepreneur-helping-entrepreneurs story to go along with them. The builder's owner, Marina McBrearty, recently shared her story with us.
Tell us a bit about your space and how you found the building.
I found the building after almost a year of looking for a space for my own practice after I had been burnt out of a building on Sacramento Street. It was a crazy year of looking, I got outbid many times for different spaces. I ended up taking the whole building, as I just could not find the required amount of space for myself. That left me with all these extra rooms that I did not use.
I felt that if I was running around the city like a crazy person trying to find workspace, well there must be other people like myself looking!
What prompted you to create flexible workspaces in your building for others to use?
I've been in practice 15 years and have an established practice. But I feel that if I was starting out again, I'm not so sure I could "make it." How can you possibly afford to pay rent in today's market, focus on your business, bring in clients and work?! There is a tremendous amount of pressure because of the overhead to just hang up a "shingle."
That's why I created these rooms. I am successful, so I don't have that added pressure of starting and maintaining a business, but it's really rewarding to see new people start out on their path and to be able to provide a space that will help them succeed.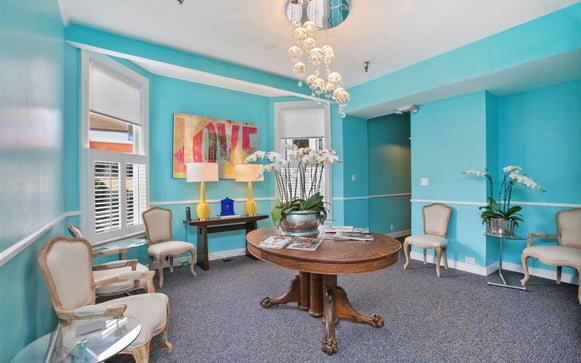 Your office/meeting rooms are beautiful! Where did your design inspiration come from?
I believe in business, no matter what business you are in, you have 90 seconds to make an impression and retain that client and you don't get a second chance. I believe with these spaces I have taken care of the first 60 seconds. What you do for the next 30 seconds behind the closed door of the office is your business.
I designed the rooms to fit many different requirements: from someone needing a quite space to work from, to someone who has to meet with clients. From a physician needing a room to consult with patients, to a startup that needs to meet with potential investors.
I encourage all people who rent the rooms to really make it their space for the time they have reserved it. Really own the space, feel the energy of the space, feel the productivity, become part of that force. It's very positive.
I jokingly say that my ADD helps me visualize these spaces. I can completely visualize the completed space before I even start, right down to the fresh flowers in the rooms.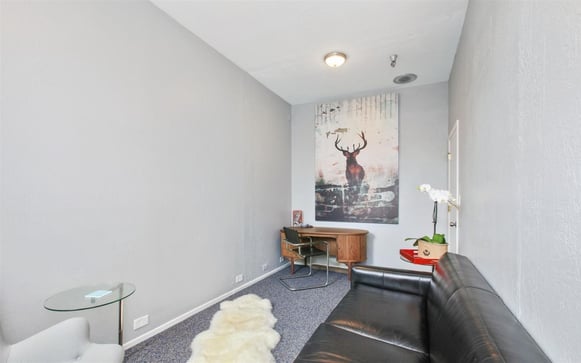 Any recommendations on nearby places to grab coffee or a bite to eat?
I love the area. The Marina is so bright with light and everything is within walking distance. Pop outside for a bite to eat at Greens Restaurant in Fort Mason, they have an amazing grab and go area, or go up to Union Street, to one of my favorites, litebite. One of the best coffee spots in my opinion is Saint Frank at 2340 Polk Street.
If you don't want to leave the building, pop upstairs for a massage or pamper yourself with a facial. You will never want to leave the building….!
Reserve Marina Workplaces for a work session on LiquidSpace.com or in our new app (enjoy 30% off all mobile bookings through May 10 with code GOMOBILE – get the details and download the app!).