We've all heard of Work from Home. After all, most of us have been doing it since early 2020. And to be sure, many people will continue to work from home well into the future.
But Work From Anywhere, or WFA, is what execs in the C-suite are talking about. That's because no matter how 2021 pans out, odds are good that most companies will have employees working from lots of locations. Some will return to HQ, while many others will continue to work from home. Yet others (who can't or won't return to HQ and can't handle working from home) will seek out alternative workspaces that are closer to home.
So, in a nutshell, most companies will have a WFA situation on their hands, even if they don't make it official. But some organizations are getting serious about WFA right now, and here are just some of the reasons why.
1. The time to secure flexible workspace for WFA employees is now.
Although most coworking and serviced office venues are currently experiencing low volume, they anticipate an explosion of demand later this year. That demand will come from enterprises that need to relocate teams from their regular offices, as well as corporate employees who will need some place to work other than home. Flexible space will be in especially high demand especially in secondary markets and in the suburbs, close to where employees live. Knowing this, savvy corporate real estate execs are already looking to secure an inventory of on-demand workspaces, so that their companies can enjoy greater flexibility in 2021 and beyond.
2. Employees will need an alternative to the home office sooner than later
As many of us know first hand, working from home doesn't work for everyone all the time. For some people, it's downright intolerable. These employees will seek out local alternatives to the home office as soon as possible. But imagine you're the head of workspace for a big company. Do you want every employee going out and randomly booking workspaces with their company card? No, that's the definition of insanity.
That's why LiquidSpace developed a Work From Anywhere management platform that lets companies provide employees with a huge inventory of flexible workspaces – but all under one contract and with streamlined payments.
3. WFA is key to employee retention in 2021
Despite the pandemic, there's still a lot of competition for top talent. Companies that embrace WFA will have an immediate advantage. Think about it. If you're a software engineer, which company will interest you more – the one that insists you commute 2+ hours per day to their downtown offices…or the one that says you're free to work from anywhere?
Knowing this, many companies are looking to implement WFA, partly to be able to recruit and retain top talent. In fact, there's a bit of an arms race going on. And whichever companies can roll out WFA first will have a better shot at keeping their current staff from looking for greener pastures.
4. Enabling WFA requires advance preparation
Declaring that all employees (or even a portion of them) can now Work from Anywhere is not as easy as sending out an all-company memo. As many companies have learned during the pandemic, remote work challenges many of the systems that companies rely on to operate predictably and efficiently. One of the challenges with WFA is logistical: how do we give employees the ability to use flexible workspaces without unintended consequences? At LiquidSpace, we talk about the 4-Way Fit, which means that companies need to manage people, place, price and process in order to have a successful rollout of their WFA program.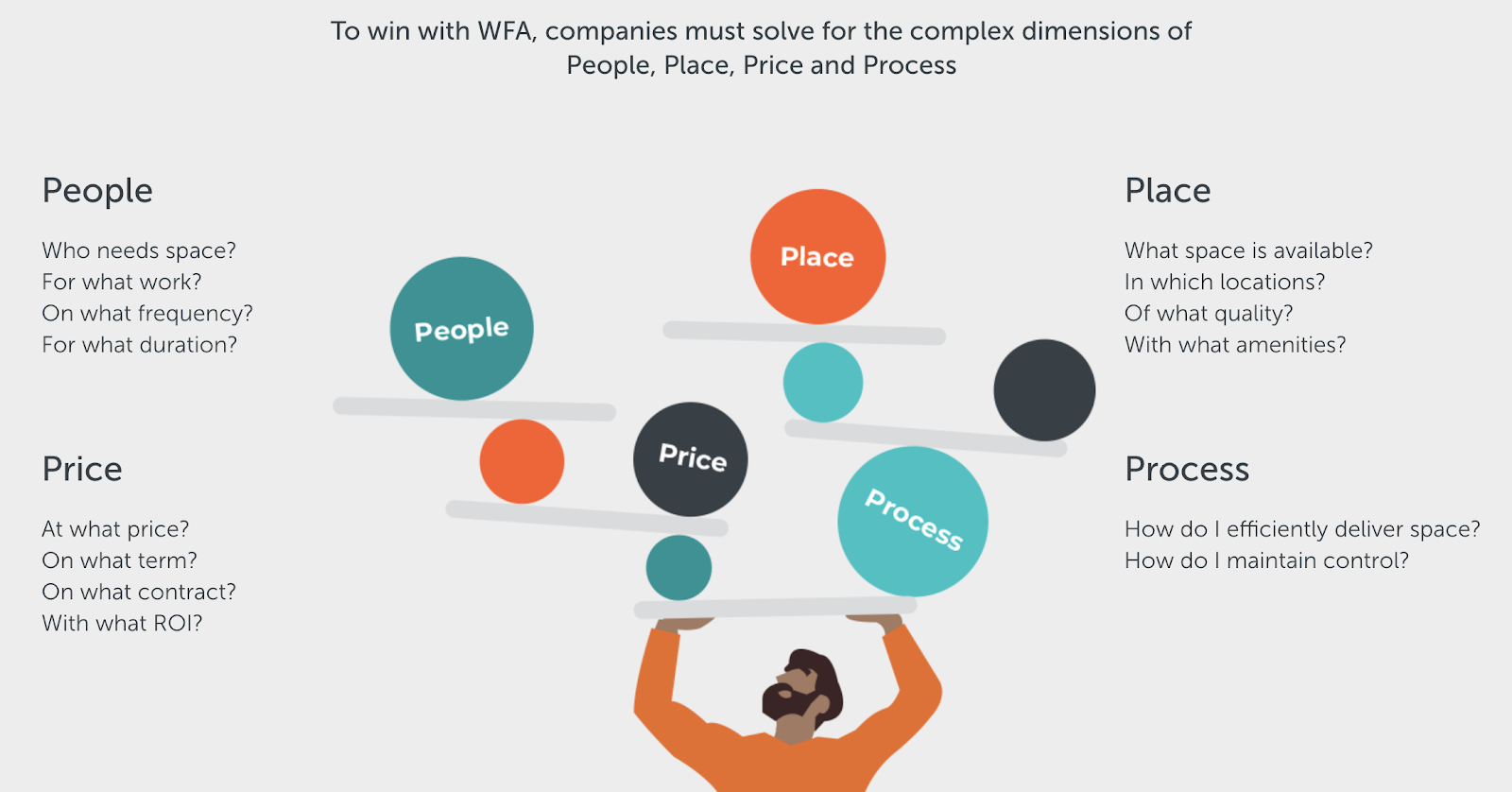 That's why we created LiquidSpace Enterprise, the first and only Work From Anywhere management platform that helps large employers roll out WFA efficiently and cost effectively – yet with a high degree of control.
5. Investing in WFA provides a competitive advantage in an uncertain world
While we are not sure what 2021 will bring, there are strong indications that companies can't and won't return to the pre-covid way of doing business. According to a new survey of 344 employers by consulting firm Willis Towers Watson, employers expect that 52% of their employees will work from home in the first quarter of 2021, while 24% will work from anywhere.
What's more, CEOs have made it clear that they've learned some important lessons during the pandemic. One, that employees can be trusted to maintain productivity while away from company offices. Two, that those company offices cost a fortune to own or lease and furnish.
Perhaps the biggest lesson is that in an uncertain world, it pays to be flexible and resilient, as we simply have no idea what events the future may bring.