Working remotely leads to new experiences, personal growth, productivity and work satisfaction. This, of course, only happens if you decide to go that route: break some common rules and work hard to embrace the challenges coming your way. It won't happen if you decide to work from the same couch 24/7.
In 2006, as a recent grad, I was eager about my first full-time job as a Designer. I had my own little cubicle, a flashy access badge, and recurring paychecks. These things, along with unlimited complimentary coffee, propelled me to tackle any project like a superhero. I loved it!
However, a few years later it all seemed a bit monochromatic. The weeks consisted of sweet praises at work, typical errands, long commutes, and a lack of sleep. I learned from upper management that my wish to work remotely just one day a week was putting me on a slippery slope…ouch…that was an eye-opener.
I ditched my cube in 2008 and went off freelancing. Below is a summary of some life-changing lessons that I've learned by working remotely.
1. Disrupt the Routine
While routine is safe and comfortable, it fails to entertain. When you work remotely you can move as you please and stumble upon a lot of novelties, surprises, and challenges. To solve these challenges you need to grind and be disciplined and creative. When you solve a challenge it satisfies your curiosity and crowns you with a sparkling sense of achievement.
2. Do What You Love
Take what you're best at and do it for work. With years, you'll only get better. You'll learn the subject inside and out and get to invent new things. The caveat, you have to be disciplined and focused enough to get things done and to invest a lot (A LOT) of time into your trade. Expect to commit at least for a few years until it starts to pay off.
The best perk of remote work is that you can take it anywhere. It's your chance to go and explore.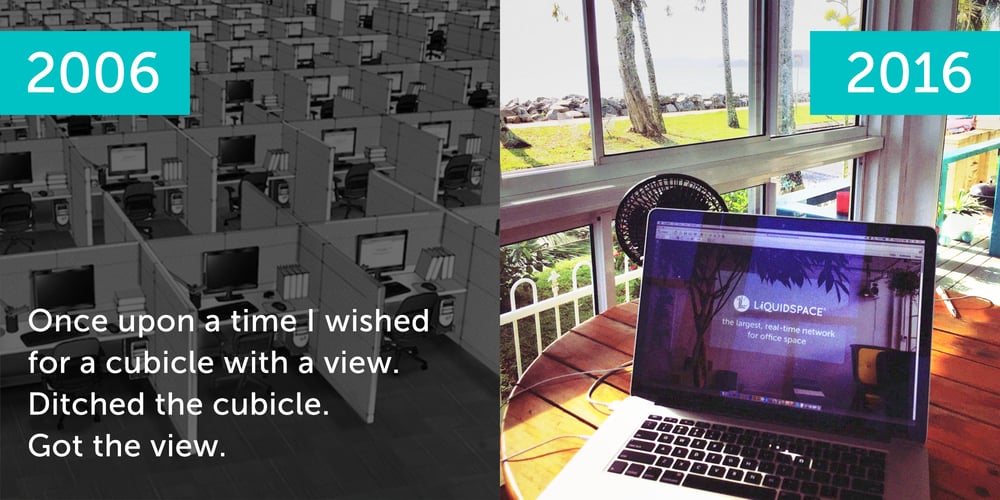 3. Pick Your Own Office with a View
When you work remotely, it's important to surround yourself with a positive and productive environment. It's also important to switch it up from time to time to give yourself a chance to experience new things and meet new people.
Nowadays, you can work from hip cafes, coworking hubs, and business centers sprinkled all around the world. These are easy to find around Europe, US, South East Asia, and Australia.
Here's a few hubs/networks that I like:
Talent Garden: network of coworking centers across EU
LiquidSpace: the largest network for office space in US, Australia, and Canada
4. Live it Up
Life is not entirely for work. If you work hard, remember to live it up and pursue interests outside or related to your profession. Is there something you've wanted to do for a while? Like travel, write a book, learn a new language or become proficient in some extraordinary skill? Acknowledge those wishes and go for them. Don't postpone and don't settle for a typical commute-work-errands routine.
When you work remotely, there's no lengthy commute and no assigned desk. There is, however, a lot more time and flexibility to do what matters to you. Treat yourself to new experiences.
5. Meet Your Partners in Crime
A funny thing happens when you're doing the things you love while working remotely. You start meeting like-minded people along the way.
For example, when you travel to a new country or go to a coworking place or a work conference, you come across people who share the same interests and passions. Inquire what brought them to the same place. These stories get quite interesting and can even teach you a lesson or two. You can always keep in touch with these people, or get more serious and follow your common interests together for years to come.
Working remotely really enables you to live a richer life and exercise discipline. If you're currently transitioning to remote work – awesome! Go on and follow your passions.
Cheers and Namaste 😉
Sasha Marchenko
UX Designer / Digital Nomad